With the Draft Lottery just about two weeks away, and the real show in two months time, speculation on prospects is beginning to ramp up. Final draft rankings are coming in and the probable draft order is taking shape.
This year's draft features an average showcase of defensemen, with only a handful of promising kids. There's an obvious separation between the top four and the rest.
With relatively every draft eligible prospect now done their regular season and into playoffs, we will look at the Top 15 Defensemen for the 2015 NHL Draft.
Also, check out the Top 30 Forwards and Top 5 Goalies for the 2015 NHL Draft.
The Big Four:
1: Noah Hanifin
Hanifin is the definition of a true all around defensemen. He is extremely solid in every aspect defensively and while he won't put up huge amounts of points, it's on the breakout where he excels. He is a smooth skater who is able to join the physical side of the game too. An excellent leader as well. Plays for Boston College of the NCAA.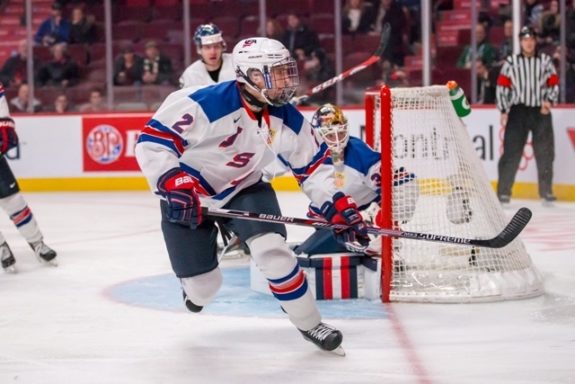 2: Zachary Werenski
Werenski plays the same type of style as Hanifin does, but may be a level above or below in some categories. He's also a very smooth skater who excels in transitioning from his own end into the offensive. Werenski has great hockey IQ as he sees the ice better than most. Played for U of Michigan this season.
3: Oliver Kylington
Kylington is a strong two-way defensemen who can skate well and is not shy to activate into the offensive game. Excels in finding lanes to pass through and is another good skater. Teams may have doubts about how well he might transition into North America and how that could affect his potential.
4: Ivan Provorov
Possibly the best offensive defence-man in the 2015 NHL Draft, Provorov scored 61 points in 60 games with the Brandon Wheat Kings of the WHL. He's an asset on the power play and uses an accurate shot to get the puck to the net to create plenty of scoring chances. Like any good defence-man, he's a strong skater.
[yop_poll id="32″]
Rest of the Top 10: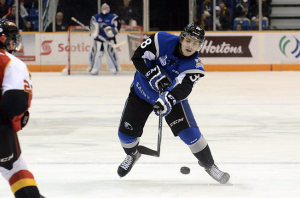 5: Jakub Zboril
An underrated kid who is terrific in every single aspect of the game. He's a smooth skater who can accelerate very quickly. He is great at transitioning the puck, and has an extremely accurate and fairly hard shot that he uses 5 on 5, on the power play and even shorthanded. He is not at all afraid to lay the body and is very smart on the ice.
6: Jeremy Roy
Roy is a gifted two-way defence-man who scored 43 points in 46 games with the Sherbrooke Phoenix. He possesses outstanding knowledge on the ice of positioning, transitioning and knows where everyone is on the ice. A very mature player for his age as well as terrific skills.
7: Thomas Chabot
An all around, two-way defence-man who scored 41 points in 66 games with the Saint John Sea Dogs of the QMJHL. A smart skater who can accelerate and breeze past the opposition. He's noticeably still learning the game which mens he could still progress and become a top prospect.
8: Vince Dunn
Dunn is strong offensively as he scored 56 points in 68 games for the Niagara Ice Dogs of the OHL. He is a smooth skater who knows exactly when to jump in the rush and is great on the power play. He has an accurate shot which he manages to find a lane for almost every time.
9: Jacob Larsson
Larsson is a terrific puck mover with great vision who can find passing lanes through almost anything. He has a hard shot from the point which he uses to generate rebounds. He's a big body that he often uses to play the body to separate the opposition from the puck.
10: Brandon Carlo
Carlo is a defensive defence-man who can shut down opposition each shift. He's a very smart player who makes safe decisions. He won't provide great offence but he makes up for it by giving up very few chances against. A big kid who is never shy in playing the body.
Best of the Rest:
11: Mitchell Vande Sompel
58Gp, 12G, 51A, 63PTS for the Oshawa Generals of the OHL
12: Matthew Spencer
67GP, 6G, 26A, 32PTS for the Peterborough Petes of the OHL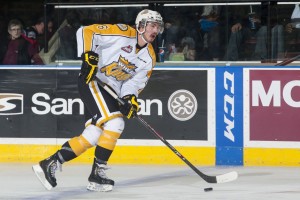 13: Ryan Pilon
68GP, 11G, 41A, 52PTS for the Brandon Wheat Kings of the WHL
14: Gabriel Carlsson
7GP, 0G, 2A, 2PTS for Linkopings HC of the SHL
15: Alexandre Carrier
68GP, 12A, 43A, 55PTS for the Gatineau Olympiques of the QMJHL
Contributor for the Toronto Maple Leafs and Prospects. Scout with the Oakville Blades of the OJHL. For questions, concerns, or comments, contact me at devinslawson123@hotmail.com or on twitter @SlawsonTHW.