Just as the title suggests, this is a list, in no particular order, of prospects that could prove to be valuable commodities leading up to the NHL trade deadline. GMs of teams that emerge as buyers might have to dangle such prospects to land the perceived difference making players they desire in their quest for hockey's Holy Grail.
Please note in no way am I stating either of these prospects will be dealt. While trade speculation is a guilty pleasure of many a hockey fan and hockey writer, I am not a proponent of meaningless trade rumour generating. I'll leave that to many of the self-appointed hockey insiders.
The following are clever mockings of those who come out of the woodwork and claim to have a pulse on the inner workings of NHL squads:
How to Make Yourself an NHL Twitter "Insider": the E.K.L.U.N.D. System (

On The Forecheck)
The Trend: Dealing Picks Versus Prospects
The trend seems to be dealing draft picks rather than prospects as organizations make deadline deals. One possibility is that drafted prospects already have an established relationship with the team that drafted them, making it easier to deal a commodity that has yet to have a name attached to it.  With any given prospect they would have by now had a hand, in some form or another, in their developmental process.
The bar has been already set by some of the intriguing trades that have already occurred. A second round pick plus additional add-ons seem like a lofty price to pay for some of the defenseman that have already been traded – Pavel Kubina, Niklas Grossman and Hal Gill. One can only imagine what some of the more high profile players may fetch as the buyers feel the heat to make a move in an attempt to put them over the top.
It is no revelation that a second round pick can be very valuable. Two examples from 11 and 6 years ago at the trade deadline spring to mind (NHL.com):
1. March 13, 2001 – Los Angeles Kings acquired ADAM MAIR and a second-round pick in the 2001 Entry Draft (C MIKE CAMMALLERI) from Toronto Maple Leafs for D AKI BERG.
Cammalleri was voted the Kings' MVP in 2006-07, setting career highs for goals (34), assists (46) and points (80). He eclipsed his goal and point totals in 2008-09 withCalgary(39-43–82) and was the 2010 playoff hero forMontreal, leading all NHL goal-scorers with 13. With recent injuries up the middle, he has been revitalized playing his original position of center after he volunteered his services up to his Coach Brent Sutter should he wish to deploy him as a centerman.
2. March 9, 2006 – Boston acquired C MARTY REASONER, C YAN STASTNY and a second-round pick in the 2006 Entry Draft (LW MILAN LUCIC) from Edmonton for LW SERGEI SAMSONOV.
The Bruins took full advantage of acquiring the 50th overall pick by selecting Lucic, who was instrumental in bringing the Stanley Cup toBostonfive years later. The Oilers received an immediate boost from Samsonov, who tallied 5-11–16 in 19 games down the stretch to secure the final playoff berth in the Western Conference. He tallied 15 more points in 24 playoff games as the #8-seeded Oilers made their run to Game 7 of the Stanley Cup Final vs.Carolina.
A Dose Of Reality
Rarely does a blockbuster trade translate into a successful run to hoist Lord Stanley's Cup. GMs contemplating making the biggest of splashes in the coming days must be weighing out their options, although somebody somewhere will surely think that this time will be different.
***
If teams do decide to port prospects rather than draft picks to different postal and zip codes, here's a glance at ten prospects (in no particular order) that may find themselves changing allegiances come February 27th:
Taylor Doherty, D (San Jose Sharks)
Speaking of trade deadline splashes, the 6'8" towering blueliner is a candidate to help GM Doug Wilson make an enormous one. He was drafted as a project prospect. His offensive development at the OHL level surpassed what some might have thought him capable of as he notched 97 points in 131 games over his final two seasons. Shutdown defense is his calling card, however. He has just 2 points in 43 games thus far for the Worcester Sharks of the AHL, hinting the offensive production may be limited at the pro level or might be a while developing. He is a plus 5 which is fifth best on the team.
The team that always leaves you wanting more come playoff time will once again be looking to find that key player that gets them over the playoff hump. Doherty will likely be discussed as potential packages departing San Jose, with trading partner hoping Taylor eventually develops into Chara-light.
Tomas Tatar, C (Detroit Red Wings)
GM Ken Holland paid the piper and landed blueliner Kyle Quincey ultimately for a 1st round pick in what was a three team deal with the Tampa Bay Lightning and the Colorado Avalanche. The price was high as Lightning GM Steve Yzerman maximized his asset (in this case, Steve Downie), but the Red Wings got their man in the end.
The Red Wings would also like to add some depth to their forward ranks. Bluechip blueline prospect Brendan Smith is reportedly unavailable. The emergence of forward prospects Tomas Jurco, Teemu Pulkkinen and Gustav Nyquist could very well make Tomas Tatar available. Tatar was a star at the 2009 World Juniors finishing tied for 4th in scoring forSlovakia and has continued to make progress in the AHL.
Korbinian Holzer, D (Toronto Maple Leafs)
GM Brian Burke is always seemingly in the heat of things when it comes to trade speculation. He's not usually a trade deadline kind of guy though, preferring to make his moves beforehand. He'll likely make some sort of move, but more of the minor in nature.
CBC's Elliotte Friedman stated last month:
"Obviously, there's a lot of talk about Luke Schenn. But hearing that a few teams are watching Toronto AHL defenceman Korbinian Holzer very closely (Anaheimis one). A few guys who see him much more than I do think he's ready for a consistent shot at the NHL. He's defensive-minded (a good penalty killer) and doesn't back down. Could be part of a package for something."
If the Leafs decide instead to deal one of their roster blueliners such as Cody Franson, Mike Komisarek or Carl Gunnarsson, than Holzer might just be the guy relied upon to bolster the defense core and provide depth.
Erik Tangradi, LW (Pittsburgh Penguins)
As Mike Colligan (THW) highlighted:
"Another name constantly rumored to be a trade chip is 22-year-old Eric Tangradi.  After coming over from Anaheim in the Ryan Whitney-Chris Kunitz swap a few years ago, Tangradi was expected to become an NHL contributor by now and make Pittsburgh the clear winner in the deal.

That hasn't happened yet.  Tangradi has appeared in 28 games over three seasons in the Penguins organization, scoring just one goal and two assists.

At 6-foot-4 and 221 pounds with decent hands, Tangradi projects as the ideal power forward at the NHL level.  His struggles to crack the Penguins lineup can be traced to three things: skating, intensity, and defensive zone play."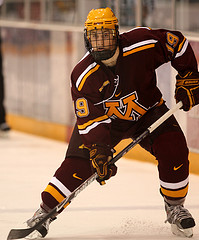 Jordan Schroeder, C (Vancouver Canucks)
The skilled forward's stock may have dropped since being drafted in the first round in 2009, but the Canucks may still have value in the offensively talented diminutive forward. With their Cup aspirations, at the very least GM Mike Gillis will likely want to add another key piece to the already talented Canuck squad. Everyone wonders when or if they would ever part with backup goalie extraordinaire Cory Schneider, but I predict that's a situation the Canucks will again agonize over in the offseason.
Michael St. Croix, C (New York Rangers)
The Rangers are mentioned as a potential destination for everyone's object of affection, Rick Nash, but how can you mess with this team's chemistry. Creating a great storyline a few nights back, after Nash scored, a goal in Madison Square Gardens, a chant echoed through the not-so-pleased Big Apple crowd: "We Don't Want You!"
This deadline should see the Rangers making moves similar to what we saw from the Bruins last year – depth moves.
St. Croix(son of former NHL goalie Rick) was a potential 4th round steal last June. For the record, I had the talented center rated as a 2nd rounder. The knock on him is that he does all his best work on the perimeter, electing to rarely get in the greasy areas. The numbers don't lie, however, and St. Croix has 92 points in 60 games this year thus far for the Edmonton Oil Kings in the always tough WHL.
Brandan Saad, LW (Chicago Blackhawks)
GM Stan Bowman will likely want to be active, possibly looking for scoring depth up front, a blueliner and will have to take a long hard look at the goaltending situation. Saad was a crafty 2nd round pick from the 2011 draft, having seen his stock drop after initially being touted as a potential early 1st rounder. He had a brief cup of tea with the big club early in the season and has translated that into a coming out party with the Saginaw Spirit notching 59 points in 33 games so far this season. The Blackhawks have a very deep prospect pool and could dangle the potential power forward for the right return.
Austin Watson, C (Nashville Predators)
GM David Poile is amongst the NHL elite at his position. The Predators have already literally beefed up the blueline with the addition of Hal Gill. An offensive forward is now first and foremost on the wish list and Watson could just be the bait to land Nashville a difference maker up front. One has to think the Preds are playing for this year with the future of holding on to both elite defensemen Weber and Suter unknown going forward.
Watson is a two-way forward with a tantalizing blend of size, versatility, hockey sense and grit with all-around upside. He'll be a tough asset to part with. After collecting points at about a point-per-game clip with the Peterborough Petes, Watson has notched 27 points in 17 games with the London Knights after being traded to them.
Tyler Toffoli, RW (Los Angeles Kings)
Give up future scoring for a present day scoring boost.
GM Dean Lombardi would likely love to make a splash and obtain a high end forward (Rick Nash, being the elephant in the room, or at least in this article!). The obvious chess piece Lombardi has at his disposal is young stud netminder Jonathon Bernier who is waiting in the wings behind incumbent starter Jonathon Quick, who is having a spectacular year.
Beyond Bernier, Toffoli is a former 2nd rounder (should have been a 1st rounder) who has been lighting up the OHL since being drafted in 2010. He has scored 102 goals in 122 games over his last two OHL seasons.
Mark my word, Tyler"Holy" Toffoli will be filling the back of NHL nets regularly in the not so distant future. The knock on him is skating, but this young gun has a NHL quaity shot coupled with a goal-scorer's mentality and feel for the game.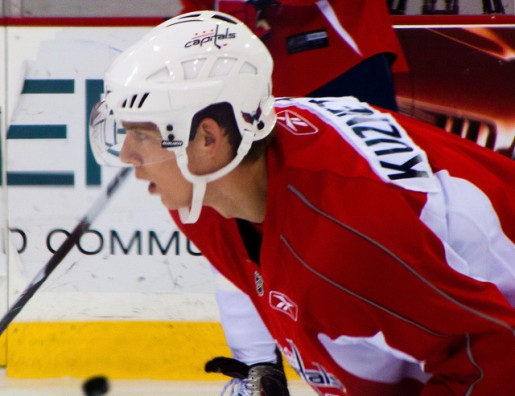 Evgeny Kuznetsov, C (Washington Capitals)
GM George McPhee almost assuredly has to make a cannonball of a splash on or before D-day – NHL trade deadline day that is, with the highly skilled Capitals in danger of missing the playoffs.
The Russian forward prospect is one of the top offensive players in the world outside the NHL with his skillset on fine display at the 2012 World Juniors as he dissected almost every defense he encountered.
Capitals brass and fans alike may have just had enough of talented Russian forwards who don't bring their "A" game to the rink each and every ice time. The red carpet may not be rolled out inWashingtonfor Kuznetsov no matter how talented he is.