It was a Hall-of-Fame type week for the Toronto Maple Leafs as they hosted the Hall of Fame game and added a number of special moments to what has been an already impressive start to the season – now sitting at 11-5-0 through their first 16 games.
While the class of 2018 was honoured prior to their game against the New Jersey Devils on Friday, one member of the Maple Leafs family had his name enshrined in the Hall, while two others continued to add to their already impressive careers.
With that, here's a look at the most recent news out of Toronto.
Marleau's Apple Farm
It seems fitting that while the Maple Leafs played host to the Hall of Fame game, a likely future Hall of Famer added to his illustrious career – tallying his 600th career assist on a second period goal by Nazem Kadri.
It was Patrick Marleau's sixth assist of the season and ninth point, but it was a milestone apple for the 39-year-old who just seems to continue producing.
🍎 Another helping hand from Patrick Marleau in last night's @MapleLeafs win – his 600th to be exact! pic.twitter.com/eJA6dDFHQi

— NHLPA (@NHLPA) November 10, 2018
The milestone marker made Marleau the 88th player in NHL history to record 600 career assists and puts him one back of tying Glenn Anderson for 87th on the NHL's all-time list. The assist also give Marleau 1,138 career points which is good enough for 55th on the NHL's all-time list.
"It's always nice when a milestone like that comes with a win," said Marleau in his post-game scrum. "The guys played great tonight. It was fun."
While the veteran forward still doesn't have a Stanley Cup to his name, it's safe to say that notching this milestone during the Hall of Fame game will surely have some irony to it when Marleau's career is all said and done as he will likely – one day – get the call himself for the Hockey Hall of Fame.
'Holy Mackinaw'
If one day Marleau does get the call, he'll be joining another member of the Maple Leafs' family that was given a spot in the Hall of Fame this week in play-by-play specialist Joe Bowen.
The long-time voice of the Leafs, Bowen popularized his trademark call of 'Holy Mackinaw!' and hasn't shied away from making it known that he's a fan of the team that plays on the surface below him on a night-to-night basis.
Well, on Monday, Bowen will join Larry Brooks of the New York Post as they are both inducted into the Hall of Fame's media wing. He will be honoured as the recipient of the Foster Hewitt Memorial Award for having worked and called over 3,000 games for the Maple Leafs.
While he's surely made a number of incredible calls over his career, he told Kevin McGran of the Toronto Star that the biggest one "hasn't happened yet." (from 'Joe Bowen, voice of the Toronto Maple Leafs, humbled ahead of Hall of Fame induction – 11/9/18)
For Bowen, and Leafs Nation, let's hope he's right.
Rielly Leading By Example
While he's still very early on in his career – just in his sixth season since the Maple Leafs drafted him fifth overall in 2012 – Morgan Rielly is already making a name for himself in blue and white and silencing a lot of critics.
Coming off his career-high 52 points last season in just 76 games, questions about the Maple Leafs defence has some (including myself) wondering if the team needed to go out and get themselves a stud on the blue line. While questions might still remain around the defensive coverage of the entire unit, no one is questioning what Rielly has done on the offensive side of the puck.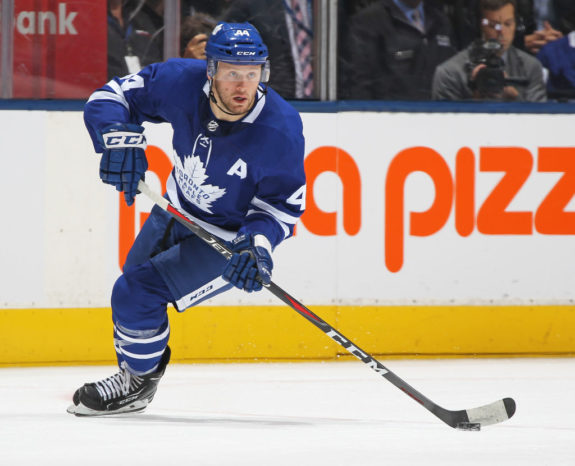 With another two points against the Devils on Friday, Rielly took over the team lead in points with 20 and became seventh defenceman to record 20 points through the team's first 16 games in franchise history – with Harry Cameron and Borje Salming both achieving the feat twice as Maple Leafs.
On top of that, he is the first Leafs' defenceman to score seven goals in the team's first 16 games since Al Iafrate did it in 1987-88 and it's just the eighth time it's happened in franchise history.
If Rielly can maintain this pace, he will certainly find himself getting a few votes for the Norris at the end of the year.