In late June, I did a three-part series on the state of the Toronto Maple Leafs roster. Going off of the team on paper only, I examined the strengths and weaknesses, and gave a separate letter grade to goaltending, defense and offense at the time. Now that it is September, it is time to revisit this and see if the moves done this past off-season have hurt or improved the team, on paper at least.
• Part 1- Goaltending: Offseason (June 21)–> Preseason (September 3)

• Part 2- Defense: Offseason (June 26)–> Preseason (September 9)

• Part 3- Offense: Offseason (June 28)–> Preseason (today)
In the final installment of September's look ahead to the season, we examine the Maple Leafs forwards. With training camps opening up this morning, there will be quite a few new faces. The changes to the forwards are outlined below:
Additions: 1) David Clarkson (free agent)       2) Dave Bolland (trade)       3) Trevor Smith (free agent)
Subtractions: 1) Mikhail Grabovski (Washington)    2) Clarke MacArthur (Ottawa)  3) Leo Komarov (KHL)    4) Matt Frattin (Los Angeles)
Kadri Signs 2-year Deal
On the eve of training camp, Leafs Nation collectively breathed a sigh of relief:
https://twitter.com/RealKyper/status/377604092832780291
After months and months of negotiations that seemed to be going nowhere, Nazem Kadri finally agreed to a bridge deal, similar to the one that P.K. Subban signed with Montreal, although P.K. held out well past training camp. Kadri's deal is 2 years and $5.8 Million, for an average annual cap hit of $2.9 Million. Very reasonable if you ask me. In fact, on June 28th I wrote specifically: "my ideal [Kadri] contract would be 2 years, $6 Million". So I am more than happy, even if there is not even enough cap space for Cody Franson (at the moment at least). Nonis should figure something out, but time is certainly running out.
Will Mason Raymond Make the Team?
Two nights before Kadri inked his new deal, another intriguing, though less glamorous, name was tied to Maple Leafs training camp:
UFA F Mason Raymond will be attending TOR's training camp on a PTO.

— Bob McKenzie (@TSNBobMcKenzie) September 9, 2013
He's not signed to a contract yet, and there is limited cap space, but I still think Raymond does indeed make this team. Speed is his game and though his totals have dropped off since his 53 point campaign for the Canucks in 2009-10, he is (at the very least in my mind) a very capable 3rd line checker. Consider this: Courtesy of Dobber's Frozen Pool Line Combos, last year Raymond's most frequent linemates were Jannik Hansen and Jordan Schroeder.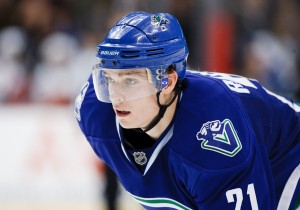 Not the most prolific scorers, with all due respect. The year Raymond had his "break out" was the year he was a fixture on the second line with Ryan Kesler when Kesler posted 75 points.
The point is if Raymond makes this team he won't have to be counted on or expected to score 50 points. He can play a top-nine role, subbing into the top-six when an injury arises, and when he does, he WILL have stronger linemates than Hansen and Schroeder. But if everyone stays healthy (and that won't happen all season long) Raymond can still be effective in a third line capacity. There are certainly questions about his lack of aggression (88 hits the past three seasons, whereas possible linemate Kulemin had over 100 just last [half] season), but there is no doubt that he is responsible defensively plus he has the speed to get back quickly anyways.
All in all, it's well worth it if they can sign him to something like 1 year, $800,000. When I looked at the possible depth chart back in June, there was a big BLANK on the third line LW. Until recently, the options were for Joe Colborne to shift to wing, Frazer McLaren bump up a line, or have a youngster fill the void, but this seems like a much more practical option. Remember, this is all assuming Toronto becomes cap compliant, which I think they can do even with Franson. It will be tough, but it can be done with the right roster shuffling.
Ignore the Salary, Clarkson a Great Addition
Five or six years down the road, when Clarkson is well into his 30's, it will become an issue. But for now, heading into THIS season, Clarkson makes the Maple Leafs top-six a hell of a lot better. And nastier. And tougher to play against.
Was he overpaid? Most certainly yes. Will it come back to bit Toronto in the ass? Possibly, sometime down the road. But possibly not, and for now, with a top-six of JVR, Bozak, Kessel, Lupul, Kadri and Clarkson, Randy Carlyle will have lots of tools at his disposal.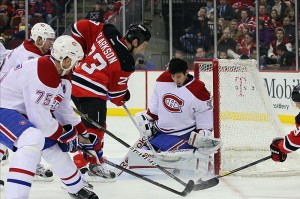 For one, there can now be a big net presence on each of the powerplay units (one big body in Clarkson, another in van Riemsdyk). Clarkson can also keep a watchful eye on Kadri, now that opponents realize how big a threat he is and start to key in on him, particularly in the physical department. Not that Kadri can't stand up for himself, but young players with that much skill often become targets so having a guy like Clarkson on a line with him will most certainly help. Third, and by far the most important, is the Clarkson is the type of player that Randy Carlyle covets. The GM and Coach are very much on the same wavelength and you can bet Carlyle had a big say in the Grabovski buyout and Clarkson signing. Completely opposite type of player, one gone, the other signed long-term for big money.
Will Clarkson score 30 goals? Unlikely. But I fully expect 20-25 goals, 45+ points, and 100 PIM. (Again not $5 million stats but I'd still rather have him than not).
MacArthur, Komarov + Frattin Are Gone, Who Fills In?
There are certainly some concerns to be had with the bottom six. However, it's tough to argue that a line of McClement, Bolland and Kulemin wouldn't be one hell of a checking line. As mentioned above however, I would start with seeing how Mason Raymond fits on that line and have McClement play the fourth line between a youngster (Colborne? Biggs? Ashton? McKegg?) and one of Orr or McLaren.
Trevor Smith, who signed a one-year deal with Toronto in the summer, is also in the mix for bottom line minutes after spending last season in the AHL with the "Baby-Penguins" and registering 54 points.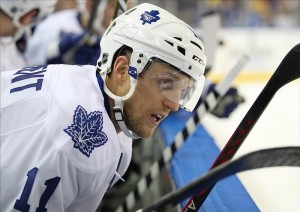 The point is, even though we lost pretty much an entire third line (some combination of Grabovski, MacArthur and Komarov handled much of the third line duties), the youth movement in Toronto is now in full swing. Multiple prospects are now vying for spots and someone will be ready. That player(s) doesnt have to start on the third line right away, and can be eased in thanks to the Dave Bolland signing. But when the injury bug starts to go around, there are fresh faces ready to step in, ones who have had pro experience already, so it's not like they are walking into something they aren't ready for. Joe Colborne has three seasons of pro hockey under his belt, Carter Ashton has two, and Greg McKegg now has one as well. Tyler Biggs, at 6-foot-3 and 224 pounds, is not to be taken lightly either. These guys aren't the only ones who have a shot at making the team, as a good impression at training camp the next few days can mean all the difference.
Maple Leafs Offense Grade
Top-six: JVR-Bozak-Kessel followed by Lupul-Kadri-Clarkson. The bottom-six: Raymond-Bolland-Kulemin followed by Colborne-McClement-Orr. Extras become McLaren-Smith-Ashton, for now at least.
I see a pretty gritty lineup, with just enough skill in the top six to make me believe in a playoff berth. Remember this is all according to names on paper, and it's impossible to tell what may transpire as the season progresses. But up front, the addition of Clarkson, Bolland, possibly Raymond, along with the removal of Grabovski (who let's face it, wasn't his speedy self under Carlyle) is a plus. Komarov was a tough loss for the third line, but it still looks pretty fine to me. Frattin may be missed as well, as a guy who could fill in to a top-six role but personally I think his knee problems are far from over, plus Raymond can play the "top-nine" role fine in my opinion.
In June I gave this offense a B- grade. Two and half months later, Nonis has improved it to a B+.
The full Maple Leafs training camp roster can be found here. Agree or disagree with who will make the team? Comment below or send me a tweet!
Nathan Kanter covers the Vancouver Canucks and Toronto Maple Leafs for The Hockey Writers. He received his master's in journalism from Western University in May of 2015 before serving as the first ever Digital Managing Editor at Western's university newspaper, The Western Gazette, in 2015-16. From 2016-18, he served as the radio play-by-play voice of the Battlefords North Stars in the SJHL. His work has been published in The Hockey News, at Sportsnet.ca and at Dobber Prospects.