Over the last decade and a half the topic of goaltending in Philadelphia has been a bigger discussion than where to get the best cheesesteak in the city – Tony Luke's on Oregon Ave., of course.
Players have come and gone, some because of injury, some because of the inability to handle the pressure and even some because of the wrong mentality.  Yes, it's safe to say that the goaltender position has been a revolving door since the final days of Philadelphia Flyers great Ron Hextall in 1999.
It could be the biggest reason that the franchise has failed to earn its third Stanley Cup over that period of time, leaving fans and players criticizing owner Ed Snyder and general manager Paul Holmgren.  With 16 goaltenders – not including those whom had more than one stint with the franchise – playing at least one game in between the pipes since Hextall retired, there's no shortage of names to remember.
As this season begins to take form and the Flyers look ahead to two "new" goaltenders between the pipes, it seemed like a good time to take a look back those who have watched over the crease in recent years – if only for a few seasons, or a cup of coffee.
John Vanbiesbrouck – With names like Mike Richter and Curtis Joseph swirling around, the Flyers instead pursued a much cheaper option – the man nicknamed "Beezer".  Sure, Vanbiesbrouck had a solid two seasons in Philadelphia, posting a 2.16 goals-against average his first year and a 2.20 goals-against in year two, but he was no spring chicken – plus the Flyers had found their protégé.
After stints in New York and New Jersey, "Beezer" retired and now runs a website that helps train younger athletes.  He is also the general manager for the Muskegon Lumberjacks of the United States Hockey League (USHL).
Brian Boucher – In his rookie season in 1999, Boucher was believed to be the next franchise goalie and was a small part of why Vanbiesbrouck was eventually shipped off.  Can you blame the Flyers?!
In 35 games that season, "Boosh" posted a 20-10-3 record, with four shutouts and a 1.91 goals-against – certainly impressive numbers.  But after giving him a couple more seasons, Boucher got stale, underachieving despite his good guy personality.  He would return several times – often just as stale.
"Boosh" spent last season with the Carolina Hurricanes' organization, before returning to the Flyers' organization for a third stint, playing with the Adirondack Phantoms.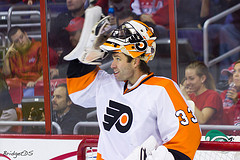 Roman Cechmanek – One of the more talented goaltenders on this list, Cechmanek was a solid netminder that had all the ability to become elite – except his head wasn't screwed on tight.  In three seasons, his goals-against never topped 2.05 and he accumulated 92 wins, but he just didn't want to be here.  It was tough for fans to back a guy who complained about the city and the tough media, so Cechmanek was eventually shipped off, leaving Philadelphia to wonder what exactly could have been.
Cechmanek retired from professional hockey in 2009, after several seasons in the Czech Extraliga.  He has remained off the radar since – probably still shining that 1998 Olympic gold medal.
Maxime Ouellet – Touted as the next big goaltender at the draft, the Flyers knew Ouellet was something special when the team drafted him.  The organization let him develop, and develop, and develop.  Finally he got his shot as a backup but it only lasted two games.  The Flyers weren't impressed and decided to package him – along with a first, a second and a third – in a deal for rental player Adam Oates.  It was dumb then and even more dumb looking back on it now.
Ouellet bounced around the league before winding up in Europe, failing to live up to the hype.
Neil Little – The typical career backup, Little was huge for the Phantoms in the late 1990s, early 2000s but he never quite made it to the NHL.  Often he'd get the call due to injury, equaling two games over the course of eight seasons with the organization.  But hey, he did lead the Phantoms to the Calder Cup.
Little spent the 2005-06 season in the Finnish Elite League before hanging it up.  He has since taken up a number of coaching duties, including the Phantoms and Princeton University.
Robert Esche – There was no denying that Esche had talent – well, most of the time.  Esche transitioned into the role of starter once Cechmanek left town and he put up solid numbers, including a 2.04 goals-against average in 2003-04.  But it was all downhill after the lockout and Esche had a hard time regaining his magic, leading the antsy organization to look for other solutions in the crease.
Like his predecessors, Esche wound up in Europe after his stint with the Flyers.  At 35, he's still over in Switzerland's National League A fighting for a job. Wonder if his mask has Swiss rockstars on it?
Jeff Hackett – Once again the Flyers took the cheap route and it left Philadelphia dizzy – literally.  While solid throughout his first 27 games, Hackett came down with vertigo and was forced to call it quits after 500 games in the NHL.  It was a tough loss, never fully seeing what could have been.
After retirement, Hackett became a goaltender coach for the Colorado Avalanche but was fired after almost three seasons.  Now his main focus is the AHL.
Sean Burke – Sean Burke was a hell of a goaltender – four years before returning to the team.  Burke had shared a cup of coffee with the team during the 1997-98 campaign and the second time around wasn't much longer – 15 games to be precise.  He was a filler and a name easily forgettable.
Burke bounced around with Tampa Bay and then the Los Angeles Kings before calling it quits in 2007.  After being hired by the Phoenix Coyotes as Director of Prospect Development, he was promoted by the organization to Assistant to the General Manager.
Antero Niittymaki – Another highly-touted prospect, "Niitty" – pick No. 168 in the 1998 draft – had the tools but sadly they only seemed to translate to international hockey.  In 2006, he led Finland to a silver medal and was named Most Valuable Player of the tournament, but with the Flyers he was average and prone to injury.  He too got stale and was eventually given up on by Philadelphia.  If only the Flyers played Atlanta – a team he dominated – every game.
"Niitty" went were NHL goaltenders go to die – Europe.  That was after a stint with Tampa Bay, San Jose and two AHL teams.  Now, at 33, he's playing in the Swedish Elite League.
Martin Biron – Brought in from Buffalo to be the answer to the problem, Biron was instantly well liked by the fan base.  His numbers were fair but not good enough to win a Stanley Cup.  In his third and final season in Philadelphia he posted a 2.76 goals-against and .915 save percentage in 55 contests.  It was time to move on – and build a better defense.
Biron signed with the New York Islanders, much to the surprise of Flyers fans, before moving off the island and into the city.  He has been backing up Rangers stud Henrik Lundqvist ever since.
Ray Emery – Once again the Flyers went the cheap route – do you see a pattern here?  Who knows what Emery could have been if it wasn't for some bizarre disease.  He played just 29 games, before becoming the new Jeff Hackett, putting up decent numbers before leaving hockey.  He fought the disease and made a comeback, in one of the best return to hockey stories in recent memory.
Emery was signed for a second stint by Philadelphia this past summer.  He was the backup for the Stanley Cup winning Chicago Blackhawks and a big reason the team won it all.
Johan Backlund – Could have been decent, got hurt in his first game – the end.
After a trip to the East Coast Hockey League (ECHL), Backlund headed to Europe, to play in the Swedish Elite League and continues to earn a paycheck.
Jeremy Duchesne – Played one game against the Islanders, relieving Boucher late in the game.  Duchesne also had a brief stint with the Phantoms.
Duchesne is now in the North American Hockey League (LNAH), probably backing up someone of no importance.
Michael Leighton – There likely has been no goalie to have more stints with the Flyers than Leighton.  It's almost as if the Flyers can't get rid of this guy.  Practically a career backup, Leighton has been thrown into the starting job on a number of occasions.  He took over for "Boosh" during the team's 2010 playoff run and gave up the worst goal in Flyers history – an overtime, Stanley Cup winning goal to Patrick Kane on a crap side angle shot.
Last season the Flyers traded "Leights" to Columbus to help land Steve Mason.  He has since moved on to the Kontinental Hockey League (KHL), where he is likely causing other fans to rip their hair out.
Sergei Bobrovsky – A undrafted B-level prospect at best, "Bob" had moments with the Flyers that led many to believe he could be a solid, competent goaltender in this league.  However, the Flyers tried to push the youngster too hard, too quick.  He was unable to carry the workload, so Philadelphia found someone who would.  Did we mention he has since won a Vezina with the Columbus Blue Jackets?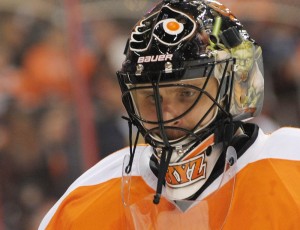 See the last sentence, because that's all that you need to know.
Ilya Bryzgalov – When owner Ed Snyder said go out and get the best goaltender no matter what, many in the city thought it was time to breathe a sigh of relief.  That was before they got to know "Bryz".  Armed with a thick accent and an off-the-wall mindset, the $51 million goaltender fell flat on his face, despite a lack of help from the defense.  Last season, in 40 games, he had a 2.79 goals-against and six shutouts.  Fed up with the mediocrity and the antics, Holmgren bought out his contract – because, well, what have you done for me lately?  He wasn't worth what he was making.
While "Bryz" has been looking for work in the NHL, no team has taken on the top-tier netminder, or his mental baggage.  A starting position in the KHL seems likely for his future. That would be "humongous".
And now Philadelphia looks ahead to the next chapter – Emery and Steve Mason.  The two will battle for the No. 1 spot but could likely end up as a tandem, begging one question.  Will the two be able to help lead the Flyers to the promised land, or will they both end up as another notch in the Flyers' goaltending belt?  Only time will tell.  Another year, another goaltending experiment.