Monday afternoon the Anaheim Ducks and Tampa Bay Lightning made a deal that sent 28-year-old Oakville, Ontario centerman Kyle Wilson to the Anaheim organization and shipped 25-year-old Apple Valley, Minnesota native Dan Sexton to the Tampa Bay organization. Here is a little background and taste of what Dan Sexton will bring to the Tampa Bay organization.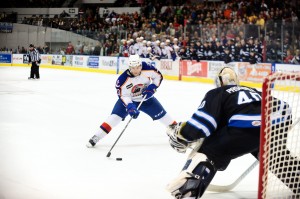 Right-wing Dan Sexton signed a two-year extension contract with Anaheim on July 7, 2011. Sexton was originally an undrafted prospect when he signed his first deal with the Ducks in 2009-2010. Before the Ducks signed the speedy 5'10" winger, he was competing with the Bakersfield Condors in the ECHL. After inking his first two-year deal with the Ducks, Sexton was loaned to the Manitoba Moose of the AHL and played in thirteen games.After his stint with the Moose, Dan was recalled by Anaheim where he saw his fair share of ice time in forty-one games. During his recall, he tickled the twine nine times while notching ten assists totaling nineteen points.  Sexton's true talent was showcased in his third NHL game against Dallas where he potted a pair of goals. "Sexy" as he is known to his teammates, led all Duck greenhorns in assists. Sexton was also tied for tenth in points per game in the NHL amongst first-year skaters.
The following year, the right-handed shoot spent most of the 2010-2011 season with Anaheim playing in forty-seven games totaling four goals and nine assists.  The other part of the season was spent playing with the AHL affiliate of the Ducks, the Syracuse Crunch. During his time with the Crunch, he skated in seventeen games. Sexton lit the lamp nine times while dishing out eight helpers.
Last season, Dan spent all season playing in a Crunch uniform amassing 30 goals while assisting on another 30. After the lights dimmed on the Crunch's 2011-2012 season, Sexton ranked fourth in scoring for the Club. Another key success that Sexton achieved last season was being named CCM/Reebok AHL Player of the Week for November 11, 2011 when he tallied two goals and seven assists in a two-game span. On top of that honor the Apple Valley, Minnesota native netted his first career hat trick against the St. John's Ice Caps on March 3, 2012.
Sexton, like every other North American hockey player during the temporary work stoppage this season, had nowhere to play due to his contract terms with Anaheim.  So the Ducks brass suggested he sign with their new AHL team, the Norfolk Admirals, for the remainder of the lockout.
"Sexy" did just that, signing a Professional Tryout Contract on New Year's Day. Shortly after he signed his P.T.O., the lockout ended and the P.T.O. was no longer needed. Prior to the trade, Sexton had points in six straight games with Norfolk equaling two goal and six assists. Sexton departs Norfolk with twenty-six games played tallying five goals and eleven assists. The speedy forward also heads to the Lightning organization with a plus/minus ranking of negative two.
The gifted forward has a bright future ahead of him in the Lightning organization. Tampa Bay has already given him orders to report to the Syracuse Crunch, their affiliate. Sexton's small 170-pound frame will sit well with the Syracuse Crunch head coach Jon Cooper who currently coaches the AHL's second leading scorer Tyler Johnson who stands 5'10" on skates.
Sexton bolsters an already star-studded Crunch lineup making them almost unstoppable going down the stretch towards the play-offs.  Sexton's wicked dekes and soft hands could compliment center man Tyler Johnson very well seeing as they both have speed and a nose for the net.  On the other hand, Sexton has proven he can play in all situations including special teams and can compete on a high-energy line meaning that he could flank a wing alongside J.T. Brown with Captain Mike Angelidis centering.
These are just prediction; however; Dan Sexton will thrive in any role Crunch head coach Jon Cooper puts him in. Keep an eye on Sexton as he climbs Tampa Bay's depth chart.
Ted grew up in Virginia. Warren has a passion for the AHL and dishes out articles about the Norfolk Admirals and the AHL. Follow him on Twitter @bauerhockeydude