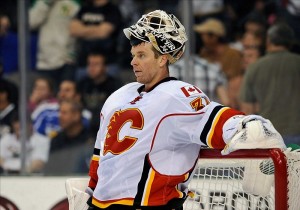 Through the first half of the 2013 National Hockey League season, you could say things haven't gone according to plan for the Calgary Flames. With a handful of new players and the hopeful emergence of youngsters in expanded roles, one would imagine the team would be satisfied with hovering just over .500 and around the playoff pack.
Well, that didn't happen.
Instead, the Flames sit in the Western Conference basement and boast a record two games south of the .500 mark. They have their work cut out for them in the second half.
Let's take a brief look at how the team's individual contributors have done through the first 24 games.
FORWARDS
C Mikael Backlund – B+
Came into the season with a lot of confidence, but then got injured. However, he's still as aggressive as he was prior to his MCL injury, which is an encouraging sign. He's got 4 goals in 10 games, which is also a good sign for a guy who's great at generating chances but (until this year) had trouble burying them.
LW Sven Baertschi – C+
The Flames' first rounder in 2011 came in with high hopes, but has failed to execute on his scoring chances. After posting just an assist this season, he's been sent back to Abbotsford of the AHL to find his scoring touch and his confidence. Only 20 years old, he'll hopefully bounce back.
RW Steve Begin – B-
Begin was brought in as a mucker and grinder. He hasn't gotten lit up by other teams, he hasn't been physically out-matched by bigger players, and he scored a clutch goal that won the Flames a key game. That said, he's almost never noticeable on the ice and he only plays a handful of minutes, so his impact on games (positive or negative) is fairly minimal.
LW Mike Cammalleri – B-
On one hand, Cammalleri leads the team in goals. But if you remove his 4 power-play markers and focus on his five-on-five play, he's an average Flame. He's the only "top" Flame that doesn't face a lot of top-line opposition, but he's decent at generating scoring chances when he's on the ice.
LW Roman Cervenka – B-
Cervenka looks gradually more comfortable on the NHL ice every game. He's very creative with the puck and good at generating chances, but his defensive zone play needs a bit of work. He's a work in progress.
LW Blake Comeau – C–
Comeau's eaten up a fair amount of bottom-six minutes for Calgary. He has one goal (and it was a nice goal) but otherwise hasn't generated a lot of offense. He also has one of the worst plus/minus figures on the team, despite usually facing the other team's bottom-six players. His value comes in his effective play while short-handed.
LW Curtis Glencross – B
Glencross has been one of Calgary's most reliable players against the other team's best lines. He continually out-shoots the opposition, but his execution is variable. Sometimes he's excellent and scores clutch goals, other times he's much less effective. He's a key contributor on special teams and has the Flames' only shorthanded goal.
LW Jiri Hudler – B
Brought in as a Czech mentor for Cervenka, Hudler has been a pleasant surprise for the Flames. While he was arguably playing with more high-end talent in Detroit, Hudler has shown that he wasn't riding coattails. He's been creative and good in both ends of the rink. He hasn't converted on all of his chances, but he's doing his best to generate them.
RW Jarome Iginla – B-
Once a model of consistency, Iginla has looked strong and weak at different points in seemingly every game. He continues to generate a lot of shots for his team, and he's managed to do that against the other team's top lines (as he did last year), but his defensive zone play leaves a bit to be desired. Despite his consistency issues, he's Calgary's top scorer and easily their most potent offensive threat.
RW Tim Jackman – C+
Jackman plays a gritty bottom-six role. He doesn't put up much offense, nor has he fought very much (likely contributing to the decision to bring in Brian McGrattan as a deterrent), but Jackman is an energetic presence in the line-up and the team's most consistent hitter.
C Blair Jones – C-
Jones was one of Calgary's top face-off men, but failed to put up points or generate much in terms of offensive chances. Moreover, he didn't really use his size very much. He was put on waivers, cleared, and then was sent to the AHL.
C Matt Stajan – A-
A big surprise this season has been the emergence of Stajan as a strong, end-to-end player. He's played a lot against the league's best players – in part because Calgary lacks natural centers – but has generated more scoring chances (and goals) than he's given up. He's one of two Flames in the black for plus/minus and has been continually recognized by Flames staff, players and media as one of the team's best and most valuable players. He's continuing a massive turn-around which started at the tail-end of last season.
RW Lee Stempniak – A-

Matt Stajan has been great so far this season for Calgary. (Jeanine Leech/Icon SMI)


Another bright spot for the Flames has been Stempniak. While not as essential as Stajan – who takes most of the team's face-offs – Stempniak has eaten up a lot of minutes, playing on whichever top-six line Iginla's not on. He's had success on the power-play and at even-strength and he's managed to keep his plus/minus in the positive digits.


LW Alex Tanguay – B
Tanguay's offensive production has been fairly steady, even though he's usually deployed against the other team's best players. His shooting percentage has been great, but given that it's way above his career average, he's destined for a stiff regression soon. His defensive zone play hasn't been great, too.
Incomplete: RW Brian McGrattan [5 GP], LW Roman Horak [6 GP], RW Akim Aliu [2 GP], C Paul Byron [1 GP], C Ben Street [2 GP]
DEFENSE
Jay Bouwmeester – B-
Currently enjoying arguably his best stretch of hockey as a Flame, Bouwmeester has seemingly re-discovered his offensive confidence. He plays a lot of minutes against the other team's best players, but also gives up a lot of shots on net from the league's best players. That said, he usually keeps them to the outside.
T.J. Brodie – B
Two years ago, Brodie looked awful in his own zone. Last year he played a lot against bottom-six opponents. This year he's graduated to playing against other teams' second-best lines and he's been good, occasionally very good. Brodie's consistently one of his team's best players, game-to-game.
Chris Butler – C+
Last year Butler was paired with Bouwmeester and was well underwater in terms of scoring chances and shots against. That said, he was against the NHL's best players. This season he's usually on the third pairing and remains well underwater. He shows occasionally flashes of brilliance, but still hasn't put things together consistently.
Mark Giordano – C+
Along with Bouwmeester, Giordano faces the other team's best. Bouwmeester gives up a greater number of chances, but Giordano gives up the highest quality of scoring chances. In addition, he's been the victim of some really bad giveaways in his own zone. He's not a liability, but sometimes he makes you wonder if he'd be better as a really good second-pairing guy rather than an okay first-pairing guy.
Cory Sarich – C
Re-signed for his physical element, Sarich hasn't really factored into many games. When he's played, he's faced primarily bottom-six opposition and looked perfectly fine.
Derek Smith – C
Last season Derek Smith was a guy with a lot of upside. Then he missed a chunk of the season with an injury and seems to lack the same confidence he had last year. He hasn't been particularly bad, but he hasn't stood out for any real reason and he's been used primarily on the third pairing.
Dennis Wideman – B-
Brought in to reinvigorate Calgary's power-play, Wideman has done just that. Five-on-five, he's decent with occasional lapses in his own zone. So far, his offensive contributions out-weigh any defensive zone hiccups.
Incomplete: Anton Babchuk [2 GP]
GOALIES
Danny Taylor. (Ross Bonander/THW)

Leland Irving – C
Irving was shaky in his first couple outings but gradually settled down. Unfortunately, the Flames sent him back to the minors and replaced him with Danny Taylor and, later, Joey MacDonald.

Miikka Kiprusoff – C-
League-average goaltending in the NHL would have a .909 save percentage. Kiprusoff has a .867 through the first half. Injury or not, that's not nearly good enough to keep his team in games.
Joey MacDonald – B
Brought in off waivers from Detroit, MacDonald has provided the Flames with consistent, dependable goaltending. His best hasn't been Vezina-calibre, but he's not exactly Philippe Sauve, either.
Danny Taylor: B-
Taylor played twice and looked shaky in his first start and pretty good in his second start. He made a handful of really nice saves, but his critics say he wanders a bit too often and plays the puck too often. Those are probably valid criticisms, but Taylor performed well enough in his short stint to merit future NHL opportunities somewhere.
INTANGIBLES
Power-Play: 19.3% (11th) – B+
Dennis Wideman was brought in to add another element to the Flames power-play. He's succeeded, and his puck-distribution skills have allowed guys like Mike Cammalleri and Lee Stempniak to rack up points with the extra man.
Penalty Kill: 77.6% (27th) – D+
It's been said that your goaltender has to be your best penalty killer. Given the Flames' struggles with goaltending, it's probably not shocking that their PK has given up 17 goals on 102 shots, resulting in a short-handed save percentage of just .833.
Face-Offs: 47.3% (25th) – C
Oddly, the Flames have routinely dressed one natural center (Matt Stajan) and have otherwise trotted out a dog's breakfast of center-ice options. Despite the chaos at the position, the team has shown decent growth in face-off wins. This may be attributable to the changes to the coaching staff since last year, as most of the personnel have stayed the same.
Coaching: C+
It's hard to fault Bob Hartley too much for a team comprised mostly of the same guys as last season performing about the same as they did last season. The Flames lack a "hard-minutes" line, so Hartley has gradually fallen back on giving his top line the top minutes in a "power versus power" approach utilized to a low level of success by his predecessor, Brent Sutter. Several of the team's metrics have improved, but the team's inconsistency has remained.
Management: C-
The season has been a series of odd moves so far. Blair Jones, one of the team's few natural centers, was waived and assigned to the AHL. The Flames signed Danny Taylor and then claimed Joey MacDonald, seemingly stock-piling prospective back-up goaltenders. The team continues to have Anton Babchuk on the roster, paying him a lot of money to play (to date) only two games. Then there's the whole Ryan O'Reilly offer sheet/waivers hubbub. None of these moves made the team appreciably better or worse, but it's hard to discern if there's an overall plan or strategy in place that governs them. To be fair, most of Jay Feaster's off-season signings have turned out well, though.
Ryan Pike has covered the Calgary Flames and the NHL Draft extensively since 2010 as a Senior Writer for The Hockey Writers and Senior Contributing Editor of FlamesNation.ca. A member of the Professional Hockey Writers Association, he lives in Calgary.