The NHL trade deadline brings with it the excitement of blockbuster deals that can re-shape a team and add the final piece to push a team over the hump, in hopes of hoisting a Stanley Cup. Negotiation tactics heat up and general managers try to pry picks, prospects and players from one another at the last minute before the trade deadline hits. It can have fans and players on the edge of their seats.
Or not.
Leading up to the deadline can be really boring. Listening to mindless babble from talk show hosts. Constantly refreshing your browser. Double-checking Twitter feeds. Desperately waiting for a blockbuster deal that will improve your team. The reality is, the recent expansion draft, the salary cap and the tightness of playoff races have stalled many deals. General managers are loathe to give up a high pick. They're reluctant to give up their future for rentals.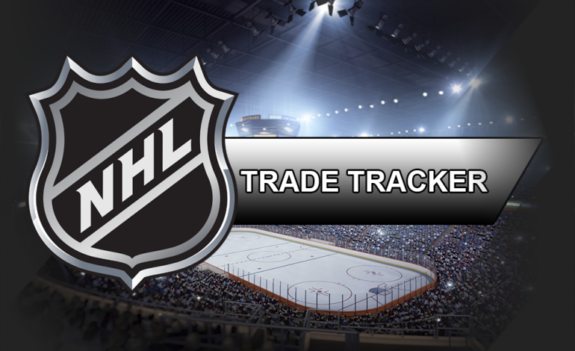 While the clock ticks down until the final seconds and general managers stare each other down, there's not much to do but speculate. To help pass the time, we've assembled a list of things to do to help pass the time.
Play Rock'em Sock'em robots; label the red guy Probert and the blue guy Domi.
Place tennis cans at the corners of your garage and see how many tennis ball slapshots it takes to knock them over.
Eat a giant platter of hotdogs in front of the TV like Phil Kessel is surely doing, while dipping them in the Stanley Cup filled with ketchup.
Play the board game Risk with each country name swapped out for hockey team names.
Go to a batting cage, stand on the plate and see if you can stop 100mph slap shot-like pitches.
Do what Washington Capital fans do – curl up in pajamas under the covers with Ovi dolls and try to figure out how they might beat the Pens this year.
Do what Sabres fans do – put on Tommy Calandra's "Ya Know We're Gonna Win That Cup" tape and dream of the second-coming of the French Connection.
Do what Toronto Maple Leafs fans are doing — have a cold one at the candlelight vigil at Nathan Phillips Square and pray for Auston Matthews' health.
Do what Edmonton Oilers fans are doing — wondering how they are going to miss the playoffs for the second time in three years despite having McDavid on their roster.
Watch a replay of the most entertaining hockey game this year: Canada vs. USA Women's Olympic final.
Use some medical marijuana for your sore back and dream of hearing Al Michaels calling your gold medal-winning goal.
Do what all non-Boston Bruin fans would approve of: make a voodoo doll of Brad Marchand and stick pins in it for every cheap shot he's ever dished out.
Do what Detroit Red Wings' fans do – put on Journey's "Don't Stop Believin'" and reminisce about Stevie Yzerman, Nick Lidstrom, Brendan Shanahan, Pavel Datsyuk and Sergei Fedorov.
Do what Devils fans do – watch the coverage on television at half speed… to mimic their team's style of play the last 25 years.
Watch the movie Slap Shot on a loop.
Have a debate about the best goalie in league history – Patrick Roy, Martin Brodeur or Dominik Hasek.
Have a debate about the best defenseman in league history – Nicklas Lidstrom, Bobby Orr or Doug Harvey.
Make an honest attempt to floss your teeth for the first time since your last dentist visit.
Try curling.
Take violin lessons so you can play a sad song the next time Crosby cries after a call he doesn't like.
Try to come up with a good name and uniform design for the new team coming in Seattle.
Send 100 large pizzas with sardines to Gary Bettman's house.
Agree to go shopping for new window treatments if your wife will sew the old draperies into a coat for Don Cherry.
Watch Youngblood on a loop.
Teach an American friend about The Hip.
Write a letter to the CBC about how the world hasn't been quite right since they gave up Dolores Claman HNIC intro song.
Go to a Tim Horton's new class on making at-home Timbits.
Watch all three Mighty Ducks movies. See if you can do it without turning away.
*Relax. It's satire.
---
Enjoy more 'Off the Crossbar' columns.
---
Jeff has been covering the NHL for over a decade for various sites. He's been with The Hockey Writers as a lead Sabres writer three years, while also writing a satire column called "Off the Crossbar."