Zdeno Chara is going to miss at least a month. That leaves a big, BIG hole on the Bruins' blue-line — literally and figuratively.
With Johnny Boychuk a salary-cap casualty, traded to the New York Islanders for two draft picks just prior to the start of the season, Boston's defence depth is suddenly suspect — sketchy at best.
Philadelphia's back end was struggling even before losing Andrew MacDonald and Braydon Coburn, with both also expected to be sidelined for several weeks. The Flyers started the season without defensive stalwart Kimmo Timonen, whose playing future is in jeopardy because of blood clots with no timeframe for a potential return.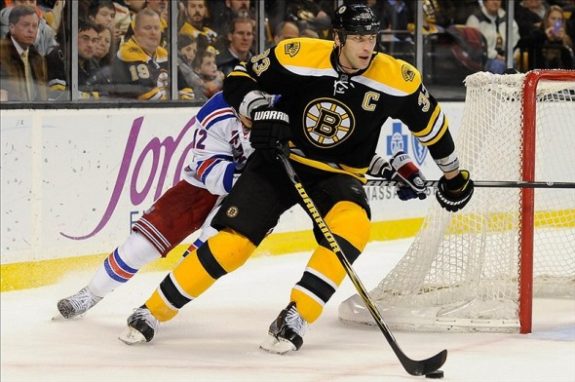 Promote Somebody
Given that Boston and Philadelphia both have playoff expectations, they aren't likely to stand pat and rely on prospects to fill the void — especially if the losses start adding up in the absence of those veterans. For now, Boston has called up Joe Morrow and Zach Trotman, and they also have David Warsofsky in the AHL if need be. Philly is planning to summon Mark Alt from the minors, though Robert Hagg and Shayne Gostisbehere could end up making their NHL debuts sooner than later.
Sign Somebody
There are still a half-dozen decent unrestricted free agent options, leftover guys who didn't land contracts out of training camp. That list includes, but is not limited to: Derek Morris, Joe Corvo, Carlo Colaiacovo, Mike Komisarek and Sheldon Brookbank. It's reasonable to think they would be willing to sign for the league minimum or even ink two-way contracts at this point just to get back in the league. The Flyers went this route by rolling the dice on Michael Del Zotto when Timonen was ruled out, so they might go back to the UFA well again. The Bruins have some history with Corvo and Morris, so that familiarity could lead to second opportunities for them in Beantown.
Trade For Somebody
Or, there's always the possibility of a trade. With these injury situations, that possibility becomes more realistic as the need becomes more pressing. Problem is, both the Bruins and Flyers are bumping up against the cap and can't afford to take back significant salary. So neither team can acquire a big contract, like Tyler Myers, for future assets (picks, prospects). That's not to say both teams aren't burning up the phone lines in search of available replacements, but it would need to be a "hockey" deal with actual roster players going the other way.
Myers is reportedly in play, with the Detroit Red Wings already rumoured as a front-runner to land the Buffalo Sabres' rearguard. But the asking price is said to be steep, a combination of roster players and futures being the anticipated return for the former Calder Trophy winner.
Myers to Boston could make a lot of sense, given he's similar in size to Chara and would stand to learn a lot from the Bruins' captain with or without him in the lineup. Myers has a cap hit of $5.5 million through 2018-19, so he's a long-term commitment to any team pursuing his services. The Bruins have a little under $4 million to spare right now, but they also have a glaring hole on the top line with prospect Seth Griffith currently filling the void left by Jarome Iginla's departure. The Sabres also happen to have an Iginla-type pending UFA in Chris Stewart, who could be a better fit alongside David Krejci and Milan Lucic, albeit also with a $4.15-million contract for the rest of this season.
Could the Bruins pull off a trade to land Myers and Stewart at a combined cost of nearly $10 million? It's possible, but not overly plausible. The return would almost certainly start with Carl Soderberg, the Bruins' surprise leading scorer and another pending UFA that will require a hefty raise next summer. Only being 29 years old, Soderberg probably wants a long-term deal and might price his way out of Boston. He's only making slightly more than $1 million this season, so the Bruins would need to add another bigger contract, likely either Brad Marchand ($4.5 million) or Loui Eriksson ($4.25 million) at Buffalo's preference. Reilly Smith ($1.4 million) or Malcolm Subban ($863,333) might also need to be included in the package for Buffalo to bite.
Proposal 1
To Boston: Tyler Myers and Chris Stewart
To Buffalo: Brad Marchand, Carl Soderberg and Malcolm Subban
Proposal 2
To Boston: Tyler Myers and Chris Stewart
To Buffalo: Loui Eriksson, Carl Soderberg and Reilly Smith
Proposal 3
To Boston: Tyler Myers
To Buffalo: Brad Marchand/Loui Eriksson and Malcolm Subban
Are these trades that the Bruins would/could/should consider? They seem to have the forward prospect depth, with guys like Griffith, Ryan Spooner, Jordan Caron, Matt Fraser and Alexander Khokhlachev, to plug a couple holes up front as required.
Ottawa's Jared Cowen, at $3.1 million through 2016-17, is another big-bodied blue-liner that might be available for some of these assets. He's been a healthy scratch more than once this season and could perhaps benefit from a change of scenery.
Trade For Anybody
Or maybe the Bruins go in a different direction and trade one or two of those young talents for a "rental" type defenceman. Carolina's Andrej Sekera ($2.75 million), Edmonton's Jeff Petry ($3.075 million) or Arizona's Zbynek Michalek ($4 million) would seem to fit the bill as pending UFAs, while the Hurricanes, Oilers and Coyotes could use a guy like Spooner ($760,000) in their lineup with another veteran forward like Chris Kelly ($3 million), Gregory Campbell ($1.6 million) or Daniel Paille ($1.3 million) being a welcome throw-in.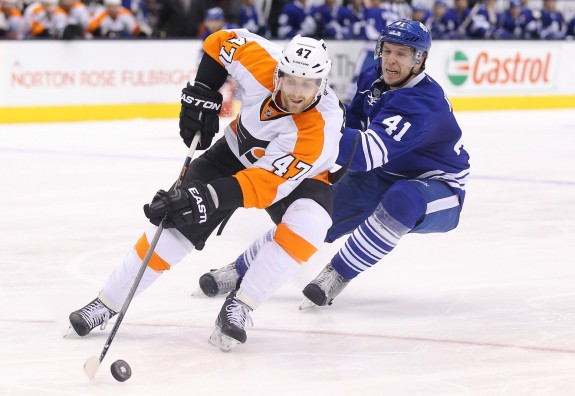 What About The Flyers?
Philadelphia would presumably be in on all the same deals, targeting the same guys from Myers on down the list.
Myers, 24, or Cowen, 23, would seem the likeliest if the Flyers were sending Brayden Schenn, 23, or Sean Couturier, 22 in December, the other way. Schenn, at $2.5 million, would offset the salaries enough to make a 1-for-1 trade, while Couturier, at $1.75 million, would probably need to be part of a bigger deal with more salary moving out and more talent coming in.
Proposal 4
To Philadelphia: Tyler Myers
To Buffalo: Brayden Schenn and a 3rd-round pick in 2016
Proposal 5
To Philadelphia: Tyler Myers and Chris Stewart
To Buffalo: Brayden Schenn, Luke Schenn and Scott Laughton
Proposal 6
To Philadelphia: Jared Cowen and Zack Smith ($1.887 million)
To Ottawa: Sean Couturier and Matt Read ($3.625 million)
Explore All Options
If those deals are deemed too rich, especially the latter, then Philadelphia could also go shopping for pending UFAs. The Flyers did that last year by acquiring, then almost immediately extending MacDonald. Sekera, Petry and Michalek would obviously be of interest, but Tampa Bay's Eric Brewer ($3.875 million), either of Barret Jackman ($3.166 million) or Jordan Leopold ($2.25 million) from St. Louis, and Ottawa's Marc Methot when healthy ($3 million) could also be on Ron Hextall's radar. Dangling Read as trade bait probably nets one of those guys, or perhaps one of those teams would consider taking Vincent Lecavalier ($4.5 million) back in a deal involving partial salary retention. That's probably a long-shot, but there's certainly plenty of trade potential on the horizon for both the Bruins and Flyers as a means of upgrading their depleted defence corps.
Larry Fisher is a sports reporter for The Daily Courier in Kelowna, British Columbia, Canada. Follow him on Twitter: @LarryFisher_KDC.
Larry Fisher is a senior writer and head scout for The Hockey Writers, having been an at-large contributor for THW since August 2014. Fisher covers both the NHL and the WHL, specializing in prospects and NHL draft content, including his annual mock drafts that date back to 2012. Fisher has also been a beat writer for the WHL's Kelowna Rockets since 2008, formerly working as a sports reporter/editor for The Daily Courier in Kelowna, British Columbia, Canada from 2008-2019. Follow him on Twitter: @LarryFisher_KDC.