Tuukka Rask has carried the inconsistent Boston Bruins on his back for much of the 2014-15 season.
Their franchise goaltender is in the midst of a season that some will argue is more impressive than last year's campaign worthy of the Vezina Trophy, emblematic of supremacy between the pipes.
The Bruins have been scrapping and clawing for a wild card spot for a majority of the season. As a result, Rask has been called upon a career-high 69 times this year, The Finn is sporting a 34-21-12 record with a 2.31 goals-against and a .922 save percentage this season.
Rask's statistics would suggest he cannot hold a candle to prohibitive Vezina favorite Carey Price. However, given where the Bruins would be without him, the former first-round pick of Toronto has earned his place as a finalist.
Beyond the Basics
Scratching beneath the surface of traditional statistics such as goals-against and save percentage, Rask has been a consistent workhorse for Boston. The six-foot-two-inch backstop ranks third in minutes played among NHL goaltenders, trailing only Braden Holtby and Jonathan Quick.
Rask would need to start Boston's last game in Tampa Bay on Saturday to hit the 70 games played mark. It would be the first time in over 50 years a Bruins goaltender has played in that many games since Eddie Johnston did it back in the 1963-64 season.
Given that the Eastern Conference playoff race will come down to the final game of the season, Rask may have the opportunity to put himself in the history books, even if his team misses the playoffs.
Since Jan. 1, the Bruins rank 22nd in goals scored, but they're 3rd in SV%. #TuukkaTime

— Nicholas W. Goss (@NickGossNBCSB) April 8, 2015
It would be an understatement to say that Rask has done his part to give the Bruins an opportunity night in and night out to win. He has allowed two goals or less in 43 of his decisions this season and the club has capitalized posting a record of 30-8-5.
There have been nights when the defense has been a bit more loose, as shown by the 35 games in which they have allowed 30 or more shots on their two-time All Star. Rask is 19-8-8 in those situations, clearly demonstrating he is capable of bailing his team out on most nights when facing a heavy workload.
Springing To Life
Rask has saved his best for when his team has needed it most. Since March 1, the Finnish Olympian has started 17 of Boston's 19 games going 9-5-3 with a save percentage of .934 according to War on Ice. He has been the most important piece of Boston's season-long fight for the playoffs.
After all, how many times as a fan have you heard the following this year?
Thank you Rask. No Tuukka, no chance to steal that game.

— Mike From Woburn (@MikeFromWoburn) April 3, 2015
Rask has consistently bailed out his defense on many nights so far and is in the midst of his finest hour donning the Black and Gold sweater this season.
Ain't No Rest For The Wicked
Last season, Rask played in 58 games with a reliable backup in Chad Johnson there to give him the occasional breather. Of course, the Bruins were also coasting to an Atlantic Division title and Presidents Trophy in 2014.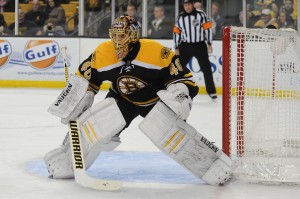 This year, backup Niklas Svedberg has been anything but reliable while the club has been mired in a season-long battle for their playoff lives. It has forced Rask to carry the load between the pipes for Boston.
One would think making 11 straight appearances and 66 starts would wear out the 28-year-old netminder. However, it only appears to be making him more focused on keeping Boston's postseason hopes hanging by a thread.
Rask's herculean efforts of late have forced Julien's hand. Boston's bench boss is more than willing to ride the hot hand as long as it equals postseason hockey.
"If you look at the way he's played lately, he's played extremely well. It's not like we're really seeing any signs of fatigue on his part."

"The most important thing is you got to make the playoffs. Right now we're in a battle and you have to go with your best players."
Closing Thoughts
The real decision is not who is going to win the Vezina Trophy this season, rather who will be the other two finalists alongside Carey Price. Devan Dubnyk, Pekka Rinne, Ben Bishop, Jonathan Quick, and even Braden Holtby join Rask as the likely names to be nominated alongside Montreal's star netminder. Each respective goaltender has an impressive body of work this season, but only two from those six will be chosen.
Tuukka Rask has done his part to keep the Bruins alive in the postseason picture with his steady performances between the pipes.
Whether or not the Bruins make the playoffs, Rask has been a model of consistency for his hockey club. With that, he has earned the right to defend his 2014 Vezina Trophy…at least for two more months.
Joe is a writer covering the Boston Bruins. He is a lifelong native of Massachusetts and is currently a content writer/manager for a newsletter at a Human Services Agency. Joe can be found on Twitter: @JoeCherryTHW