The 2016 Women's World Championship kicks off Monday with four games, including a 2015 gold medal rematch between Team USA and Team Canada.
The U.S. team is looking to win their third straight gold at Worlds and assert some dominance in best-on-best competition with six of the last seven World Championship gold medals. However, Canada will be getting an edge, with the this year's tournament taking place in Kamloops, British Columbia.
A Special Edge
Home ice can mean a little less in international competition than traditional domestic play, but for Canada it may be different. There isn't an equivalent in women's hockey for the fan support the Canadian team has. Star U.S. winger Hilary Knight acknowledged as much when we discussed the tournament by phone.
"I've played a World Championships in Canada before. They set world records for attendance," she said. "They've got the best fans.
"If you get caught up in that, you can get frustrated that you don't have fans traveling the same way that they travel. But at the same time, I take it as here are X amount of people who are fans. Yeah, they're here to watch Canada play, but they're also here to watch me compete."
It's true. The last two World Championships to be held in Canada set attendance records. The 2013 installment, won by the U.S., had the highest attended women's game ever — an opening round match between Canada and Finland — and sold the most tickets for the Women's World Championship throughout the tournament. The 2007 edition, won by Canada, holds the record for highest total attendance.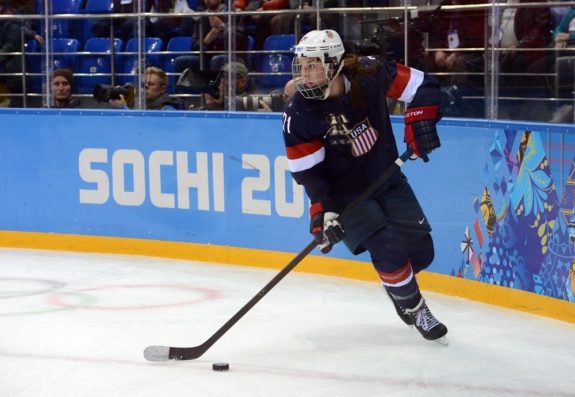 Overtones and Undertones
Competition is always fierce between the U.S. and Canada, the powerhouses of women's hockey. Since the first IIHF Women's World Championship in 1990 no team but Canada or the United States has even made an appearance in a gold medal game, fueling a rivalry for which there isn't an equivalent inside women's hockey.
Canada exerted dominance for years, winning the first eight tournaments (1990 through 2004). Since that run the U.S. has grabbed six of eight.
The U.S. dominance at Worlds has been balanced by Canada's run in the Olympics. The U.S. won gold at Nagano in 1998, and Canada has taken the four since that time, including a win at Sochi in 2014 when a heartbreaking late-game collapse by the U.S. sank their hopes of breaking Canada's spell.
Here's an all-access look at the #USWNT as it prepares for the 2016 IIHF Women's World Championship. #WWC2016https://t.co/4pimrTpY1s

— USA Hockey (@usahockey) March 28, 2016
---
RELATED: U.S. Names Roster and Captains for Women's World Championship
---
Adding to the rivalry — for fans and the leagues, if nothing else — may be the emergence of the NWHL, a professional league in its inaugural season dominated by American players. It has been cast as a rival to the Canadian CWHL, dominated by Canadian players. This will be the first international competition where players will cary the name of their NWHL franchise as their current team on roster sheets.
In total, nine players on the U.S. roster play in the NWHL, still fewer than the 10 who currently play collegiate hockey.
For players, it's not a referendum on NWHL versus CWHL.
"I guess there's been media build up. People can see it's the top forces of both leagues. [They're saying] who's the better league?," Knight said, "To be honest, I haven't really thought about it. We want to go there and defend our title.
"At the same time, when you're coming to camp or you're showing up for a pre-camp, you want to prove to the coaching staff that this is a legitimate league that you've been playing in," she continued. "That you've had a lot of competitive games and a lot of opportunities to have big training moments. There is that. But when we pull on the jersey for Team USA, everything that's going on outside of our little bubble doesn't really matter."
Canada is proud to host the #WomensWorlds Hockey Championships starting today in #Kamloops. Let's do it @HC_Women ! pic.twitter.com/I3lzVErNPb

— Canada (@Canada) March 28, 2016
The storylines are omnipresent when Team USA and Team Canada face each other at any time. It's a great match for the tournament's opening day, with fans hoping a border battle rematch will close out the tournament as well.
Adding to opening day's excitement is a bronze medal rematch. Immediately preceding the U.S. versus Canada game, the 2015 bronze medal-winning Finnish team will face Russia, the team they sank to medal. In 2013, the last World Championship, Russia beat Finland for bronze. These rivals have faced each other for bronze in three of the last four tournaments.
There's certainly a desire for another team to step into the fold and challenge the dominance of the U.S. and Canada. Russia or Finland may be the team to step into that role — though Sweden could be too. Team Sweden grabbed a silver medal at the 2004 Olympics, in the only best-on-best championship of any kind in nearly three decades that hasn't been the U.S. versus Canada.
However, this year, in Kamloops, in a year of very visible growth in North American women's hockey, a border battle for gold will make for a raucous Sandman Centre and is sure to provide some of the best hockey available on the international stage.
Watch the #USWNT play rival Canada tonight at 10:30pm ET on @NHLNetwork. #WWC2016 https://t.co/f9dgoBGv8q pic.twitter.com/VcUxQX5PcP

— USA Hockey (@usahockey) March 28, 2016
Dustin Nelson writes about news and the Minnesota Wild for The Hockey Writers.