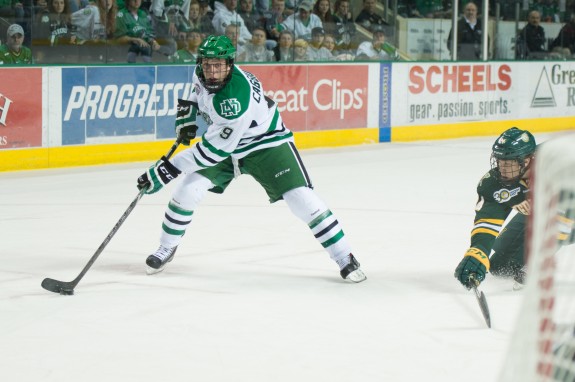 It may be early, but he's been a ray of sunshine in an otherwise subpar season so far for the University of North Dakota hockey team. Sophomore forward Drake Caggiula hails from Pickering, Ontario and he came to the University of North via the Stouffville Spirit of the Ontario Junior Hockey League where he scored (10g-24a—34pts) in 25 games.
As a freshman, he put up a respectable (8g-8a—16pts) in 39 games. This season, he's second in points (3g-2a—5pts) on a team that is offensively challenged. While his numbers aren't eye popping, his effort on the ice has been noticeable.
On October 26, 2013, during a game against the U-18 team, UND sophomore forward Drake Caggiula tried to jump over a U-18 player, and the sophomore forward fell and landed awkwardly on his upper body.  Caggiula was taken off of the ice on a stretcher and transported to Altru Hospital. At first, it didn't look good and it appeared that the talented forward might be seriously injured and might miss some time.
During the week, word emerged that Caggiula was making a miraculous recovery and that there was a good chance that he would play against the Saint Cloud State Huskies. And play he did. Cuggiula would take the ice against the SCSU Huskies a little less than a week after being carried off the ice on a stretcher.
First game back
In his first shift back on the ice, Caggiula made his presence known by throwing a thunderous hit against a Husky player. That hit would fire up his teammates for the time being.
"That was good to get out of the way,'' Caggiula said of his first big hit. "That's part of my game. Just because I was hurt last weekend doesn't mean I'm going to change the way I play."
In his first game back from the injury, Caggiula scored an amazing, eye popping, highlight-reel goal at 3:10 of the first period. That goal was the play of the day on Fox Sports 1 and become the goal of the week in the NCHC. That goal wasn't enough, UND would blow a one goal third period lead and lose the game 3-2.
After the game against the SCSU Huskies, Caggiula had this to say about his speedy recovery and week of practice leading up to the weekend series.
"Missed the first day of practice this week," Caggiula said. " I really told trainers that I want to go aggressive with the rehab. To get me back out there in the best condition that I could be in, I felt pretty good being out there.  It's pretty exciting; I was pretty scared last week. It was just a good feeling, to get out on the ice."
While the fans tend to focus on the highlight-reel goals, head coach Dave Hakstol is more concerned about the other parts of Caggiula's game.
"I think everybody notices when you score a highlight-reel goal like he has once or twice this year," Hakstol said. "But I pay more attention to other parts of his game. He's probably, in terms of our forwards, the guy who has been the most difficult to play against. He's been the hardest guy up front. He's done all the little things the right way."
"I feel like our consistency level of compete on Friday and Saturday nights hasn't been good enough. I think he's one guy who has held a highly competitive, consistent level of play. That's the biggest part of maturity he's showing that's most important to our team."
Personal accomplishments are secondary for Drake Caggiula and he's more interested in team goals, wins and losses, than he is about getting highlight goals put up on Fox Sports 1.
"Obviously, the outcome of the game was what was on my mind," Caggiula said. "But it was pretty good to have all of the fans supporting me and tweeting at me and trying to get my goal up on Fox Sports 1. That was pretty cool, that it (the goal) was one, on that night. I was a pretty cool accomplishment for myself. But obviously, the outcome of the game was what was on my mind throughout that night."
Emotional roller coaster ride for Caggiula
Drake Caggiula was asked to explain his roller coaster week and this is what he had to say about it.
"The USA accident was one of the scarier moments of my life," Caggiula said. "I didn't know what to expect really. I didn't know if was going to back the weekend after, or if I would be out for months at a time. I had no idea."
"On Monday, I felt ten times better than I did on Sunday. I told Pooly (Mark Poolman) that I really on to work on rehab and be as aggressive as I could, to get back in the lineup as fast as I could, and be as healthy as I could. It was pretty emotional, had a lot of people ask me a bunch of questions about it. I am just fortunate to have a quick recovery, played pretty well and Fox Sports 1 was just a little bit of a bonus there. It was emotional both good and bad I guess"
Drake Caggiula is a special player; he's quickly becoming one of the better players in college hockey. Now if he can get the other players on his team to follow his lead and emulate his play on the ice, things will begin to fall into place for the UND hockey team.
Eric is a 1996, 1999 graduate of the University of North Dakota. Eric covers the University of North Dakota Hockey and Division I college hockey. Eric is the Contributing Editor for Inside Hockey.