Many pundits have offered their opinions as to why the Edmonton Oilers' seeming never-ending rebuild has been so fruitless. A quite popular and poignant reason is the fact Edmonton has gotten very little value from their later round draft picks. This point brings the Tampa Bay Lightning to mind. Take a look at their roster and you can see why late round value is so important.
The Lightning feature top end talent from high in the draft with the likes of Steven Stamkos, Victor Hedman and Jonathan Drouin. They aren't all first overall picks but were selected 1, 2, and 3 in each of their respective draft years.
But the key to Tampa's recent upward trend is not as significantly thrust upon these three young players as one may assume. Their later draft picks and even undrafted players are all making key contributions.
The Big Boys: Stamkos, Hedman, Connolly and Drouin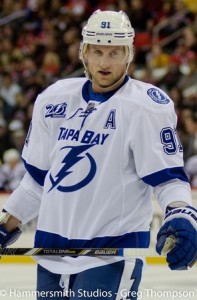 The beginning of the Tampa Bay Lightning's most recent rebuild does not begin with the hiring of Steve Yzerman but with the end of 2007-2008 season. Tampa finished with 71 points and the right to draft first overall. That pick turned into Steven Stamkos.
Tampa didn't turn things around right after drafting Stamkos. They continued to struggle and drafted Hedman 2nd and Brett Connolly 6th overall in subsequent years.
Tampa's first round picks from 2011-2014 are Vladislav Namestnikov, Slater Koekkoek, Jonathan Drouin and Anthony Deangello.
Outside of Stamkos and Hedman, none of these first round picks have made that much of a significant impact. Saying so of Drouin, Deangello and Koekkoek may be unfair but a team vying for top spot in the Eastern Conference this year should have its most important draft picks firing on all cylinders. Right?
The Later Picks: From Rounds 2-7
The Tampa Bay Lightning's turnaround from drafting 3rd overall in 2013 to finishing 3rd in the East a year ago is in part because of the team hitting on his late round draft picks.
Ondrej Palat is the most obvious example. Palat, drafted in the 7th round in 2011, scored 23 goals and 59 points. That is incredible production from not only a rookie drafted as recently as 2011, but of a 7th round pick at that.
Alex Killorn also produced 17 goals to go along with 41 points a season ago. He was drafted in the 3rd round of the 2007 draft.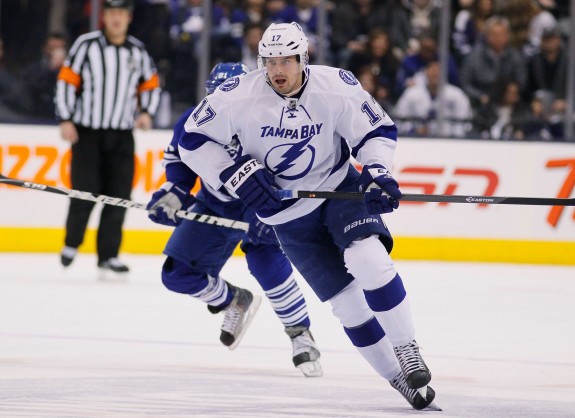 With Palat and Killorn producing as much as he did and veterans Stamkos and Valtteri Filppula leading the way, the need for scoring was not as important as the need for solid depth.
Any good team has a deep squad and the second half of Tampa's its roster is filled with solid young talent drafted in later rounds.
Radko Gudas gives Tampa Bay a nasty edge on the back end, compiling 152 penalty minutes over 73 games a year ago.
Defenseman Mark Barberio was drafted in the 6th round in 2008 and while he only played in 49 games, he gave Head Coach Jon Cooper productive minutes while on the ice. Barberio finished with 10 points, was a plus 10 and had a 5 on 5 corsi for rating of 53%.
Gudas and Barberio are examples of Tampa being a deep team because of their later round draft picks. Each defenseman isn't just roster filler; they offer production at the bottom of the roster and make Tampa an all around squad.
The Forgotten Ones: Undrafted Gold
While the Tampa Bay Lightning received great production from Palat, Killorn and Gudas, their undrafted players were almost just as important.
The most obvious example of this is undrafted Tyler Johnson, who put up similar numbers to Palat a season ago. Johnson is only 24 and expects to have a similar, if not bigger, season in 2014/15.
HIGHLIGHT: Tyler Johnson weaves through traffic before setting up Alex Killorn for the goal. WATCH: http://t.co/WeX1WnmpVu

— Tampa Bay Lightning (@TBLightning) October 15, 2014
Defenseman Andrej Sustr didn't have as big of an impact as Johnson last season, as the Czech only appeared in 43 games. But he figures to play top 4 minutes this season. Cooper is showing a lot of faith in an undrafted 23 year old, especially in as demanding position as a top 4 defenseman.
JT Brown is another of the undrafted players filling in the depth of Tampa's lineup. He's penciled in on the 3rd line this year, and appeared in 63 games a year ago. Teams having one or two undrafted players providing such value are usually rare. The Tampa Bay Lightning boasts 3 of such in incredibly important spots in their lineup.
The Tampa Bay Lightning's roster is teeming with young talent. They haven't gotten as much production out of their most recent first round picks as they would have liked, but are still vying for the top seed in the East regardless. The reason for such is their success at unearthing talent.
There is no easy answer as to why all these players are turning out to provide such value. The fact Drouin was sent back to junior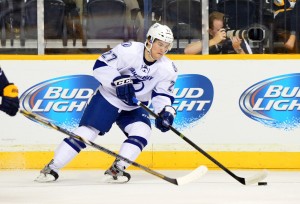 a year ago does speak, however, to the fact Tampa doesn't rush their prospects but rather let them develop. The Lightning are a young squad, but all the youngsters have had some extra time to develop before making the jump to the show.
Tampa's recent success also shows that in order have a successful rebuild, a team has to get production from the later rounds, not just in the top 10.