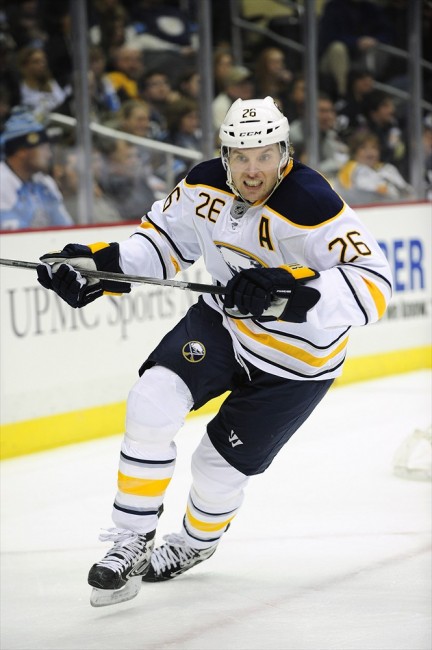 Just seven games into the NHL regular season, Buffalo's Thomas Vanek is turning heads…again. It's nothing he's not used to as he is unquestionably the Sabres' top gun. Vanek, who missed one of his team's seven games with an injury, has scored six goals and nine assists for 15 points. Ten of his 15 points have come via two monstrous five-point games, his latest just last night in a 7-4 victory against the Boston Bruins. At the rate he's scoring, in a shortened season, Vanek could reach a whopping 120 points. However, it is very unlikely his scoring pace will continue like it has been, but it's certainly not unreasonable for him to finish in the 60-70 point range in this year's 48-game season.
Before arriving in the NHL, Vanek played three seasons with the USHL's Sioux Falls Stampede where he would score 70 goals and 73 assists for 151 points in 108 games. After graduating from Sioux Falls' O'Gorman High School, he then played two seasons with the WCHA's University of Minnesota Golden Gophers. Vanek was drafted 5th overall by the Sabres in the 2003 NHL Entry Draft.
Hopefully, the success of the USHL's NHL alumni will prove that the league is no longer the laughing stock of the North American junior leagues. The league had six players drafted in the first round of the 2012 NHL Entry Draft, with defenseman Jacob Trouba leading the way as the 9th overall pick by Winnipeg. The 29th pick in the draft, New Jersey's Stefan Matteau, made USHL history by playing in the NHL the next year after playing in the USHL.
Last summer at the draft, the big discussion was all the top young defensemen coming out of the Western Hockey League. That was certainly a good crop of young defenders. However, the NHL will soon see the arrival of a great group of USHL-affiliated blue-liners that includes Dallas' Jamie Oleksiak (Sioux Falls), Winnipeg's Jacob Trouba (Ann Arbor), Phoenix's Connor Murphy (Ann Arbor), Florida's Mike Matheson (Dubuque), St. Louis' Jordan Schmaltz (Green Bay), NY Rangers' Brady Skjei (Ann Arbor) and top 2013 prospects Seth Jones (Ann Arbor) and Ian McCoshen (Waterloo). With some college, major junior or minor league seasoning, these young men are sure to make a big impact once they finally reach the NHL.
Notable current and former NHL players that have played in the USHL include Justin Abdelkader, Keith Ballard, Jason Blake, Jared Boll, Matt Carle, John Carlson, Scott Clemmensen, Erik Cole, Ty Conklin, Joe Corvo, Dan Ellis, Ruslan Fedotenko, Alex Goligoski, Matt Greene, Phil Housley, Gordie Howe, Rostislav Klesla, Chad Larose, T.J. Oshie, Jed Ortmeyer, Max Pacioretty, Joe Pavelski, Shjon Podein, Teddy Purcell, Brian Rafalski, Patrick Sharp, Paul and Yan Stastny and, of course, Vanek. There are numerous others that I'm sure I forgot to mention, but the point is that the USHL is one of the best junior hockey leagues in North America. Mid-west hockey fans need to take advantage of the opportunity they have to see potential NHL players play now so, years down the road, the memories only get sweeter when you can say, "I remember seeing that guy play here with the local USHL team". It's a great opportunity available to you, so go out and make the most of it.