The New York Islanders haven't exactly inspired confidence amongst their fan-base over the course of the last month or so. Blown third period leads, ten-game winless streaks, and losses in 13 out of 14 contests played from November 19th to December 17th had many fans questioning the Isles' organizational structure from top to bottom.
While things have started to look up in Islanders Country as of late, such a change of fortune – regardless of how minor it could be – did not occur out of thin air. Sure, the month of October dealt two significant blows to the Islanders when they lost Lubomir Visnovsky to a concussion and Matt Moulson to a trade with the Buffalo Sabres. However, on November 16th, the Islanders arguably suffered their most serious loss when goaltender Evgeni Nabokov went down with a groin injury in a game against the Detroit Red Wings.
Many might have tried to downplay the impact of Nabokov's absence, especially since the goalie was not performing very well when he sustained his injury, but that wouldn't be doing the Russian netminder any justice. Not only did Nabokov's injury expose some weaknesses in the Isles' crease, it also illustrated just how valuable the goalie has been to his team since coming to play on Long Island.
The Comfort Factor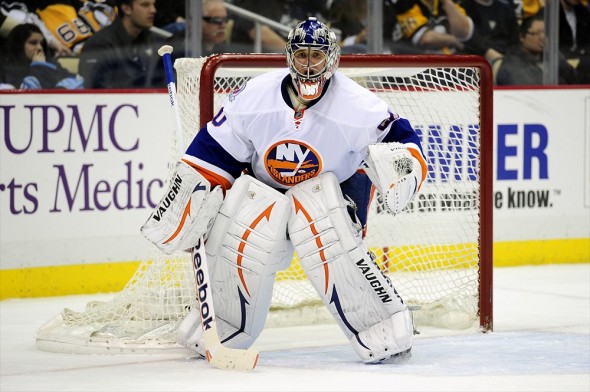 Ever since Nabokov made his way back to the Islanders from his injury, the team's increased comfort level has been plain to see for all. With Nabokov back in between the pipes, the Islanders have seemingly been more ready, relaxed, and assertive with the puck.
Of course, the Isles' play with puck possession is largely a factor that is dependent upon the skaters, but having Nabokov as the last line of defense must absolutely be reassuring for New York's forwards and defensemen. When Kevin Poulin took over the reins to the starting duties for the Islanders, many fans were excited for the goalie to finally showcase his talents and prove his worth to a franchise that had invested much stock into developing the French-Canadian netminder.
While Poulin did have some excellent starts for New York, he was plagued by some inconsistencies as he gave up less than three goals on only two occasions during Nabokov's absence. Whether or not the Islanders were gripping their sticks tighter or trying to do something differently on the defensive side of the puck with Poulin in goal can be debated, but ever since Nabokov's return to the team it is as though the goalie has inspired more confidence in the Isles' skaters.
Even better, Stan Fischler summed up Nabokov's importance to the team with these two tweets over the last several days:
Superb return for Nabby who shuts out the Habs but loses in OT on a defense mix-up. His leadership will help Isles. Strome effective.

— Stan Fischler (@StanFischler) December 15, 2013
Nabby's return to the @NYIslanders HAS made a difference. They still can turn things around with more games like the win in Detroit.

— Stan Fischler (@StanFischler) December 24, 2013
Since returning to New York's lineup, Nabokov has looked as crisp as he has ever appeared during his tenure with the Islanders as he has worked well with traffic in front, made his usual outlet passes to skaters, and has come up with big saves in a number of situations. The goalie's movements, aggressiveness in the crease, and confidence have all been on display since his return and one has to wonder if the three-plus weeks of recovery time helped the goalie stay fresh and regain some of the form that helped New York get to the Stanley Cup Playoffs last year.
Impact on Poulin/Nilsson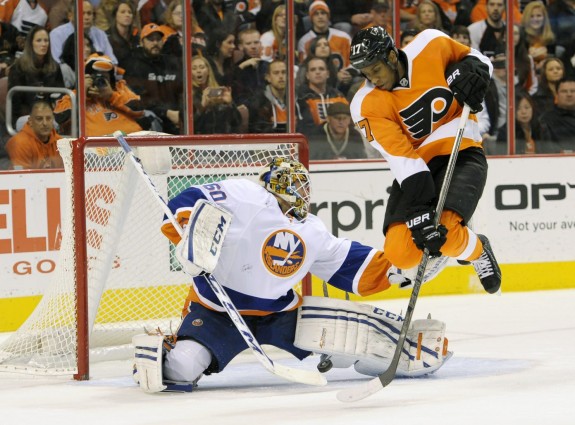 After getting an extended glimpse of Kevin Poulin and Anders Nilsson, many Islanders fans would probably agree that it would be in New York's best interests to have these two young netminders develop a bit more before thrusting them into a starting role for the team.
Both Poulin and Nilsson displayed signs of prowess and improvement since their last stints with the Isles, but some more tutelage wouldn't hurt either goalie at this point in time. On the one hand, Poulin displayed his athletic style of play during Nabokov's injury and gave credence to the fact that he is a durable goalie that can shoulder a heavy workload.
Despite the fact that Poulin was also the victim of poor defensive play in front of him, the young goalie proved that he could definitely use some more time as Nabokov's back-up in Long Island. Although Poulin's athleticism is one of his greatest talents, there were a number of occasions where the goalie grew a bit too reliant on his ability to stop the puck solely through the use of his athletic abilities.
On the other hand, Anders Nilsson illustrated that his size and positional play might be a very valuable asset to the Islanders in the very near future. While Nilsson did suffer a pair of bad losses against the St. Louis Blues and Anaheim Ducks, the goalie also played very well in two overtime losses against the Washington Capitals and Pittsburgh Penguins – games in which he demonstrated that he can use his angles well for a 6'5″ goalie and remain poised under immense pressure.
Since Poulin will serve as Nabokov's backup (barring injury or trade) for the remainder of the '13-'14 NHL season, Nilsson will benefit by seeing a fair share of starts for the Isles' AHL affiliate in Bridgeport. The Sound Tigers' playoff hopes are still very much alive and Nilsson would surely benefit from seeing more playing time. Many fans might have been impressed with Nilsson's performances against Washington and Pittsburgh – despite the goalie being beat by Alexander Ovechkin and Sidney Crosby in consecutive games – but the Swedish goalie could use some more grooming before being given an extended look in the NHL.
An Unlikely, But Quintessential Veteran Presence
Last, but not least, is Nabokov's approach to the game of hockey. Islanders fans have had a chance to get in the mind of Nabokov through the goalie's post-game interviews with Stan Fischler, but for those that don't know, the candor of New York's netminder makes him a presence in the locker-room.
But don't take my word for it, just read Nabokov's reaction (albeit in rosier language) as per Arthur Staple after a December 17th overtime loss against the Tampa Bay Lightning:
Nabokov on latest debacle: "We don't know how to win the games right now… All our efforts down the toilet." #Isles

— Arthur Staple (@StapeNewsday) December 18, 2013
Not only is Nabokov one of those players that leaves everything on the ice, he has never been afraid to voice his opinion on his play or the state of the team. Given the fact that Nabokov had just stepped back into the Isles' goaltending fold and was accurately able to gauge the energy, or lack thereof, of the team speaks volumes to the goalie's worth to the team.
Last season, the Islanders had the likes of Mark Streit, Lubomir Visnosvky, and Nabokov as experienced veterans that could impart some knowledge on the team's younger members both on and off the ice. With Streit playing in Philadelphia and Visnovsky still feeling the effects of a concussion that he sustained on October 19th, getting Nabokov back was not only instrumental to the team's on-ice performance, it undoubtedly played a large role in the team's psyche.
Over the last three years, Nabokov has appeared in 102 games for the Islanders and has started in all but one of those contests. Having a veteran netminder to rely on gives Jack Capuano an experienced option to go with on a nightly basis – reliability that New York hasn't had in goal since Dwayne Roloson was traded during the 2010-2011 NHL season.
Regardless of Nabokov's early season struggles that left many Islanders fans clamoring for an extended look at Kevin Poulin, having their veteran goalie healthy has definitely helped the Isles as of late, and has probably helped put a smile on the faces of frustrated fans just in time for the holiday week. Whatever the Isles' fortunes may be in the coming weeks leading up to Nabokov's seemingly impending nomination to Team Russia's 2014 Men's Ice Hockey Olympic roster, fans have to admit that having Evgeni Nabokov has had a tremendously positive impact on the Islanders – one that has restored a feeling of optimism amongst the Islanders and their fan-base.