Nearly half way into the 2013-2014 NHL season and the New York Islanders find themselves just 9 points out of the automatic playoff spot that will go to the top three teams in each division. This is the same team that went 4-10-1 in the month of November and have been battling injuries all season long. So how is it possible that they are only 9 points out of a playoff bid?
Nabby has a 1.96 GAA a 92.8 save percentage and a shutout in five games since returning from injury (2-1-2) #isles #NHL

— Eric Hornick (@ehornick) December 24, 2013
Evgeni Nabokov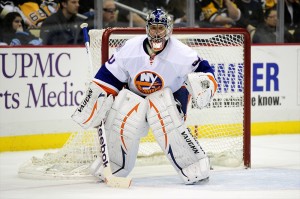 The net minder has been incredible since returning from his injury. And it's not only his play that is impacting the team; it's also his leadership and presence on the ice that is noticeably making a difference in the confidence of the Isles. Since his return, the Isles look like a more confident team and they are playing team hockey.
Nabokov is a veteran leader and if he can continue to stay healthy and play at a high level, he gives the Isles a great chance to go streaking up the Metro Division from now til the Olympic break in February.
Special Teams
As I've previously written, the Isles live and die by how they perform on special teams. During their losing skid, they were abysmal killing penalties and played worse on the power play than they did at even strength. But, since Nabokov's return, the Isles have improved a great deal. With a win/loss record of 2-1-2, they are nearly 20% on the power play and they've killed 11 of 13 penalties (the two scores given up came against the New York Rangers in a game where the Isles sent out the PK unit 7 times.)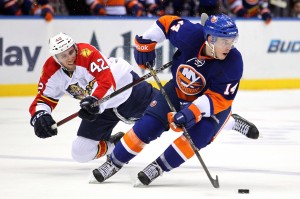 The best way to kill a penalty is to not take them in the first place and the Isles have also done well at that as of late. In there 3-0 win vs. the Detroit Red Wings, they committed only 1 penalty and it came late in the 3rd period when Nabokov committed a tripping penalty that Ryan Strome served two minutes for. If the Isles can continue to play smart, discipline hockey, they will continue putting themselves in positions to win.
BUT…
Positives have been hard to come by for the Isles in the last 90 days, but there are a few. However, the Isles do have a lot of work to do if they plan on making a playoff push. I could talk about their lack of experience on defense and how I think they need to make a move for a top 4 D-men, but I'll save that. I could also talk about the option of Garth Snow firing Jack Capuano and going a different direction, but again, I'd rather not.
What I will say is that the Islanders MUST find a way to hold third period leads.
10th blown 3rd-period lead in 37 games for #Isles. 9th on home ice, 4th in last 5 games at Coliseum.

— Arthur Staple (@StapeAthletic) December 22, 2013
10 third period leads blown? Imagine if they win half of those games, that's a ten point swing and they are sitting in third place of the Metropolitan division; things look very different if the Isles win some of those games. They have to learn from those games and change the way they approach closing games for the remaining games this season. Finishing games is important and will be a must- they can't afford to throw away any more points this season.
There's a lot of hockey left to play and this short Christmas break is good for the Isles, especially after they play very well for 5 straight games leading up to the break. Their next break comes with the Olympics and if they can make up some points and get to 4th or 5th in the division by then, they'll put themselves in a great position to make a playoff push. Aside from the Pittsburgh Penguins, no team has separated themselves from the pack which is great for the Islanders.