Did you laugh or nod in agreement when you heard about the dreaded 65-point prediction for the Vancouver Canucks?
Well, it turns out Kevin Allen was right after all. If you take away the Canucks' four-game winning streak to start the season, this team was dead-on for a 65-point pace.
https://twitter.com/JeffVeillette/status/851296678279774210
He was a little bit closer than my prediction, where I had the Canucks finishing with 79 points on the season with a 32-35-15 record. They ended up in 29th place, going 30-43-9.
In this article, I'll look back on my season preview, including roster projections, key players, and the season outlook. Check out this link if you want to take a look at my preview.
This might be the most fun I've had writing about the Canucks all season, other than when I did my best to look at the 2016 Canucks through rose-coloured glasses.
Key Organizational Changes
The Canucks lost Glen Gulutzan to the Calgary Flames in the offseason, where he steered the young group back into the playoffs. The turning point was when Gulutzan called out his team following a 5-1 loss to the Montreal Canadiens. After that moment, Calgary went on to post a 21-10-1 record to solidify their spot in the playoffs.
Jim Benning used another Boston connection to hire Doug Jarvis during the offseason. They obviously liked his leadership abilities behind the bench as he was the only coach to survive after Willie Desjardins, Doug Lidster and Perry Pearn were fired on Monday.
Forwards
My Projected Lines
| | | |
| --- | --- | --- |
| LW | C | RW |
| Daniel Sedin | Henrik Sedin | Loui Eriksson |
| Sven Baertschi | Bo Horvat | Jake Virtanen |
| Anton Rodin | Brandon Sutter | Jannik Hansen |
| Emerson Etem | Markus Granlund | Derek Dorsett |
Extras: Alex Burrows, Brendan Gaunce
Opening Day Lines
| | | |
| --- | --- | --- |
| LW | C | RW |
| Daniel Sedin | Henrik Sedin | Loui Eriksson |
| Brendan Gaunce | Brandon Sutter | Jannik Hansen |
| Sven Baertschi | Markus Granlund | Jake Virtanen |
| Alex Burrows | Bo Horvat | Derek Dorsett |
Fun fact: The Canucks' "top line" on opening night combined for a total of 41 goals on the year. Rookie Auston Matthews had 40 goals for the Toronto Maple Leafs this season.
Lines for Game 82
| | | |
| --- | --- | --- |
| LW | C | RW |
| Daniel Sedin | Henrik Sedin | Nikolay Goldobin |
| Reid Boucher | Bo Horvat | Brock Boeser |
| Michael Chaput | Brandon Sutter | Jayson Megna |
| Griffin Molino | Drew Shore | Alex Biega |
Only four Canucks dressed on both opening night and Game 82: Daniel Sedin, Henrik Sedin, Bo Horvat, and Brandon Sutter.
Here are the three forwards I outlined in my preview. They all needed to have good seasons for the Canucks to have any kind of success, and it didn't happen for any of them.
Loui Eriksson
In my preview I optimistically said "[Loui Eriksson] is one of the most underrated players in the game and has the chance to put up career numbers while playing with the Sedins."
So much for that.
Eriksson just endured one of the worst seasons of his career. He failed to even hit the 30-point plateau, a major failure for a player taking home $6 million per season. Eriksson never seemed to hit his stride and couldn't seem to find chemistry with anyone in the lineup.
There are signs that Eriksson is bound to rebound. His expected goals-for percentage at even-strength was second-best on the Canucks behind Jannik Hansen. He was one of only three Canucks (Brendan Gaunce, Markus Granlund) to finish with a Corsi-for above 50 percent. His 8.3 percent shooting percentage far below his career average of 13.4 percent.
The Canucks need a rebound from him, badly.
Brandon Sutter
It didn't take long for Brandon Sutter to become a whipping boy in Vancouver. It started when Desjardins stubbornly stuck Sutter alongside the Sedin twins despite an utter lack of success. He was also their right-hand shot on a power play that finished 29th overall.
Sutter did get 17 goals on the season, which should be considered a success for someone playing in a third-line role. The problem is that Sutter played nearly 19 minutes per night, hardly third-line minutes. Although Sutter did line up against tougher opponents, he gave up the fourth-most scoring chances per 60 at even strength among Canucks regulars.
Brandon Sutter isn't much of a team player. pic.twitter.com/kyAnLaqObB

— mathonwy (@mathonwy1) April 11, 2017
For the Canucks to be successful, Sutter's role needs to be marginalized. His season might be considered more of a success if he wasn't playing 18:48 per night while making $4.375 million per season. There are less expensive options, such as Gaunce, who could replace Sutter in a defensive role, especially if the Canucks draft either one of Nolan Patrick or Nico Hischier.
It seems like a pipe dream, but could the overpaid Sutter be exposed in the expansion draft?
Jake Virtanen
It goes without saying that 2016-17 was a trying year for Jake Virtanen. He only played 10 games with the Canucks, registering one assist. There was the whole controversy about Virtanen and some stuff that distracted from his poor outing with the Canucks.
After he went down to the farm, he produced offence at a paltry rate. Utica Comets head coach Travis Green has said that Virtanen's all-around game has improved throughout the season. Still, it's hard for Canucks fans not to grow impatient with the 20-year-old, especially when the likes of Nikolaj Ehlers and William Nylander are dramatically outperforming him.
The Canucks could badly use someone like Virtanen on the roster next year. Biggest offseason of his career so far, it's a pivotal year

— Satiar Shah (@SatiarShah) April 10, 2017
Although he started this season in Vancouver, he will be hard-pressed to make the Canucks next year. The influx of young wingers such as Reid Boucher, Nikolay Goldobin and Brock Boeser have further shoved Virtanen down the depth chart. He needs to hone his game in the minors and prove himself before making a return to the NHL.
Defence
My Projected Pairings
| | |
| --- | --- |
| LD | RD |
| Alex Edler | Chris Tanev |
| Ben Hutton | Erik Gudbranson |
| Nikita Tryamkin | Philip Larsen |
Extras: Luca Sbisa
Opening Day Pairings
| | |
| --- | --- |
| LD | RD |
| Alex Edler | Chris Tanev |
| Ben Hutton | Erik Gudbranson |
| Luca Sbisa | Philip Larsen |
I was hopeful that Nikita Tryamkin would come in and knock Luca Sbisa out of the lineup. Philip Larsen was guaranteed to get a spot in the opening lineup, to see what he could do for the power play (which turned out to be nothing).
Pairings for Game 82
| | |
| --- | --- |
| LD | RD |
| Alex Edler | Troy Stecher |
| Luca Sbisa | Chris Tanev |
| Ben Hutton | Nikita Tryamkin |
Ben Hutton
Looking back on it, Ben Hutton was a prime candidate to endure the sophomore slump. That's exactly what happened, as the 23-year-old defenceman saw his production nosedive at even-strength. He had 18 even-strength points in his rookie year, but only seven in 2016-17. He had the worst even-strength points per 60 minutes at 0.23.
The pairing of Hutton and Erik Gudbranson was supposed to solidify the Canucks' top-four. It did anything but. They got roasted at even-strength, and Desjardins refused to separate them until Gudbranson succumbed to injuries. Hutton should be a solid bounce-back candidate in 2017-18.
Erik Gudbranson
Just like Hutton (and most of the players I profiled in my preview), it wasn't the season that Gudbranson envisioned. He only suited up for 30 games, and he wasn't very good in most of them. His 35.7 goals-for percentage was worst among Canucks regulars. It wasn't bad luck either, as he allowed 10.6 scoring chances per 60 minutes, also worst among regulars.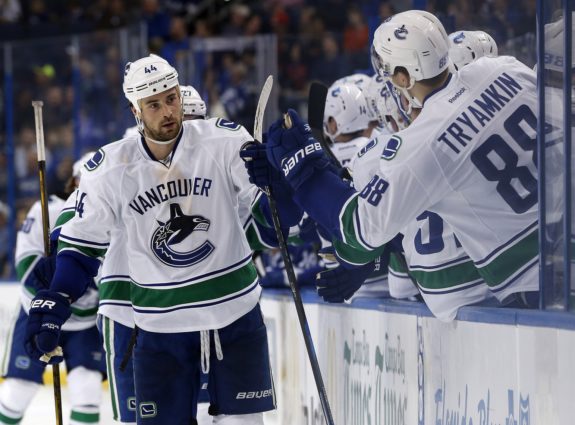 Gudbranson is a restricted free agent going into the offseason, and he has zero contract leverage. Expect the Canucks to give him another one-year deal to see what he can prove. With 339 NHL games already under his belt, don't bet on Gudbranson improving upon the player that he already is.
Nikita Tryamkin
One player that could be battling Gudbranson for ice time next season is Tryamkin. The hulking Russian was one of the Canucks' most intriguing players coming into training camp. That intrigue grew as the Canucks reportedly wanted to send Tryamkin down to the minors, but he flexed the "out-clause" in his contract to remain in Vancouver. After shedding some body fat, Tryamkin played in 66 games for the Canucks.
I love that Tryamkin can't speak any english so he communicates with eye contact and facial movements 😂 #Canucks pic.twitter.com/K4n0lJ9tEk

— Vanessa Jang (@vanessajang) April 11, 2017
There were some good and bad moments for Tryamkin, but he grew as a player throughout the season. He uses his size well, although he could increase his aggressiveness even further. He shows promise to continue improving next season, as long as he holds his place in the top six. Canucks Nation surely doesn't want to hear this, but he could be squeezed out of a spot if Sbisa is still a Canuck next season.
Goaltending
Goaltending was the Canucks' only strength heading into the season, and that didn't really change thanks to Ryan Miller. With all due respect to Horvat, it's a travesty that Miller wasn't named the Canucks' MVP. Without his stellar play in goal, the Canucks could have challenged the Colorado Avalanche for one of the worst NHL seasons in the 21st century.
Jacob Markstrom should have played more in the New Year, but Desjardins decided to ride Miller. This leaves the Canucks in a precarious position heading into next season, especially if Miller doesn't re-sign in Vancouver.
Breakout Player
My Prediction: Sven Baertschi
You couldn't really call this a breakout season for Baertschi, but let's go with a "modest improvement." Baertschi once again dealt with injuries, which kept him under the 70-game plateau for the second straight season. He modestly improved his stat line from 15-13-28 to 18-17-35, despite playing one less game.
Still, this is a player that has the potential to be a perennial 20-plus goal scorer. As he enters his prime at the age of 24, the Canucks need him to elevate himself into a bigger role. The projected top line for next year will probably have Baertschi alongside Horvat. If that's the case, Baertschi needs to find a way to assert himself as a top-six NHL player.
Top Breakout Player: Troy Stecher
It's a tough call between Troy Stecher and Markus Granlund, but the nod has to go to "Troy from Richmond." Stecher's strong preseason showing had fans clamouring for him to be kept on the roster. He was sent back due to roster formalities but earned a quick recall after Chris Tanev suffered an early injury.
Stecher played an unreal 22:35 alongside Alex Edler on the first pairing during his first NHL game, and didn't look out of place. It sent this city into "Stechermania," as the local kid from Richmond was flying during his first few games as a Canuck. It softened the blow of the nine-game losing streak the Canucks were in the midst of.
He also picked the right time to score his first NHL goal, a game-tying goal with the goalie pulled. It led to a 5-4 Canucks victory in overtime against the Dallas Stars.
Stecher has astute defensive awareness, and he isn't afraid to shoot the puck. He only shot at 2.4 percent on 125 shots, so he should be due for more goals next year. Fans must also be patient with Stecher, as he could endure a similar season compared to Hutton this year.
Player With the Most to Prove
The player I picked in this category was Anton Rodin. He was brought in after being crowned MVP of the Swedish Elite League despite missing a chunk of time due to injury.
Unfortunately for Rodin, he has just as much to prove with the season now finished. The story of his season was injuries and the bizarre way in which Canucks management handled the situation. Rodin came in flying with five points in five preseason games, but re-aggravated his injury after playing back-to-back games in the preseason. He didn't get back into the lineup until December, where he played a paltry three games before being shut down for the season.
Speculation that Anton Rodin could sign in KHL this summer are exactly what they are. At this point it's a one sided interest from CSKA.

— Aivis Kalniņš (@aiviskalnins) March 11, 2017
Rodin's most publicized point of the season was when Willie Desjardins dressed him on the road against the Calgary Flames, but didn't play him for a single minute. It was the last we would see of Rodin in a Canucks jersey for the season.
If he re-signs in Vancouver, it would likely be on a two-way deal. Barring an unbelievable training camp, he would probably have to play in Utica and wait for an injury opportunity to make his mark.
First Players in The "Call-Up" Line
Can anyone say, Jordan Subban?
Despite his 16 goals in Utica (with 10 on the power play), the Canucks couldn't find a way to get Subban a few games with the big club. This doesn't bode well for the 21-year-old's future in Vancouver, with players such as Evan McEneny, Alex Biega, and Philip Larsen getting some looks over the talented youngster.
Jordan Subban up to 15 goals down in Utica this year. #Canucks d-core has 19 collectively, which I believe is the 2nd worst in the league. pic.twitter.com/pYNwofZdOR

— Grady Sas (@GradySas) April 1, 2017
The other two defencemen I listed as call-up options were Stecher and Andrey Pedan. One was voted as the Canucks' best defenceman while the other has eight points in 49 AHL games.
On offence, the Canucks called up Michael Chaput and Jayson Megna to play a combined 126 games for Vancouver, posting a combined 17 points. This is not a good look for Benning, who already noted his team's lack of depth.
At least we got Megna and Chaput

— Smilo (@smeez38) April 2, 2017
Season Review and Future Outlook
Hindsight is a wonderful thing, isn't it? I said the Canucks would finish with 79 points (an overly optimistic prediction), but I also said they would finish dead-last in the division. Here were some of the comments following my prediction.
7th?: lol….no WAY they finish behind the Oilers. The Oil STILL have a MUCH worse D than the canucks. And D is everything in the NHL.
Someone clearly forgot about some guy named Connor McDavid. By the way, the Edmonton Oilers allowed the eighth-fewest goals in the league this year.
Partykiller: The canucks will make the playoffs and will finish in the top 16 in standings
BBoone (in reply to Partykiller): Yes . I don't understand the " worst in the league " analysis by so many " journalists " . The Gilis draft pick management disaster is accurate as is the injury caution but assuming simply normal injury luck the Canucks are middle of the pack . i hope these nay saying prognosticators check in after 82 games .
Hey, not worst in the league, second-worst in the league!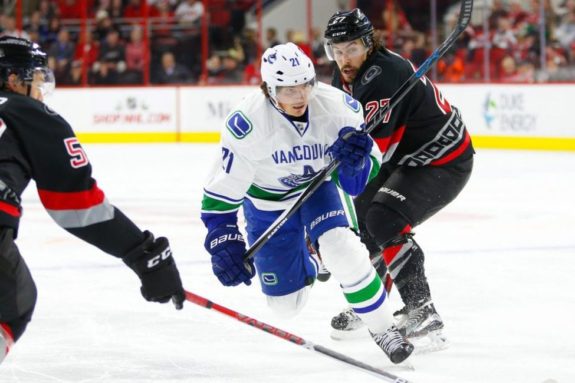 The "injury luck" debate should be put to bed this year. I used it as a talking point for the Canucks' 2015-16 woes, but it's no longer an excuse. The Canucks did lead the league with man games lost this year, but the chunk of those injuries came from Gudbranson, Rodin, and Derek Dorsett—hardly players who are going to push this team over the top.
Basically, everything had to go right this year for the Canucks to make the playoffs. Guess what? That didn't happen, and it shouldn't be a surprise to anybody.
The same narrative will be repeated next season. "If the Sedins find an actual scoring winger, if Eriksson has a bounce-back season, if our young defencemen take a step forward, this team has a chance."
The truth is that the Canucks are one month into a two-year rebuild, and there have been many mistakes along the way. Virtanen and Jared McCann were thrust into roles they weren't ready for. The team refused to acknowledge the rebuild last season. Markstrom has been underutilized. The veterans have been overplayed. The list goes on. It's going to take a monumental effort from this current group in order for them to compete for the playoffs anytime soon.
That being said, there are positives for this organization moving forward. This team has a glut of young forwards who have a glourious chance to infuse some much-needed excitement into this organization. The likes of Boeser, Goldobin, Boucher, Baertschi, Granlund, Jonathan Dahlen, and Adam Gaudette will compete to prove that they are long-term answers for this organization.
Bo Horvat w@mattsekeres @BlakePriceTSN: #Canucks fans should be excited by Brock Boeser; on captaincy, contract https://t.co/GNkhqs84hf

— TSN Radio Vancouver (@TSN1040) April 12, 2017
If Olli Juolevi develops into a top-two defenceman, it will make everyone forget about Matthew Tkachuk. It's a lot of pressure to put on the shoulders of a 19-year-old, and he needs his time to develop. He does have the chance to be a leader on this young and promising defence.
Thatcher Demko has shown flashes of being this team's goalie of the future. Hopefully, Markstrom and others can hold the fort while Demko seasons in the minors.
What this organization desperately lacks is bonafide first-line offensive talent. In particular, a centreman. With all due respect to Horvat, he has to show a lot more in order to be considered a number-one centre. He holds that role on this team due to a lack of depth.
The Canucks better hope that centre sits somewhere at the top of this draft, because that's the missing piece for accelerating this rebuild. Could it be the oft-injured Patrick or the ultra-talented Hischier? This organization is ready to embrace another star in the making, because this team is closing in on rock-bottom and it really has nowhere to go but up.
KPU Journalism Graduate. Trevor has been writing for The Hockey Writers since October 2014. He has contributed articles related to the Ottawa Senators, Vancouver Canucks, and other issues/stories regarding the game of hockey. Trevor currently lives in White Rock, B.C.