If you have been watching a lot of Vancouver Canucks hockey lately, you've been getting your money's worth. Going into Wednesday's game with Colorado, the Canucks have been putting in a lot of overtime with 10 out of their last 13 games going into extra time. Is this something to worry about? We love free hockey right?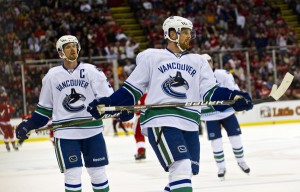 This has been as strange a stretch of Canucks hockey as there has been in recent memory.
The good news is that over those 13 games the Canucks record is 9-1-3, picking up 21 out of 26 possible points along the way. What team wouldn't be ecstatic with that kind of record? If you've been watching however, you have seen a team that has not been playing well.
In those 13 games the Canucks have only managed two regulation wins, a 5-2 win at Minnesota and a 4-3 win against San Jose at home. Not many teams would be too happy about only winning two games in 13. How you feel about the Canucks right now depends on your perspective.
If Vancouver wants to get back to the finals they will need to break out of their funk and play well enough to win without going to a shootout, or a four on four track meet.
In these 13 games Vancouver has been outshot nine times. While shots on goal can be a misleading stat and don't always equate to being outplayed, when you see a trend over a 13 game stretch it is a sign. Looking at teams that are being outshot on a regular basis you find teams that are at the bottom of the standings.
Not only are the Canucks struggling to generate chances they are giving them up as well. Defensively they continue to make lazy plays clearing the pucks and giving their opposition more scoring chances. This came back to bite them in the third period of Monday's game with Phoenix.
Goal scoring has been an issue for Vancouver as well. Their top line, the Sedin line, has struggled over this stretch of overtime games. They are still point per game players on the year but over these past 13 Henrik has one goal and nine points while Daniel has six goals and eight points. That's a .69 and .61 points per game respectively and far off their season marks.
The team as a whole has scored a pretty healthy 3.4 goals per game over the last 13, but if you take away the goal awarded for winning a shootout it drops to 2.62 goals per game. That is the more accurate number as it represents the number of goals they are actually putting in the net in non-skills competition moments.
Other teams averaging around 2.62 goals per game? Montreal, Edmonton and Phoenix. Not teams that are making Stanley Cup plans.
Alain Vigneault has tried to mix it up. We've seen every possible line combination, to the point where you start to wonder if he's just putting names in a hat. Henrik Sedin, Byron Bitz and Mayson Raymond anyone?
None of this juggling has pulled the team out of its funk.
The lone bright spot has been the goaltending. Roberto Luongo and Cory Schneider have been excellent and have kept this 13 game stretch from being a total disaster. These games had no business getting into overtime.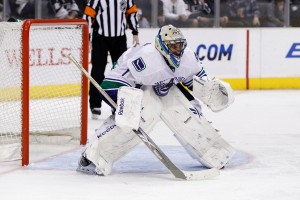 But does any of this matter? After all we are in the dog days of the season where teams with big leads in their divisions are coasting. The Canucks will win the Northwest and get no worse than a third seed in the West. As of today that would mean a first round match up against Chicago or Los Angeles.
Despite the Blackhawks woes right now, the last thing Vancouver wants is a first round match up with their biggest rival. Nor should they be overly excited to see the Kings as they have only beaten them once this season.
You have to wonder how these struggles will start to affect the team and their confidence. This is a team that blew through the league last season. This season has been understandably more difficult. People get up for them now more than ever. The Canucks need to respond in kind. They need to get back to playing Canucks hockey.
You remember that right? You remember constant pressure, shut down defense and Sedin magic every night. There is no reason to believe it is still there as the players are all the same. The Canucks have two months to find it again.
Andrew writes about the WHL and NHL Draft Prospects. He also covers the Seattle Thunderbirds for 710 ESPN Seattle and spent two years with Sportsnet. Follow him on Twitter @andyeide.