The way for a team to get better in the salary cap era is by making strategic draft choices. And even though it's not necessary to grab the great players all at once, a forward-thinking team must have the ability to pounce when those kinds of prospects become available.
The Golden Knights are off to a decent start on both counts since they've managed to pick off some solid players from other teams in the expansion draft and were also successful in squeezing a nice dollop of future draft picks out of them as well. Plus, being overloaded with defensemen, Vegas has plenty of bargaining chips to trade with in the very near future.
That being said, here are some of the more notable Knights to watch this season.
In Goal
First off, we have Marc-Andre Fleury in net. As an expansion team, you want to build from the net out and that's exactly what the Golden Knights have done with this acquisition. Fleury is the kind of goalie that instills confidence, and his presence will also allow coach Gerard Gallant to play the kind of fast-paced game he likes.
Heading into the holiday weekend like it's almost time for the @EASPORTSNHL #NHL18 season to start🙌 pic.twitter.com/PwFpq35oIX

— Vegas Golden Knights (@GoldenKnights) September 1, 2017
Along with the big saves and instincts, Fleury brings with him 375 wins and three Stanley Cups and looks destined to be the Golden Knights' first Hall-of-Famer. There's no point in beating the "face of the franchise" cliche to death because his mere presence will obviously help ratchet up ticket sales and get the fans excited early on about supporting this unproven team.
Vegas Puck Movers
James Neal (Left Wing)
The Golden Knights' main offensive weapon has to be "The Real Deal" James Neal, who is coming off a 30 goal-scoring season with Nashville and is also a nine-time 20-goal scorer.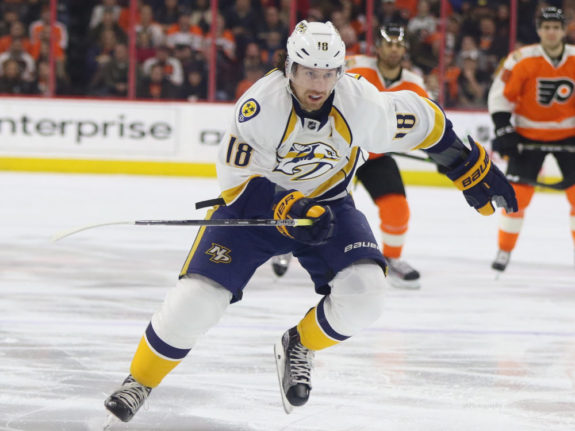 Neal likes to score goals and is a threat anywhere on the ice, but he will have to adjust to the fact that he's no longer working with a top center like he has in the past. Not sure which one he is? Just look for the guy who skates without a helmet during warmups.
Vadim Shipachyov (Center)
No way any of the NHL teams were going to leave their number-one center exposed in the expansion draft, so Vegas will have to create their own. A lot of good things are being said about Shipachyov coming out of the KHL and he is in a position to take the top spot from the other contenders.
Jonathan Marchessault (Center)
In his first full NHL season, the 26-year-old Marchessault led the Panthers with 30 goals—three of them coming from a dazzling hat trick against the Chicago Blackhawks.
Reilly Smith (Right Wing)
Smith was Marchessault's teammate in Florida, where he scored 87 points in 162 games.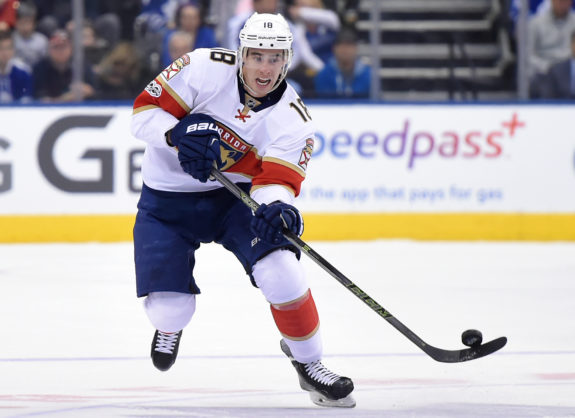 Brendan Leipsic (Left Wing)
Only 23 years old, Leipsic is a smaller guy who scored 109 points in 114 games in the American Hockey League. He made his NHL debut in a road game against the Vancouver Canucks where he handily batted a bouncing puck out of the air and into the net.
Tomas Nosek (Left Wing)
Interesting that the Golden Knights would pick a player who has only 17 NHL games to his credit, but at 6'2″ 210 lbs, Nosek is a bigger player and leaves the Griffins with a team-leading 10 goals and 22 points in 19 playoff games.
David Perron (Left Wing)
Perron has bounced around a bit but hopefully, he bounces into T-Mobile Arena with some of the momentum he built up with his last team, the St. Louis Blues. He scored 18 goals and 46 points in St. Louis, but doubters warn not to get too attached as he may not be around next season.
Teemu Pulkkinen (Left Wing)
Pulkkinen had a couple of 30-goal-scoring seasons in the AHL and back in January, he became the second player in the Grand Rapids Griffins' franchise history to record three power-play goals in one game.
Neal seems to be the only "given" on offense, but he is surrounded by plenty of players who have either scored in junior hockey, in the AHL or in the KHL, and you can bet they will all be hungry to score in the NHL.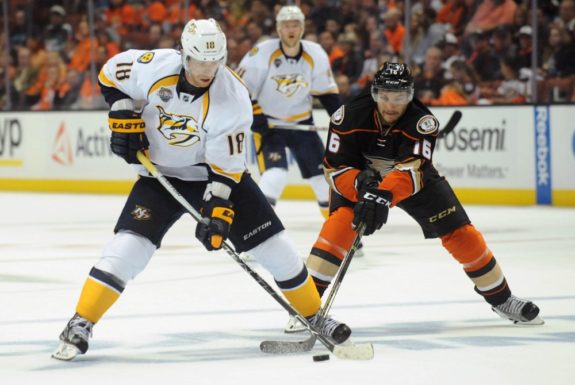 Golden Knights Defensemen
The Golden Knights selected 13 defensemen coming in at an average height of 6-foot-2 and weighing 207 pounds, which means they've got some beef.
Jason Garrison
Garrison switched over from forward to defenseman in junior leagues and still remains an offensive weapon. In 2012, he set a franchise record for the Florida Panthers by scoring the most goals by a defenseman in a single season. Hopefully, none of his fellow Knights get caught drifting between him and the net when he lets loose his bomb of a shot.
Colin Miller
Miller is a solid defenseman with good upside potential and like Garrison has a bomb for a shot.
Nate Schmidt
He's a trusty defenseman who will have a chance to shine out amongst the glittering lights of Vegas since he wasn't given much of a chance to do so in Washington. Schmidt is a guy who can skate and move the puck.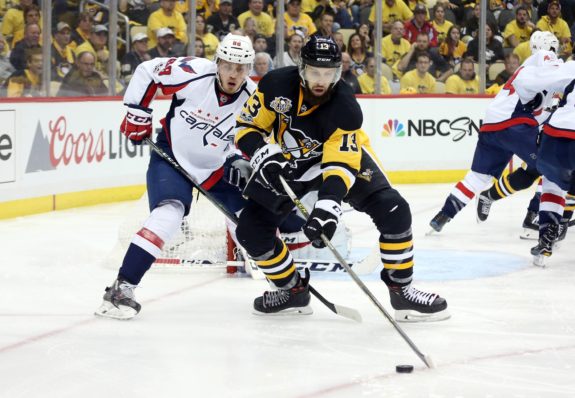 Deryk Engelland
Engelland is a Vegas resident who won't be distracted by all the allures of Sin City. He's big enough not to be pushed around and tough enough to help create some space for his teammates. Doubters warn that he'll be gone in a year but we'll see.
The harshest critics are predicting a bevy of beatdowns for the fledgling Golden Knights, but this team will be tough to play against. Their roster is already filled with players hungry for new opportunities and a chance to stand out. Besides, all they really have to do their first year is stay competitive and draft for the future, and of course, it wouldn't hurt ticket sales if they could get off to a good start.
If you think I failed to mention other notable Knights, just sound off in the comments.
I grew up the son of a football coach in West Texas and played the Big Three sports early on but later switched to golf. I attended the University of Southern California and played briefly on the California Golden State Tour and the Texas Tour. I was also a golf instructor in Prague, Czech Republic and in Zurich, Switzerland. Favorite job was with Clear Channel Radio's Rick Dees Weekly Top 40 show. While there I was fortunate enough to have weekly chats with sportscaster, Vic "The Brick" Jacobs. Still living in Los Angeles as a humble and fastidious student of Beer League Hockey, a supporter of the Ontario Reign, and of course, a rabid fan of the newly minted Golden Knights.