Heading back to a city with bright lights, artist performances and hype pregame ceremonies should be an advantage for the Vegas Golden Knights. Playing at home has provided that extra spark for a team that has given fans unexpected success this season.
In tonight's Game 5 of the Stanley Cup Final, however, the Knights have their backs against the wall. Down 3-1 in their series against the Washington Capitals, they have lost their last two games and elimination is imminent.
The Knights are going to need to rely on more than just their raucous fan base and Panic! At The Disco to force this series to Game 6 back in Washington. They will need to rely on their goaltender, Marc-Andre Fleury, to rise up and have a historic performance in net.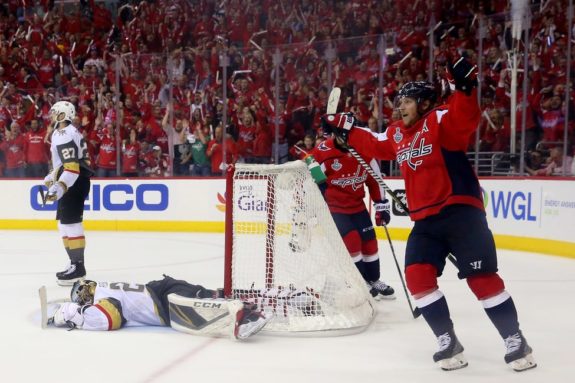 Fleury Top Calibre as a Junior
Fleury has had a love of and desire for competition since his days playing junior. In the 2000 Quebec Major Junior Hockey League Draft, he was selected 16th overall by the Cape Breton Screaming Eagles, the first goalie taken in that draft. But his then junior coach Pascal Vincent initially had doubts about the young goalie.
"We didn't feel that Marc-Andre was ready for major junior back then," stated Vincent. "But he showed up at training camp that fall with blue pads that were a little too short for him and he was just the best goalie on the ice."
In his 151 games with Cape Breton, Fleury was a star, making flashy saves and earning a 63-52-17 record with a .933 save percentage over four seasons. The rising star also made a name for himself on the international stage, leading Team Canada to a silver medal at the World Junior Hockey Championships.
"As soon as he put his equipment on, he changed into an aggressive goalie," said Vincent. "Aggressive in a good way. He was a really solid competitor who believed he could stop every single puck. It was impressive to see him start to grow into the player he is today."
Fleury Brings His Best to the Big Games
June 9, 2009. Joe Louis Arena, the heart of Hockeytown in the Motor City. It was Game 7 of the Stanley Cup Final featuring the Pittsburgh Penguins and Detroit Red Wings when the stakes of the sport are at their very highest. The pressure is highest on goalies in a Game 7, when the line between joy and sorrow, history and infamy, is so narrow.
For Fleury, the adversity of being on the road for Game 7 didn't faze him. He made 25 saves that night, including a diving save in the final seconds of the game on a Nik Lidstrom slapshot, sealing his name in Penguins lore. It was not the last time the goalie appeared in the Stanley Cup Final. He won back-to-back Cups in 2016 and 2017 with the Pens and was rewarded with the most championships of any active goaltender in hockey.
Time for a Fleury Knight in Game 5
Fleury knows he hasn't performed up to expectations in this Stanley Cup Final. In four games against the Caps,  he has given up 16 goals on 103 shots, with a .845 save percentage. Nine of those goals were in the two games in Washington.
"When you're a goalie you don't want to get scored on," Fleury said. "There was a lot of that (in Game 4). It's never a good feeling. It's a team game. Everybody's trying hard out there, trying to help me out. We'll find a way to make it work."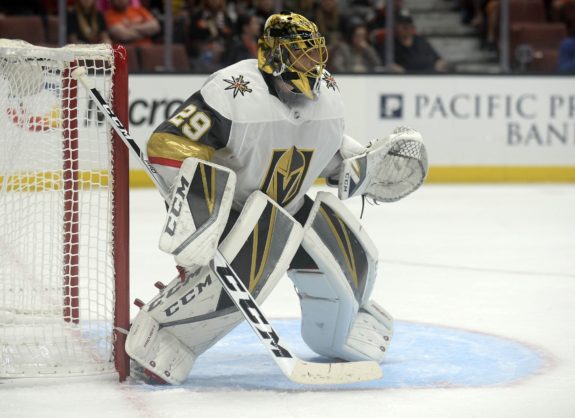 It goes beyond Fleury's underwhelming play. The Golden Knights have had tons of defensive breakdowns leading to lateral passes by the Caps in the attacking zone and they have taken too many penalties.
"Make sure we're paying attention to the guys behind the puck and away from the puck," stated Knights coach Gerard Gallant. "Marc will make the save on the guy shooting the puck. We've just got to make sure we're taking away the passes."
En route to the Stanley Cup Final, Fleury had four shutouts and a .947 save percentage that made him the leading candidate for the Conn Smythe Trophy. The season has been a miracle for Vegas. It's safe to say that Fleury may become a true Golden Knight after tonight by providing the fans with more of the unexpected.
Marc-Andre Fleury: Good goaltender#StanleyCup pic.twitter.com/RbqgcOjan2

— NHL (@NHL) June 3, 2018
"Nobody's quitting. We're going home. We've had some success there" says Fleury. "We just have to focus on period at a time, you know? Don't think too far ahead. Just play our game, see where that takes us."