There's a lot to like about this current edition of the Los Angeles Kings. Jonathan Quick's still turning away pucks like a hostile bouncer in West Hollywood, the premier forwards are leading by example, and as evident in the team's 9-2 drubbing of the Boston Bruins, the scoring depth has never looked better in L.A.. Yes, it's an even year, and the Kings hope that it will be their year as hockey giants yet again.
But every team, regardless of stature or recent accomplishments, has their flaws. I outlined at the beginning of the season that if anything was going to spoil this Kings quest for glory, it would undoubtedly be their defensive core. I'm not going to pat myself on the back, because frankly anyone with two eyes and the word hockey in their vocabulary could have probably seen this weakness as well. There wasn't necessarily a ton of sub-par players on the Kings blue line, just a barrage of question marks. These question marks surrounded what roles each player would take, who could be trusted in various situations, and what a potential trade would do for ice time and defensive pairings. Every team has similar issues, but they get heightened when a club is on the shortlist of Stanley Cup contenders.
We are midway through February, and the Kings have set themselves up with a division lead and a potential lengthy run upcoming in the postseason. Some of those pesky defensive questions have been answered emphatically. But others remain, and several defensemen still have a lot to play for as the regular season winds down.
Doughty Still Gunning for the Norris Trophy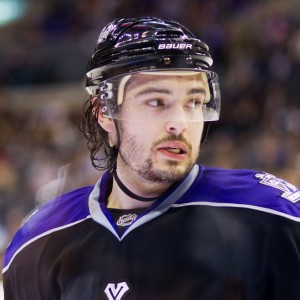 There's been one constant on L.A.'s blue line: the sustained brilliance of Drew Doughty. It's one thing to play well as an up-and-comer, when the rest of the league is still figuring out all the tiny aspects that make your game special. Well we are in year eight of the Doughty era, and there are no signs of slowing down. In fact, he's getting better. Doughty has 11 goals, 22 assists, and boasts a plus 15 rating for the season. What's even more remarkable is how the Kings have found creative ways to limit his minutes, which still clock in at just under 28 per game.
With Doughty, stats hardly tell the whole story. He plays every special teams unit, and has made sure that he pays just as much attention to the defensive zone as he needs to. In his younger days, Doughty would be prone to abandoning his d-zone principles, and getting too cute with the puck. Not anymore. Check out Doughty's decisive, intelligent play on Vinny Lecavalier's game-tying goal against San Jose:
Most defenseman take a low percentage shot in that situation. The younger Doughty probably stickhandles it one too many times. This year, #8 is a smarter, more patient hockey player. While it hasn't always been roses, and Doughty will get occasionally burned just like any NHL defenseman does, he has been the one driving force in a sometimes chaotic defensive unit. After years of seemingly avoiding it, Doughty is finally speaking up and becoming the veteran presence that the Kings front office has always hoped he would. I would be shocked if multiple Norris Trophy's aren't in his future, starting this summer.
McNabb Will Make a Difference
Doughty may get all the much-deserved praise, but it's his partner that will determine how effective L.A.'s top defensive pairing truly will be. Brayden McNabb started the season on rocky footing to say the least, as head coach Darryl Sutter had him taking stats in the press box during the opening game. McNabb was scratched after a poor showing in training camp, but has since rebounded to earn quality minutes with the Kings.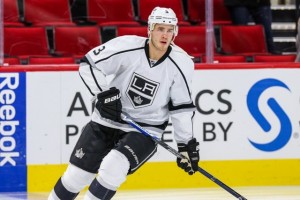 He's still just 25 years old, and plays the game with enough speed to keep up with Doughty. Outsiders may assume that just playing with one of the NHL's best defensman will make the game easier, which is partially true. But the benefits of playing with a premier player are often overshadowed by the competition McNabb has to face. Doughty is always going to be matched up with the top forward line of the other team, and likewise, so is McNabb. Doesn't seem so easy anymore.
Consistency remains a key issue for McNabb. Every so often, he just gets it. He plays up to his partner's level of skill, and makes a few freakishly athletic defensive plays that make you confident in his all-around skill-set. But there are also shifts where he's just not engaged physically, or fails to move his feet enough to keep up with the resounding talent sharing the same ice. One way or the other, McNabb will make an enormous difference for the Kings. If he keeps playing well, Sutter won't have to do much tinkering at all. Otherwise, every single pair could be ripped to shreds quicker than the new Kentucky Wildcats logo. No pressure Brayden.
Second Pairing Still Vital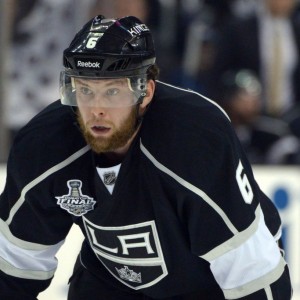 Alec Martinez and Jake Muzzin, usually, will be slotted in that second pairing of the Kings defensive unit. And usually, this duo is the most the consistent part of the team's entire lineup. You need a good second defensive pairing to make a championship run in the NHL, and that pairing has to be balanced. In theory, you should already have enough goals accounted for by your forwards and (if special enough) top defensive pairing. Martinez and Muzzin keep the puck out of their net first and foremost, and have received Master's Degrees from the Sutter school of defense. They grew up as hockey players in this system, and it translates to their cohesiveness on the ice.
Here's one example of a play Muzzin made against Edmonton, that saved a surefire goal:
The growth Muzzin has shown this year has been impressive, going from an offensive-minded defenseman with tunnel vision to a sound, well-rounded blue-liner. Martinez is able to cover when Muzzin's old aggressive instincts take over, which thankfully hasn't happened too much. If there's one area this duo needs to improve upon, it's Muzzin covering for Martinez (who understandably doesn't take as many risks as his partner). I may be nitpicking, but the farther this team goes into the playoffs, the most minuscule details will be brought to light.
Schenn Fitting In
The Kings decided to pull the trigger on a deal much earlier than the February 29th trade deadline, acquiring defenseman Luke Schenn from the Flyers. Schenn was not the superstar many fans were expecting, but definitely a more realistic option than most of the "A list" targets. Schenn's a former 5th overall pick (in the same draft as Doughty), and is now on his third team after two disappointing stops en route to Los Angeles. He had to know that a move to the Kings meant less ice time, and less responsibility then he's accustomed to having. But to Schenn's credit, he's done everything Sutter has asked him to, and embraced his newfound role.
I really think the problem with most struggling players is the gap between talent level and expectations. Schenn is a mid-to-back rotational player on a championship level club, but he was drafted way to high and has always been forced to assume roles he's just not built for. In L.A., he's a plus player, sees time on some specialty units, and has earned the respect of his teammates. Take this recent scrap against Anaheim's Chris Stewart as a prime example of how he's done that:
Alec Martinez threw a clean hit on one Ducks player, and Stewart decided to exact revenge. Schenn didn't have to step in there, but he did. He decided to stand up for his teammate, something every locker room appreciates. Currently slotted in that 5th position on defense, I don't see why Schenn can't continue to prosper in his new uniform.
Poor Play at the Bottom
The 6th and final defensive spot for the Kings has been somewhere between a disaster and utterly confusing. Matt Greene has been injured for much of the season. Jamie McBain has been in and (mostly) out of the lineup while still taking trips to Ontario with the Kings AHL affiliate. Derek Forbort was called up, given a few a chances, but hasn't done enough to play consistently. And then there's the saga of Christian Ehrhoff. He struggled in Pittsburgh last season, was signed to a discount (we assumed) by L.A. this summer, and never even came close to regaining the form he had earlier in his career. Ehrhoff was placed on waivers earlier this week, a sad ending to any potential of the German defenseman making an impact for the Kings. If he had a "One Shining Moment" video, it would be full of ill-timed pinches, and Sutter staring up into the lights.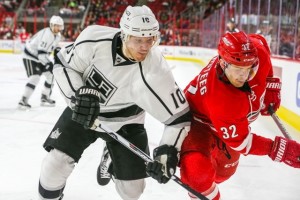 Once the playoffs come around, it will be easy for Sutter to phase this slot right out of any playing time whatsoever. But what if one of the top 5 defensemen gets hurt? Or what if they start struggling mightily? That's what concerns me the most, because that could also drag down the endurance level of the entire core. Kevin Gravel was called up from the AHL to replace Ehrhoff, and hopefully the St. Cloud State prospect is ready to seize a golden opportunity.
More Moves Coming?
The Kings are strapped for cap space, but I wouldn't put anything past general manager Dean Lombardi when it comes to dealing at the trade deadline. As long as his cell phone's on, and Columbus is an NHL team, anything can happen. Do the Kings need to make one more move though? I don't necessarily think so. This core is unique, versatile, and has shown flashes of being special. Any deal that would cripple the long-term health of the organization, or does not provide enough added value to the blue line, should not be done. But if the right situation presents itself, why not? A third Stanley Cup is at stake after all.
The Kings have a competent group of defensemen, and one that blends elite talent with proper positional play and plenty of chemistry. We will know very soon whether that's enough to reclaim their throne in the hockey world.
Just a hockey loving American. I grew up in Cleveland, Ohio, and attended Saint Louis University where I skated for the Billikens. From 2013-14 I covered the St. Louis Blues for ESPN Radio St. Louis. I currently work in sports video production in Los Angeles, and will always show solidarity for stay-at-home defenseman.