The Columbus Blue Jackets made their second round of cuts on Wednesday. An interesting name was part of those cuts.
The Blue Jackets sent QMJHL MVP Vitaly Abramov back to his junior team in Gatineau. After a strong showing in the Traverse City prospects tournament, Abramov tailed off as training camp went on. He can now spend this season fine tuning his game. The team's hope for him is that he'll play in Europe against men.
But will he even get to Europe? Thanks to the current structure of the league, that is an answer nobody has at this moment.
#CBJ assign F Nick Moutrey, F Justin Scott, F Calvin Thurkauf, and D Dean Kukan to @monstershockey. F Vitaly Abramov sent back to juniors.

— Aaron Portzline (@Aportzline) September 27, 2017
Abramov's Cloudy Situation
Thanks to the CHL-NHL agreement, the Columbus Blue Jackets could not send Abramov directly to Europe. Because his rights belong to Gatineau, the only option the Blue Jackets had available was to send him there.
Now that Abramov is back in the Q, what happens now? This is where there is some uncertainty.
Reports previously surfaced that Abramov wouldn't report to Gatineau camp. That is a sign that he was not interested in playing for them this season. But can he not report to Gatineau and go straight to Europe? And is there an example of a player who had a similar situation?
One player does come to mind that left junior for Europe midseason. Former Blue Jackets prospect Markus Soberg played for the Windsor Spitfires during the 2015-16 season. Midway through the season, the Spitfires elected to send Soberg home to pursue other opportunities in Europe. Soberg eventually joined Valerenga in his home country of Norway. He's been in Norway since.
The key in Soberg's situation is that the Spitfires "elected" to send him home. Soberg was both an overage and import player at the time of his release. Because teams are limited in those roster spots, Soberg had no difficulty passing through waivers.
Because Gatineau still owns Abramov's rights, they have to agree to allow Abramov to leave.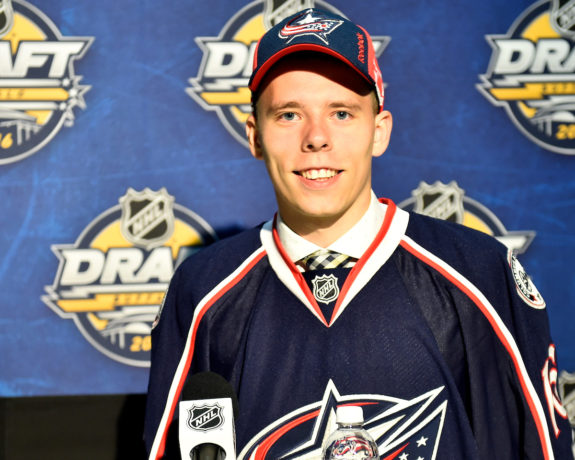 Now What?
Considering Abramov was the league MVP last season, Gatineau would love to have him back. But if Abramov doesn't report, his team could try to trade him for a huge return. They could try to waive him, but someone would surely pick him up given the skill he has.
This is unchartered territory if Abramov decides not to report. There are a range of outcomes possible from playing in the Q to somehow getting to Europe.
Thanks to the CHL-NHL Agreement, Abramov cannot play in the AHL as he is too young. The ideal situation for the Blue Jackets would have been to send Abramov to the Cleveland Monsters so he could learn the pro game in North America. Thanks to the current agreement, he could be stuck in CHL limbo.
Abramov's agent Todd Diamond has not commented to this point about his client's status.
We'll see where this goes. Maybe they'll find someway to get to Europe. We just don't know at this point. The ball is now in Gatineau's court.
I am a fully credentialed writer who covers the Columbus Blue Jackets, Cleveland Monsters and Erie Otters as well as the Ontario Hockey League and NHL Draft. The 2021-22 season will mark eight seasons with the Hockey Writers. I am also the site's Credentials Manager.