With the start of the 2017-18 season just around the corner, the Nashville Predators are in the process of determining which players make their roster. The return of veterans like Scott Hartnell will no doubt provide some stability on a team that has lost some notable names during the offseason. On the other hand, unproven young players are battling to secure their spot on the Predators' bench.
A name that many didn't anticipate seeing at the top of the list? Miikka Salomaki. To many Predators fans, Salomaki isn't a household name like Filip Forsberg or Viktor Arvidsson. He missed a large amount of playing time in 2016 due to long-term lower-body injuries that hampered his opportunity to make a lasting impression.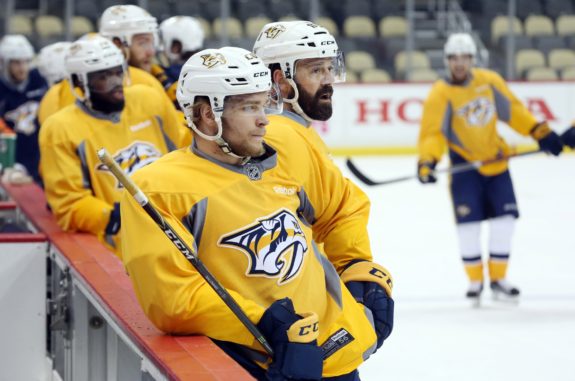 Like Salomaki, the season is still young and things can change; however, there is a good chance that he'll be in Nashville's starting lineup. We take a look at who he is and what exactly he's done for the Predators so far.
Just Another Finn
Finland has been a plentiful source of talented hockey players for the Predators. With both of their highly touted goalies hailing from the Northern European country, the Finnish winger has big expectations to be successful as well; a short 51-minute drive from the hometown of Pekka Rinne, Salomaki calls the town of Raahe home.
While playing in junior leagues in Finland, Salomaki found success early. In 79 games, he scored 55 goals and had 84 assists totaling 139 points. Throughout his seasons with various teams in the leagues, Salomaki maintained at least a 1.0 points per game average. His talents didn't just stay at the local level though.
Salomaki has represented his country well in international competition. During his time with Finland's men's national junior team, he totaled 53 points (29 goals and 24 assists) in 78 games, good enough for 0.68 points per game. In the World Junior Championships, Salomaki notched 24 points (12 goals and 12 assists) in 40 games.
His success in Finland is what ultimately paved his way to Nashville.
Two Steps Forward, One Step Back
In the second round of the 2011 NHL Entry Draft, the Preds selected Salomaki 52nd overall. Arriving in Milwaukee, the team's AHL-affiliate, in 2013, he was quick out of the gate recording 50 points (20 goals and 30 assists) in 70 games.
His longest stint with the NHL club came in the 2015-16 season where he tallied five goals and five assists in 61 games; good enough to get his number called in the playoffs that year. While he had a minimal impact on the scoreboard, only scoring one goal, he made an impact – literally.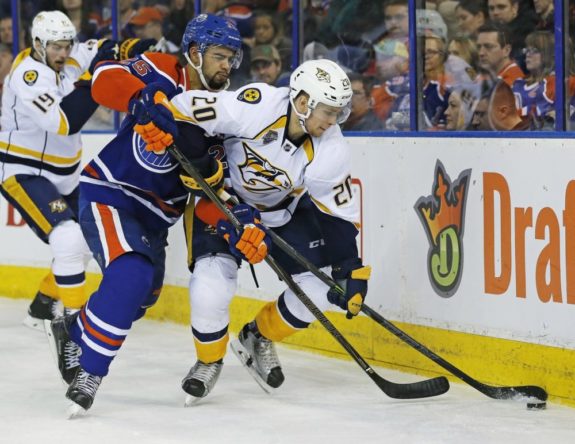 One of his strongest attributes, aside from his offensive potential, is that he isn't afraid to throw his weight around. In an article on NHL.com, defenseman Anthony Bitteto said: "We joke around that he's like a wrecking ball. He's the bull. He'll run 100 miles per hour into a wall. Hopefully, he's hitting someone on the way." Don't worry, he will.
During the 2016-17 season, Salomaki made the Predators' roster but was plagued by injury and was ultimately passed on the depth chart. However, he was still part of the Preds' magical run in the post-season. With the season ending the way it did and with a busy off-season, Salomaki has another opportunity to state his case.
Another Chance for Salomaki to Impress
Late September – the time of year when players do whatever they can to secure a roster spot. Enter Salomaki with three goals in early pre-season play. He is even out-dueling famed young gun Kevin Fiala. After missing much of the 2016-17 season, Salomaki wants to make up for it.
Miika Salomaki ties the game at 1.. pic.twitter.com/mftxDuD7M0

— The Rat Trick (@FanSidedTheRat) September 20, 2017
In an article in the Tennessean, Salmoki said: "It's a huge training camp for me because I didn't really play last season. But I don't take any pressure. … I got pretty good ice time (Friday) and in the last game (against the Panthers), too. It's good. That's how you see how players can play."
In a lineup that has the top six largely set in stone, the bottom six are jockeying for position. Salomaki has had an effective pre-season demonstrating his offensive abilities. Don't be surprised if you see number 20 continue to elevate his career this coming season.
Ben is an Ohio State alum born and raised in south Jersey. Currently calling Nashville home, he has been covering the Nashville Predators since 2014. Initially drawn to hockey as a kid by the FoxTrax puck, he now despises the idea of such a thing.