This is why the NHL playoffs are fun: you never know what's going to happen. Upsets are more frequent compared to other major sports like the NBA. We are now set for the finals, which features the team with the fewest points among those that qualified for the postseason — the Nashville Predators.
Prior to this year, the franchise had won only three series, while losing nine. They had never reached the Conference Finals, but they are now that close to winning their first Stanley Cup ever. Their fans are going crazy and they deserve it. They've been waiting patiently for such a long time and they never let their team down.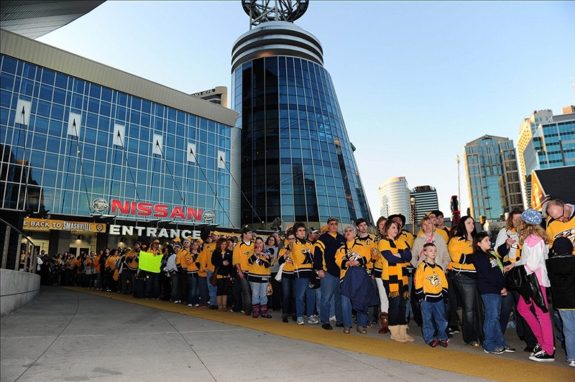 Meanwhile, the Penguins are the usual suspects when it comes to the NHL Finals. This year will mark their fourth appearance over the past 10 playoff seasons. They have won four championships in franchise history: 2016, 2009, 1992 and 1991.
I came close to perfection with my Conference Finals' picks (Nashville in six games and Pittsburgh in six games). Let's see if I can hit the bullseye this time. You can have a look at my colleague's predictions here.
Nashville Predators vs Pittsburgh Penguins
Previous Round Results:
Nashville eliminated Chicago in four games, St. Louis in six games and Anaheim in six games.
Pittsburgh eliminated Columbus in five games, Washington in seven games and Ottawa in seven games.
Let's start the series analysis with the injury report. Nashville will be missing its regular season leading scorer, Ryan Johansen, throughout the series. Forward Kevin Fiala will also miss the entire series with a fractured femur. As for the Pens, they are still without their best offensive defenceman, Kris Letang, but should get forward Patric Hornqvist back for either Game 1 or 2. Mike Fisher should be back in the lineup in time for Game 1.
These teams played twice in the regular season. Nashville won 5-1 at home back in October, while the Pens got revenge with a 4-2 win at PPG Paints Arena in January.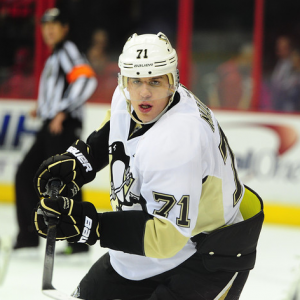 The Penguins have four of the top seven postseason scorers in the NHL: Malkin leads the league with 24 points, while Crosby has 20, Kessel 19 and Guentzel 16. Did you know that Crosby has a very surprising minus-1 rating in the playoffs? Speaking of plus/minus ratings, Nashville has five of the top 10 players in this category. Filip Forsberg leads the pack with a plus-17. He's been great thus far and he is riding a seven-game point streak.
Pittsburgh started off the postseason by eliminating two of the top four teams in the entire league (in terms of points). They went on to beat Ottawa which finished 12th overall and they are now facing the team that occupied the 16th spot. That's a pretty odd route they had to take.
During the first three rounds, the Predators have allowed only 29 goals in 16 games (which equals 1.8 goals allowed per game). Goalie Pekka Rinne leads the league both in goals against average (GAA) and save percentage so far. After suffering an injury in warm-ups before the very first game of the playoffs which cost him to miss more than the first couple of rounds, Matt Murray came in to relieve Marc-Andre Fleury in Game 3 against Ottawa and he hasn't been benched since then. His numbers have been impressive. He has not allowed more than two goals in any of his four starts, while posting a 1.35 GAA and a .946 save percentage.
Experience is definitely on Pittsburgh's side. From the 2008 to the 2016 playoffs, Nashville played nine series compared to 22 for the Pens.
You have to wonder how much the Johansen injury will affect a Predators' offense that already had much less firepower than Pittsburgh. I've got major concerns after watching the clinching series Game 6 in Nashville, where the Ducks clearly outplayed the Preds with 41 shots compared to only 18. However, I do favor Nashville's group of defensemen and their goalie, but not by a very wide margin.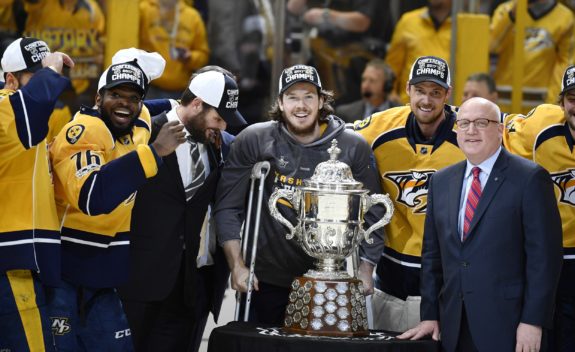 You've got to feel bad for Shea Weber. He played his heart out during his first 11 seasons in the NHL with Nashville, going through some tough times. He got dealt to Montreal prior to this year and he now sees his former team reach the Finals. He must be feeling mixed emotions: happy for his former teammates, but disappointed he can't be part of the dance.
Final Pick
I picked the Ottawa Senators to upset their rivals in the first two rounds, but I felt like I had to go with Pittsburgh to end their fairy tale ride. A similar situation is occurring here as I went with the Preds to eliminate the Blues and the Ducks, but I am predicting the feel-good story to end right here. My heart would prefer witnessing a team hoisting its first Stanley Cup ever, but it's my head that makes the final call: Pittsburgh in seven games.
Enjoy the Finals!