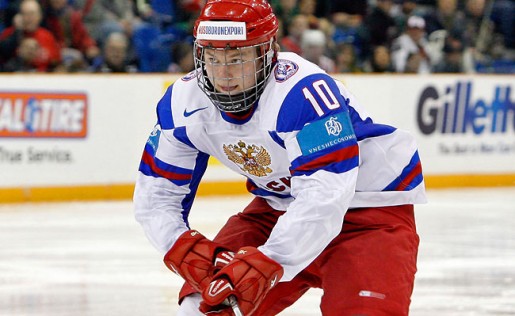 Vladimir Tarasenko was widely regarded as one of the top young players not skating in the NHL after the St. Louis Blues selected him with the 16th-overall selection in the 2010 draft. He chose to spend his early developmental years in the KHL, where he was a star with both the Novosibirsk Sibir and St. Petersburg SKA due to his lethal goal scoring ability.
He tantalized fans of the Blues for a few seasons with YouTube-worthy highlights before finally making his NHL debut during the lockout-shortened 2013 campaign. Tarasenko showed flashes of brilliance during his rookie season, but struggled to return to the form he teased early on in the year after Mark Olver of the Colorado Avalanche leveled him with a scary hit that left the young Russian concussed and shaken up.
Pundits and fans that had high hopes for the then 21-year-old sniper were surely disappointed by his final statline in 2013. After posting ten points in St. Louis' first eight games of the campaign, Tarasenko sputtered to a 19-point finish across 38 games played. He hit the reset button over the summer and came to training camp weighing in at nearly 220 pounds.
2013-14 has been a different season for the "sniper."
He is much stronger on the puck, and it's clear that head coach Ken Hitchcock trusts the young forward in a variety of situations. That's because Tarasenko has been quietly and remarkably efficient with his ice time. Among all forwards in the NHL that have played at least 30 games, he ranks seventh in one-ice corsi according to BehindTheNet.ca.
In other words, the Blues shoot more often and spend more time in the offensive zone when Tarasenko is on the ice than they do when he's on the bench. On a team that's lead by outstanding two-way forwards like David Backes, that the youngster manages to shine as a two-way stud is impressive. Backes and Alex Steen face tougher competition, but  there's no denying that Tarasenko is a possession hound when he's on the ice.
That's a surprising characteristic considering he was touted as an offensive juggernaut that oozed nothing but scoring scoring potential prior to his debut last year. Consider The Hockey News' scouting report on Tarasenko (bold for our emphasis):
Assets: Has tremendous puck-handling and one-on-one skills. Is strong on his skates, so he is good at puck protection and also battling along the boards. Oozes scoring upside.

Flaws: Still needs to hone his two-way game and add even more muscle to excel for a long stretch in the NHL. Must also become more committed to the North American game.
Still needs to hone his two-way game? After only 92 games played at the NHL level, Tarasenko has surpassed players of similar offensive talent when it comes to play in the neutral and defensive zone. A great comparison for his development would be Nail Yakupov, who the Edmonton Oilers have been begging to play defense all season long. The former first-overall selection is finally coming around to the two-way game, but it's been a war between player and coach.
That hasn't been the case for Tarasenko and Hitchcock.
The forward seems to take to his coaches systems naturally, and it's been a boon for the Blues this year. What's impressive is that Tarasenko's offensive production hasn't hit a wall despite being asked to play stingy defense. Chris Stewart can't seem to figure out how to perform both roles and is reportedly on the trading block because of it, but Tarasenko is on pace for a 50-point season according to ESPN.
Could the former KHL offensive dynamo put up bigger numbers if he played a more puck-hoggish game? Clearly he could. His hockey IQ is through the roof, and that's what has allowed his dramatic and rapid transformation into a player that skates hard for 200 feet. Tarasenko seems just as comfortable setting up his teammates as he does scoring goals though, and he has a clear knack for making those on his lines a bit better.
In their last contest prior to the Olympic Break, the Blues iced a line that featured two struggling veterans in Derek Roy and Brenden Morrow. On their wing was Tarasenko, and both Morrow and Roy ended up scoring a goal while tallying an assist each.
From superstar Russian finisher to two-way player that the coaching staff in St. Louis utilizes to bring out the best in veteran players? It isn't likely that the Blues envisioned this future for Tarasenko, but they've got every reason to be happy with the results so far in his young career. Perhaps it's time for THN to touch up their scouting report on the kid.