Let's all think about this for a second. Until Wednesday of this past week, the President's Trophy-winning Washington Capitals were cruising in their first-round Stanley Cup playoff series against a team that barely even made it into the postseason. All of a sudden, their opponent's goalie starts standing on his head and frustrates a Caps team that is outplaying their foe. Throw in some unlucky bounces, and the Capitals are two games away from going out of the Stanley Cup playoffs. Sound familiar?
In April 2010, the Stanley Cup first-round playoff series saw the President's Trophy-winning Capitals face a Montreal Canadiens outfit that finished the regular season 33 points behind Washington. The expectation was that the Capitals, under head coach Bruce Boudreau at the time, would quickly dispatch of Montreal and go on to lift the Cup. The team was that good. However, all of that went horribly wrong when Canadiens' goalie Jaroslav Halak produced a performance over three games that single-handedly catapulted Montreal into the next round.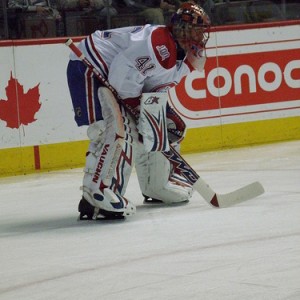 This is what Boudreau said after Game 6 of the 2010 series when the Habs forced a Game 7: "I thought he [Halak] played pretty good. We threw 54 shots at him. We got great looks and we missed chances. But how much of it is him and how much of it is us missing? I think it was more him than us."
Is it Just Michel Neuvirth?
Fast-forward to this year, and the Capitals are collectively pulling out their playoff beards because of the Philadelphia Flyers' goaltender Michel Neuvirth. Rubbing salt in the ice is the fact that Neuvirth came of age in D.C., and spent six seasons as part of the Capitals' organization. Ironically, he was a crowd favorite during his NHL tenure in Washington. Neuvirth has stopped 75 of 76 shots since starting Game 4 as Steve Mason's replacement between the pipes. Mason had a nightmare first three games of the series and allowed a comical goal from close to 200 feet out.
"I like to face a lot of shots. It keeps me in the game," said Neuvirth. "I enjoy it. Guys did a really good job in front of me. I was seeing the puck well. We didn't take any bad penalties, and we stuck to our system and big win for us."
He's correct, but – realistically – the Flyers didn't do too much too win Game 5; they were out-shot 44-11 and out-hit 35-17. Their first goal was an own-goal by the Caps' Taylor Chorney; their second was an empty-netter. Effectively, Neuvirth won the game for the Flyers – just like Halak won three games straight for the Habs six years ago. So, could the Cardiac Caps possibly be heading for another heartbreaking seven-game series loss? If they do, the similarities between 2010 and today are apparent – but there is one huge difference this year: Experience.
A Different Washington Capitals
It was a young and fairly untested Caps team in 2010. Their core players of Alex Ovechkin, Nicklas Backstrom, John Carlson (who featured in all seven games in 2010) were 24, 22, and 20 years of age respectively.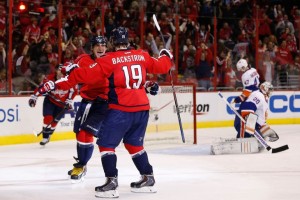 This time around, those three are practically veterans and they are surrounded by other veterans including four players with at least one Stanley Cup win under his belt.
Another big difference is the Caps' coach. Boudreau had a reputation for being hot-headed, profane and downright obnoxious with his tactic of negative enforcement in the locker room. He proved that when cameras were allowed in for the 2011 HBO special "24/7 Penguins/Capitals: Road to the NHL Winter Classic." In 2010, Boudreau was making only his third Stanley Cup playoff coaching appearance. Trotz is the opposite of Boudreau with more patience and boat-load more playoff experience. This season marks his ninth appearance as head coach in the Stanley Cup playoffs, and he has 1,360 NHL games on his coaching resume – that's fourth on the experience chart of current NHL coaches. While were looking at comparisons, the Flyers' coach Dave Hakstol has only 82 games clocked up for a second-from-last placing in the experience ranking.
This Flyers series may have Capitals fans thinking back to 2010 and the heartbreak of that seven-game exit to the Habs. However, despite the similarities between then and today, the Capitals will utilize a whole different set of tools this postseason. A non-panicky and cool-headed head coach, a more experienced team with a 'been there, done that' attitude, the league's best goaltender who can only be beaten with freak bounces and caroms, and – most importantly – depth. All four lines are spectacular and the defensemen rarely make even minor mistakes.
Neuvirth is having a great little run, but as seen in Game 3 when the Flyers players (and fans) showed their ugliness, it doesn't take much for Philadelphia to implode. And that's what I predict will happen in Game 6 – another implosion and a Caps win.
The best all-around game wins a Stanley Cup playoff series. The 2010 Caps did not have the best all-around game in the NHL; the 2016 team does.
Glynn Cosker is based in the Washington D.C. area. A professional writer and blogger, Glynn brings insightful news and information on all things related to the Washington Capitals for THW. Follow Glynn @DCPuckDrop