It wasn't long ago that Washington Capitals forward Andre Burakovsky found himself on the outs, a healthy scratch watching from the press box.
"I [learned] a little bit of a lesson here from being healthy scratch and obviously, it's not something I want to do," Burakovsky said in regards to being out of the lineup. "I want to be out there, help the team compete and help them win."
Following the scratch, Burakovsky promised, "as soon as I get some confidence back and do something good, I'm gonna take off."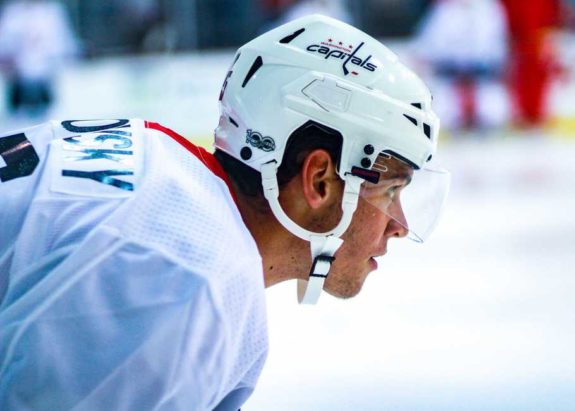 And over Washington's latest stretch, it seems that Burakovsky has found his footing. The 23-year-old has four goals and seven points in his last 10 games, and has been an asset for the Capitals of late, scoring at critical points and making more of his opportunities.
"Sometimes I'm just lucky," Burakovsky said. "I'm playing with confidence right now, feeling good with the puck."
Burakovsky Gaining Confidence
The Swedish winger said the key to his success of late comes from simplifying his game and not thinking too much about his offense or his on-ice performance. He's now on pace for 12 goals and 26 points.
"I'm just trying to play simple. I think before, I try a little bit too much," Burakovsky said. "Now I'm just trying to take it wide and use my speed and obviously just handling the puck a little bit more."
Head coach Barry Trotz has noticed Burakovsky's strong performance of late and said that although confidence may play a part in it, he's coming out of his shell and playing the way he should be."I think he's recognized how he has to play," Trotz said. "What I like about [Burakovsky] is that he's committed to speed. He's slippery, he can pull away, he can make plays, he's hard to handle and he's moving his feet. When he does that, there's a lot more open ice for him. I'm happy for him… he's playing hard and he's playing well."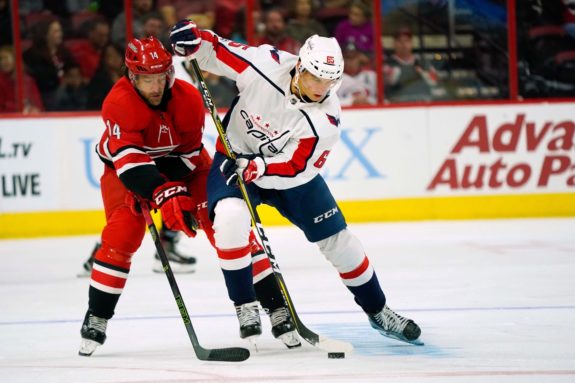 After registering a goal and three points in the first nine games of the season, Burakovsky fell victim to a broken thumb, which held him out of the lineup until early December. When he eventually returned, he wasn't able to put up consistent numbers, and after scoring in just two of 10 games since his return, Trotz decided to scratch him.
En route to slotting back into the lineup, Burakovsky said he "had to learn to be more mentally strong," and that since he was younger, he has struggled with overthinking his game. However, since returning, he has taken the steps to calm himself and just play and said that he is feeling more confident.
"Before I think I was nervous, but I didn't feel so secure with the puck as now," Burakovsky said. "I have good feeling, I want to keep building on this."
Capital Gains Moving Forward
As Burakovsky continues to find his game, he has made his way back into the Capitals' lineup but is still trying to prove his worth beyond the bottom-6. He currently plays on the third line alongside Lars Eller and Chandler Stephenson, and Eller is one player in particular who has likely helped him find his stride. Eller is not only having a career season but has proven to have the ability to push his linemates to new heights, which has shown to be the case with Burakovsky.
According to Trotz, as Burakovsky takes off and continues to find his footing, he will keep progressing and fine-tuning his game as he gains more experience at the NHL level, which could propel him up the lineup in the future.
"As he keeps maturing, he'll keep producing," Trotz said.
Sammi Silber covers the Capitals beat for The Hockey Writers and is an NHL contributor with Sporting News. She has also contributed to USA TODAY College, Huffington Post, FanSided and the Nation Network. Silber has written four books and recently worked on graphics for the film, The California Golden Seals Movie.