With the NHL trade deadline approaching quickly, The Hockey Writers continues to update Washington Capitals' fans on the team's prospects. Washington has a top heavy system at the moment, with some big names that could become solid NHL players at the top of their prospect list. These players include Evgeny Kuznetsov, Andre Burakovsky, Madison Bowey, Riley Barber and Stanislav Galiev. You can check out the majority of Washington's prospects progress this season below.
Junior
Chandler Stephenson: Playing a prominent role for the Regina Pats in the Western Hockey League (WHL), Stephenson ranks 12th in league scoring with79 points on the campaign. He plays in all three situations (PK, PP, even strength), accumulating six power play goals and seven shorthanded markers this season. Stephenson was described by Caps' forward prospect Garrett Mitchell as a "power forward" in an interview with The Hockey Writers earlier this season. Stephenson could join the Hershey Bears later this year after his Junior season ends.
"It's obviously nice to see," Stephenson told the Leader- Post earlier this season of his offensive production this season. "Being my fourth year in the league it's kind of a confidence thing, having experience in the league. That has helped a lot. But a lot of credit goes to my linemates, my (other) teammates and the coaches."
Regina head coach Malcolm Cameron also is impressed with Stephenson's performance, saying: "With as great a shape as he's in, I would love to get him out there more, but it's about quality minutes not quantity. He's leading our team in plus-minus. He plays against everybody's top line and everybody's top D pair. If you look at his first season he was minus-20 and now he's plus-20. That's a complete evolution as a hockey player."
"A lot of guys go from 14 minutes a night to 20 and they completely try and reinvent themselves. Chandler doesn't. He knows what he's good at. He knows what is going to get him a contract, hopefully, and is going to give him an opportunity to be a successful pro. He's working at those things each and every day."
Andre Burakovsky: Selected by Washington in the first round of the 2013 NHL entry draft, Burakovsky has been excellent in the Ontario Hockey League (OHL) this season. He could earn a role in Washington next training camp after a strong first year playing in North America. Burakovsky could join the Hershey Bears after his junior season is complete later this year.
| Player | Team | Feburary | Season to Date |
| --- | --- | --- | --- |
| Andre Burakovsky | Erie Otters (OHL) | 11 GP, 3 G, 3 A | 50 GP, 33 G (13 PPG), 37 A |
| Blake Heinrich | Sioux City Muskateers (USHL) | 3 GP, 1 A, 4 SOG | 38 GP, 7 G (5 PPG), 8 A(5 PPA), 67 SOG |
| Brian Pinho | Indiana Ice (USHL) | 9 GP, 6 G (1 SHG) , 2 A, 25 SOG | 45 GP, 17 G (3 PPG, 3 SHG), 18 A (2 PPA), 116 SOG |
| Chandler Stephenson | Regina Pats (WHL) | 13 GP, 5 G (1 PPG, 1 SHG), 12 A | 62 GP, 28 G ( 6 PPG, 7 SHG), 51 A |
| Garrett Haar | Portland Winterhawks (WHL) | 11 GP, 2 G, 8 A, 12 PIM | 58 GP, 7 G (1 PPG), 38 A, 55 PIM |
| Jaynen Rissling | Calgary Hitmen (WHL) | 11 GP, 2 PPG, 10 A, 31 PIM | 46 GP, 8 G (6 PPG), 28 A, 89 PIM |
| Madison Bowey | Kelowna Rockets (WHL) | 13 GP, 1 G, 6 A, 16 PIM | 64 GP, 16 G (4 PPG), 37 A, 87 PIM |
| Tyler Lewington | Medicine Hat Tigers (WHL) | 15 GP, 11 A, 23 PIM | 61 GP, 7 G (1 PPG), 28 A, 111 PIM |
| Zach Sanford | Waterloo Black Hawks (USHL) | 10 GP, 4 G, 2 A, 43 SOG | 42 GP, 15 G (4 PPG), 16 A (8 PPA), 145 SOG |
NCAA
Thomas DiPauli: After playing for the United States in the Under 20 World Junior Hockey Championship during the New Year, DiPauli hasn't carried that over to his play at Notre Dame. With just two points in his sophomore season the Capitals' fourth round selection from the 2012 draft, DiPauli has been underwhelming after a three point showing at the WJHC with Connor Carrick and Riley Barber.
| Player | Year | Team | Season to Date |
| --- | --- | --- | --- |
| Austin Wuthrich | Junior | Notre Dame University | 33 GP, 6 G (3 PPG), 6 A, 63 SOG |
| Caleb Herbert | Junior | University of Minnesota Duluth | 31 GP, 11 G (1 PPG), 17 A, 77 SOG |
| Patrick Koudys | Junior | Pennsylvania State University | 29 GP, 2 G, 4 A, 42 SOG, 18 PIM, 62 Blocks |
| Riley Barber | Sophomore | Miami University of Ohio | 30 GP, 18 G (6 PPG, 4 SHG), 20 A, 136 SOG |
| Thomas DiPauli | Sophomore | Notre Dame University | 19 GP, 1 G, 1 A, 28 SOG |
| Travis Boyd | Junior | Minnesota University | 31 GP, 8 G (5 PPG), 14 A, 87 SOG |
Overseas
Evgeny Kuznetsov: Selected 26th overall by the Capitals in the 2010 NHL entry draft, the highly touted Russian forward could finally be joining Washington later this season. He's produced 20 points in 29 games for Chelyabinsk Traktor in the KHL in his fifth season with the team. The club also has former Nashville Predators forward Andrei Kostitsyn, who's second on team with 31 points in 52 games.
Kuznetsov was once regarded as the top prospect in hockey not playing in North America and could bring more skill to the Capitals in the coming years. No contract has been signed so fans should hold their hopes until his entry level deal is finalized. Kuznetsov is expected to live with Alex Ovechkin when he comes over to North America. Kuznetsov's arrival could affect George McPhee's contract negotiations with center Mikhail Grabovski who signed with the Capitals after being bought out by the Toronto Marlies last summer.
Christian Djoos: Drafted in the seventh round of the 2012 NHL entry draft, Djoos is still playing in Sweden at the ripe age of 19. He played for Sweden during the Under 20 World Junior Hockey Championship, helping the Swedes collect silver. Djoos has produced a goal and 11 assists in 45 games for Brynas IF Gavle in his third year with the club, but his first in the Swedish Hockey League.Djoos previously played in the SEL.
AHL
| Player | February | Season to Date |
| --- | --- | --- |
| Cameron Schilling | 8 GP, 1 A, 5 SOG | 51 GP, 3 G, 9 A, 59 SOG |
| Michael Latta | 10 GP, 1 G, 5 A, 9 SOG | 31 GP, 7 G, 17 A, 36 SOG |
| Nate Schmidt | 10 GP, 1 A, 17 SOG | 28 GP, 1 G, 7 A, 63 SOG |
| Nathan Walker | 5 GP, 9 SOG | 33 GP, 5 G, 6 A, 60 SOG |
| Patrick Wey | 8 GP, 2 A, 7 SOG | 21 GP, 1 G, 4 A, 18 SOG |
| Stanislav Galiev | 3 GP, 1 A, 4 SOG | 11 GP, 3 G, 2 A, 19 SOG |
Stanislav Galiev: An upper body injury sidelined Washington's third round pick from late December to late February, but the Russian forward is back in action. He recorded an assist in his second game back from injury, in a matchup against the Bears' top rival, the Wilkes-Barre/Scranton Penguins. Galiev has produced three goals and two assists in 11 games this season. He could find a spot on the Bears' top power play unit in the near future.
Michael Latta: Although he received fourth line ice time with the Capitals, Latta has not been given top six minutes in Hershey. He's skated on the Bears' fourth line on multiple occasions, usually with versatile forward Peter LeBlanc and enforcer Joel Rechlicz. He produced 11 points in nine January games and is suffering from a short term injury.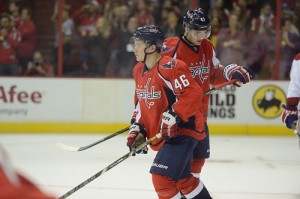 Nate Schmidt: Coming from the University of Minnesota, Schmidt had a strong impact in Washington in his first full pro season. After getting sent down from the NHL, Schmidt has struggled finding his offensive game. He's produced 63 shots on goal, but has just one goal to account for. Schmidt has received power play time, but hasn't done much with that opportunity.
ECHL
Brandon Anderson: Second on the Capitals' goalie prospect depth chart, Anderson is proving a lot in his second pro season. After a .876 save percentage in his rookie season, the 6'1" net minder has posted three shutouts to go with a 17-8-1 record, including an improving 2.33 goals against average and .911 save percentage.
His performance in February has been phenomenal, capped off with a 4-0 shutout victory Friday night over the South Carolina Stingrays, the former ECHL affiliate of the Washington Capitals.  In six February games, Anderson went 5-1 with a remarkable 1.70 goals against average and .935 percentage. He could compete for the backup job in Hershey next season.
Brett Flemming: A fifth round pick by Washington in the 2009 NHL entry draft, Flemming has yet to earn playing time above the ECHL in his young career. He's posted similar numbers to what did in his second professional season last year, totaling 13 points in 40 games. Flemming contributed 15 points in 50 games for Reading in the 2012-13 campaign. He's the most likely Capitals' restricted free agency to not receive a qualifying offer and then become an unrestricted free agent.
Stay tuned for a release of the Capitals top ten prospects prior to the 2014 draft and month-by-month prospect reports from The Hockey Writers.
You can follow Matthew on twitter @m_speck and email him at mspeck21@yahoo.com with any questions or comments.