After earning another Southeast Division title prior to realignment, the Washington Capitals hope they can defeat the sixth seed New York Rangers this time around, unlike last postseason. The Rangers defeated Washington at Madison Square Garden following the Capitals first round victory over the Boston Bruins last postseason. You can view a playoff history between the Rangers and Capitals, here.
Starting goaltender Braden Holtby will look to continue his postseason dominance (1.95 GAA, .935 save percentage in 14 games last year) in his second playoff stint with Washington, facing a re-energized Rangers bunch following a big trade deadline that landed them forwards Ryane Clowe, Derrick Brassard and young defenseman John Moore.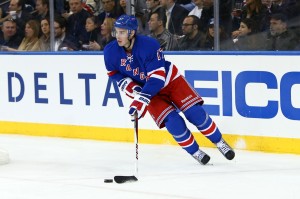 The Capitals are one of the best offensive juggernauts in the NHL, averaging 3.04 goals per contest during the 2012-2013 regular season, good for fourth in the league. They also finished tenth in five-on-five play, sporting a 1.07 goals for/against during even strength. However, Washington's bread and butter this season was their number one ranked power play at 26.8%, led by Captain Alex Ovechkin who totaled 16 goals on the man advantage.
Battle in Net
Holtby, 23, has become the clear cut number one net minder in Washington. Following a rough start to the shortened season, the 23 year old goalie finished fourth in wins (23), 14th in save percentage (.920) and 27th in goals against average (2.58). He also recorded four shutouts on the season and won his final three games prior to the playoffs.
He improved each month in goals against average and save percentage, improving his stock come spring time. April was his best month this season, finishing with an outstanding 2.16 GAA and .937 save percentage. Along with a great performance in net against New York last postseason, Holtby has posted strong numbers against the Rangers during the regular season throughout his career. In five games against the Blue Shirts, he's 2-2-1 with a 1.92 goals against average and .942 save percentage.
https://twitter.com/Mike_Rappaport/status/329571851003125761
Lundqvist, a 7th round pick from the 2000 NHL entry draft, has blossomed into an elite NHL goalie over the past few seasons. His success continued in this shortened lockout year, playing in 43 games and finishing fifth (.926) in save percentage and seventh (2.05) in goals against.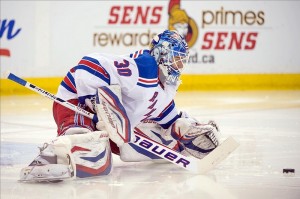 The 31 year old Rangers net minder also has fantastic postseason numbers on his resume, playing in 55 career playoff games. He holds a 25-30 career record in the two month marathon, including a phenomenal 2.31 goals against average and .917 save percentage in those games. He also has six shutouts in almost 3,400 postseason minutes.
Lundqvist clearly holds the edge in this goaltending matchup, but Holtby could steal the show like he did last postseason against other top goalies. It's unknown how big of a boost defenseman Marc Staal could bring Lundqvist, but any help on the Rangers blue line would mike New York's goalie even more formidable.
Washington's PP versus Rangers PK
With the best power play in the league, Washington must be able to draw penalties to win this series. Unfortunately for the Capitals, New York committed the fewest penalty minutes per game (9.2) during the regular season, a real strength of the Rangers.
Washington finished 18th in power play time with 258:52 of man advantage time, and they totaled 219 shots with an extra man, 10th in the league. The Capitals did their best work on the power play in the third period, scoring 63 goals on the man advantage in the final regulation frame. Washington totaled 51 power play goals in the second period and 48 in the first stanza.
The Rangers finished 15th (81.1%) in the NHL on the penalty kill during the regular season, including five shorthanded goals, seventh in the league. New York had a large disparity with their away penalty kill (75%) and when they were shorthanded at MSG (86.2%), clearly not a coincidence. The Rangers play a much more physical and intense game in front of their home crowd, something the Capitals must take advantage in this series, especially with their home ice advantage as the third seed in the Eastern Conference.
Games this series will likely be close contests, probably decided by one goal. A late power play chance for either side could sway the momentum in this series in an instant.
Caps Can't Afford To Fall Behind
Historically, the Rangers are best team to close out games over the past few seasons. That trend continued this year as they went 16-0 when leading after two periods, best in the business. Only the Columbus Blue Jackets had the same winning percentage as the Rangers (13-0). Washington was in the middle of the pack when leading heading into the third period, going 19-3 (14th).
Good thing for Washington, they were the third ranked team when trailing after two stanzas (5-11-2). However, the Rangers have of the best defensive cores with defensemen like Dan Girardi, Michael Del Zotto and Ryan McDonagh. This gives them the ability to play a much slower game in the final frame, clearing the crease and staying in the pass lanes in front of Lundqvist.
https://twitter.com/Mike_Rappaport/status/329581162974560257
Both teams are strong when allowing the first goal of the game, with the Rangers 11th (8-16-3) and the Capitals 4th (10-10-2) in the NHL.
Prediction
This series will feature a strong coaching battle between Washington bench boss Adam Oates who could win coach of the year and Rangers head coach John Tortorella who is one of the best American born coaches in NHL history. Both teams finished the regular season hot and feature two above average goalies to say the least.
This game should be a long, grinding series, likely lasting 6-7 games. With that said, I predict the Washington Capitals to defeat the New York Rangers in seven games, with home ice playing a big role in this first round contest.
You can follow Matthew on twitter @m_speck and email him at mspeck21@yahoo.com with any questions or comments.