In their last home game before Christmas, the Washington Capitals found themselves in strange and unfamiliar territory against the Anaheim Ducks; heading into the third period, the Capitals were trailing 2-0, unable to solve the mystery of Ducks netminder John Gibson.
Not only that, Washington's first two periods were highlighted by an overwhelming amount of shot attempts and turnovers, which a couple of players attributed to poor ice conditions, due to the fact that just hours prior, the Georgetown Hoyas had taken center stage at Capital One Arena against Syracuse.
"It was really bad," forward Devante Smith-Pelly, who skated in his 300th career game Saturday, said. "That might have played a part in the sloppiness."
However, despite adversity, as well as their struggles to find twine early on, the Capitals didn't let frustration overpower them, and with 20 minutes remaining in regulation, they were relentless, continuing to throw pucks on net and dominate offensively. And it paid off: Washington scored two third-period goals to send the game to overtime, where Alex Ovechkin completed the comeback with a rocket to secure the Capitals' 3-2 victory.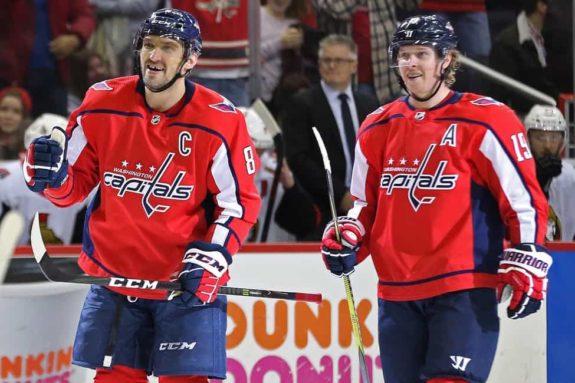 "I was tired, obviously," Ovechkin said of his overtime winner, which came at the tail end of a long shift for the 32-year-old winger. "Just wanted to throw it on net."
Not only did the victory mark the Capitals' sixth straight home win and start a three-game winning streak, but the win secured Washington the sole lead over the Metropolitan Division with 43 points.
"I think we came out with a purpose in the third period," goaltender Braden Holtby said. "We really wanted to come out and make a point… I thought we really played well and played the game we needed to."
Capitals Overcoming Adversity
Washington found not only trailing by two goals but trailing in shots, despite an overwhelming amount of scoring chances. The Capitals simply could not figure out how to get the puck past Gibson. However, according to winger Jakub Vrana, the frustration wasn't enough to make the team lose hope or give up trying.
"Personally, I want to score, if I see [Gibson] make a nice save, it keep me more going and y'know, he had great saves, no doubt about that, but like I said, we stick with it in the third and we get us back on the board and that was huge."
Ovechkin agreed, and also said that Washington's perseverance and determination, as well as their drive to get pucks on net, spoke volumes about the team's culture.
"I think every team is different when they losing, but again, it show our character," Ovechkin said. "I think everybody believes in this room and we can come back… we got the points and stick to it."
Since dropping a 3-1 decision to the New York Islanders at the start of last week, the Capitals were eager to rebound, as evident by their commanding 5-2 victory over the Colorado Avalanche just 24 hours later. Their last two games against Boston and Anaheim were not as dominant, but still, all three games had something in common: no matter the circumstance, Washington has come out on top with a victory.
"I think it shows we're maturing," Holtby said. "We're finding ways to win right now, and it's a sign of confidence and such, but we still need to push forward."
Kuznetsov, Vrana Surging
Though Nicklas Backstrom and Ovechkin opened and closed the scoring, and are also riding impressive hot streaks, it was Evgeny Kuznetsov and Jakub Vrana who stole the show. As the two continued to adjust to each other and play on the same line, they are starting to find chemistry and bounce off each other, as evident by their stats: both are riding three-game point streaks, and Kuznetsov scored his first goal in four games against Anaheim, thanks to a strong passing play with Vrana.
"That line, all three of those guys are creating and reading off each other, and I think they got real good balance," Trotz said of Vrana and Kuznetsov's line, which also features Alex Chiasson. "Usually, it's [Kuznetsov] feeding those guys, but they got a little interchange, scissor cycle, give-and-go."
When it comes to playing on a line with each other, both have various strengths that complement each other's style well; Kuznetsov uses his speed and stickhandling ability to create space and opportunities, and Vrana has shown that he can not only keep up with the play, also utilizing his quickness, but he can shoot the puck well and make good passes, while also learning on the fly.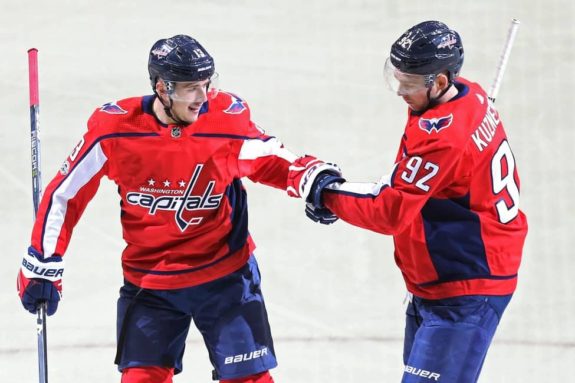 "Skating, I'd say, the most important part, because he is unbelievable skater," Vrana said of playing alongside Kuznetsov. "Kuzy is the guy who can score goals, who can make great plays, just playing with him give me some confidence, and we build chemistry up and, y'know, hopefully, we can keep that going."
Not only does the coaching staff take note of the dynamic and chemistry between the young forwards, but their teammates do as well. While Holtby is impressed with how well Kuznetsov and Vrana bounce off each other, he also praised Kuznetsov for taking on more responsibility and serving as a mentor to his 21-year-old linemate.
"Kuzy's helping [Vrana] with just coming back, slowing things down, getting it out of the d-zone, making sure there's a pass option at times, and Kuzy has speed to get back if you make a mistake," Holtby said. "He's doing a fantastic job in a leadership role with V."
Ultimately, Vrana said he learns a lot playing with Kuznetsov, a player he said is "so strong on the puck," and that his sense of humor is an outside factor that truly helps Vrana on the ice.
"Most of the time, he's joking around," Vrana said of the 25-year-old center. "But that can be a good thing to keep you relaxed… He's funny like that."
Sammi Silber covers the Capitals beat for The Hockey Writers and is an NHL contributor with Sporting News. She has also contributed to USA TODAY College, Huffington Post, FanSided and the Nation Network. Silber has written four books and recently worked on graphics for the film, The California Golden Seals Movie.