As the NHL season gets underway, questions loom on the stability of the Washington Capitals' blue line. They have solid top four defensemen core in Mike Green, Roman Hamrlik, Karl Alzner and John Carlson. But with Dmitry Orlov sidelined with an upper body injury for the definite future, the biggest issue is Washington's third defensive pairing. Jeff Schultz and John Erskine are viable options, but with Adam Oates new system, pressure is often placed on the defensemen, and especially the goalies.
Washington Capitals General Manager George McPhee signed free agent defenseman Jack Hillen to provide depth on the Capitals' blue line, but he's not someone Washington would like to through into the fire each and every night.
But, as training camp began, perhaps the biggest surprise of the camp, Washington defenseman Tom Poti was healthy for the regular season, shocking Capitals' management. With the knowledge of Poti's health, McPhee sent the veteran defenseman to Washington's AHL affiliate, the Hershey Bears, on a conditioning stint.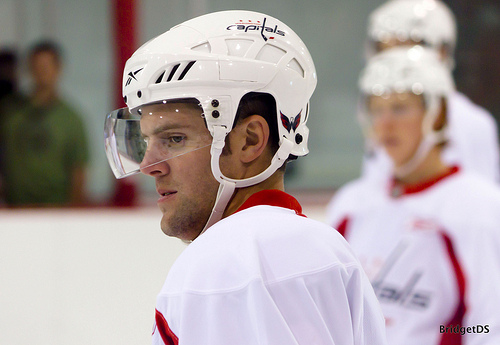 "We just get him going quicker. To throw him in here and play an NHL game, he might not be ready for that," McPhee told the Washington Times. "So this is why Hershey's there, to not only develop players, but let other players go down and condition themselves and see how they are."
"When you're staring the end of your career in the face, that's a difficult thing for any athlete to contemplate," McPhee said to the Washington Times. "You never want to get to the end of your career. This is a great way to earn a living and live your life. So he put a lot of effort into it and he's here. So I hope it works out for him because it would be good for us."
He came down to Hershey last Sunday, providing solid minutes to Hershey's blue line. Poti was paired with Capitals prospect Tomas Kundratek, and even earned power play time. The left handed defenseman registered a goal on the power play, and helped steady the tide defensively in Hershey's 5-0 shutout win over the Connecticut Whale, the minor league affiliate of the New York Rangers.
"There was always an outside chance I'd never be able to play hockey again," Poti said postgame. "It was pretty special to be able to get out there on the ice, just awesome, had a lot of fun tonight."
Poti appreciated the opportunity and relished the chance to get back on the ice once again.
"I was happy driving up here to be able to play in a game," said Poti. "It was kind of throw me into the fire a little bit; I didn't have a chance to practice in the last three days. It was fun to be out there playing hockey again."
"I thought he was very efficient," Hershey Bears head coach Mark French said of Poti's first game in about two years. "He avoided contact; you could see his overall skill level. I thought it was a very successful comeback for him."
He logged another game this week, playing for Hershey on the road against the Worcester Sharks, where he was born. Poti registered two shots on goal, but recorded a minus one while on the ice.
On Thursday, Washington invited Poti to an open practice that was free to the public, signaling the 35 year old defenseman will make the Capitals opening night roster. With Brooks Laich unavailable to start the season, Washington will have an extra forward to scratch, along with two healthy defenseman, Jack Hillen and Tom Poti.
Although Washington has a surplus of defenseman, it's a smart decision to keep Poti in the NHL. With the new CBA rules, his cap hit would count on the Capitals' payroll.
His play will likely be performance based, as he'll compete for minutes on the Washington last defensive pairing. Poti could carve out a role on one of Washington's penalty kill units as well.
With the season underway on Saturday, Poti is well on his way to playing in the NHL once again.
You can follow Matthew on twitter @m_speck and email him at mspeck21@yahoo.com with any questions or comments.