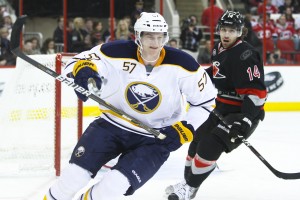 The Buffalo Sabres announced their 23-man roster on Jan. 18. With that, eight defensemen were announced to be with the team to start the season. After previewing how their goaltending stacks up against the rest in the division last week, this week we will turn our attention to how the blue line breaks down.
Additions
The moves in the offseason to the blue line were minor ones, mainly made for organizational depth. The defense core remains mainly unchanged from last year and since that consistency and chemistry has had time to grow, more is expected from them. The Sabres acquired Adam Pardy and John Scott but neither look to be factoring into the top six to start the season and were not announced as part of the 23-man roster.
Pardy, who spent time in the Calgary and Dallas organizations, could see some time in the event of injuries.  The 28-year-old appeared in 36 games last season for the Dallas Stars registering three assists, 16 penalty minutes and a -5 rating.
At 30 years old, Scott is another veteran presence that the organization acquired. He has spent time with Minnesota, Chicago and the New York Rangers. Last season he made six starts for the Rangers but had no points. In 146 career games he has a goal, four assists and 236 penalty minutes. He was clearly acquired to add toughness.
Subtractions
Only one player was lost to the team on the back end, and that was Dennis Persson. He has returned to his native Sweden to play for Brynas IF Gavle in the Swedish Elite League. Persson never made his NHL debut for the Sabres after they drafted him 24th overall in 2006.
The projected top six according to TSN:
Christian Ehrhoff- Tyler Myers
Andrej Sekera- Robyn Regehr
Alexander Sulzer- Jordan Leopold
These are the top six previewed on the TSN website. However at the time that the 23-man roster was announced, the pairings were:
Myers-Regehr
Ehrhoff- Sulzer
Sekera- Leopold
Mike Weber and T.J Brennan were also still with the team and paired together.
How things look
There is definitely some size on this blue line with the smallest player being Sekera at 6', 201lbs. However, the defense will certainly run through Myers. The 6'8, 227lbs Texan is entering his fourth season with the team. He has yet to recapture his form from his Calder Trophy season and did miss significant time last season with a wrist injury. He will need to prove he can be the leader of the defense and that he is worth his $5.5-million salary.  He has been staying sharp during the lockout by playing for Klagenfurt in Austria.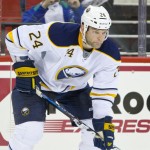 Regehr is a player on the back end who can provide some physical play and even contribute offensively. At 32 years old, his better days appear to be behind him as he struggled last season notching only a goal and four assists along with a -12 rating. He has been on the decline over the past few seasons, but should be in store for at least a small improvement from last season. At the minimum he can be looked at for leadership.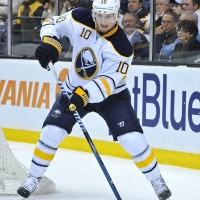 Ehrhoff is another player that needs to improve off of last season and produce the way he did in Vancouver, which earned him his $4-million deal, per season, through 2021. He did only suit up in 66 games because of a knee injury, but did play during the lockout in the DEL with the Krefeld Penguins, playing 32 games. The 30-year-old's career high for points is 50 (14 goals, 36 assists) back in 2010-11 with the Canucks.
Leopold has also shown flashes of being able to jump into the rush and more importantly he has shown consistency wherever he plays. His best year came two seasons ago with the Sabres when he scored 35 points (13 goals, 22 assists). Having him contribute as a fifth or sixth defender will be a big plus for the Sabres. Leopold is also in a contract year, which usually leads to a good season.
The Sabres will no doubt be looking for large step forwards from their other two defenders in 28-year-old Sulzer and 26-year-old Sekera. The thing that jumps out about these two is that they have both never been high minus players. They don't have to be offensive forces from the blue line, but rather just be a steadying presence. Both did did play during the lockout; Sekera in the KHL with Bratislava Slovan and Sulzer with Ingolastdt in the DEL. Sulzer is also in a contract year.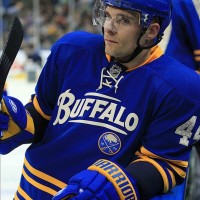 Looking at the Sabres overall, they have the potential to be a very solid unit. It also helps that four of the projected top six played in Europe during the lockout.  That being said, many cannot afford to have another underachieving year if the team is to succeed. In addition, many have had their share of injuries that have forced them out over the last few seasons. Consistency and staying healthy are what the Sabres will be looking for from their blue line.
An avid sports enthusiast, Darren presently is the Communications and Marketing Coordinator at the Golf Association of Ontario. He has served as a Sports Editor with Etcetera Publications and colour commentator on TV Cogeco's junior hockey coverage. He has covered a wide range of junior and professional sports including: hockey, golf, baseball and football to name a few.