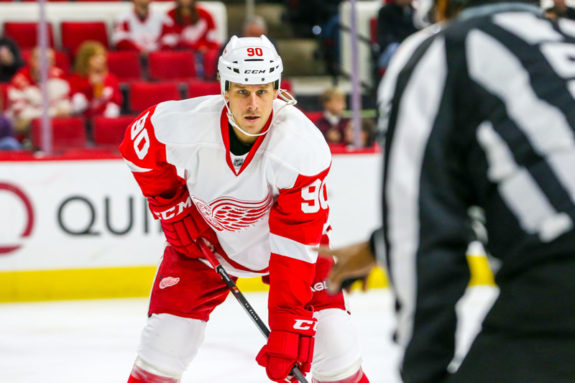 To say that Stephen Weiss' time as a member of the Detroit Red Wings hasn't gone as planned would be an understatement. Since signing a five-year, $24.5 million dollar contract in the summer of 2013, Weiss has been plagued by injuries. A sports hernia limited him to just 26 games during the 2013-14 season. The start of the 2014-15 season was supposed to mark the beginning of Weiss' road to redemption, but he pulled his groin during a conditioning stint in Grand Rapids in late October. Upon returning to Detroit's line-up in late November, Weiss has slowly (but surely) shown flashes of the offensive production that Red Wings' brass anticipated when they signed him. While he has yet to fit into the second-line center spot that Detroit management and fans expected him to occupy, he is certainly producing well enough to be considered an asset to the team.
Weiss Can Generate Offense
Looking at what Weiss has done this season, it's fair to say that you would like a little more consistency out of him. He's gone cold a few times this year, most notably during a seven-game pointless streak that ran from late-December to mid-January. At the same time, I think you have to cut the guy some slack. Weiss has been bounced back and forth between Detroit's third and fourth lines, making it difficult to develop chemistry with his line mates. Despite being constantly shifted throughout the line-up, Weiss has managed to score at a .60 points per game clip, which is good for seventh on the team. Also of interest is the fact that 12 of his 18 points have come at even strength.
It gets even more intriguing when you take a closer look at his stats, specifically his P/60.

One important thing to remember here is that the quality of competition that Weiss is going up against each night is not as high as typical top six forwards. Keeping that in mind, he's still scoring at a solid rate per 60 minutes. At the very least, Weiss is an offensive asset who provides depth in the Red Wings' line-up.
Stuck in the Bottom Six… For Now?
When you look at Detroit's depth at the center position, it's easy to see why Weiss has been playing as a winger throughout the year. Zetterberg, Datsyuk, Sheahan, Glendening have generally been used as Detroit's four centermen, with Darren Helm used as the third-line at times, mostly when Datsyuk and Zetterberg are on the same line.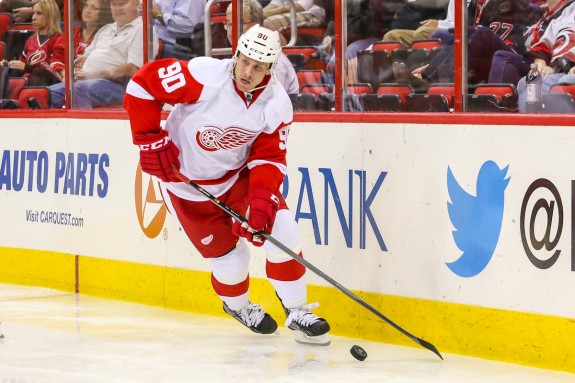 Perhaps it's for the best, as Weiss is producing in his current role as a bottom six winger. While his skating and compete level have been called into question by fans, it's tough to question his offensive contribution. In an interview with The Detroit Free Press' Helene St. James, Babcock insised that while there's room for improvement, Weiss has continued to get better as the season has gone on. He also maintains that, aside from a select few, each player's spot in the line-up is re-evaluated every single game:
"Every night you're just watching the players, and you're gonna try to play the right guys to win. You know, guys like Kronner and Z and Pav get a longer leash on the night's they're not going quite as good. The rest of them, I like to think we evaluate who's playing good, and we play them."
Where Does He Go From Here?
Is Stephen Weiss the $4.9 million dollar, second-line center that Detroit was looking for heading into the 2013-14 season. No, but in my opinion, he can still be an effective player on this roster. It's going to be tough for Weiss to break into Detroit's top six – maybe impossible. They have a good thing going at the moment, winning eight of their past ten games. If Weiss can continue to contribute offensively at his current pace, then that's good enough for me.
I am a writer from Windsor, Ontario who has covered the Detroit Red Wings for The Hockey Writers. I have had the pleasure of doing so since February of 2015. Previously, I have written about Red Wings prospects for Hockey's Future. I am always up for chatting about the Red Wings and hockey in general, so leave me your comment and/or tweets. Follow me on Twitter at @BrandonPeleshok.