11 games without a goal was a cause for slight concern in San Jose.  But as soon as the negative press began to swirl, the real future of the franchise, Logan Couture (sorry Tomas), reeled off three straight games with a goal.  Logan Couture scoring is fantastic news for Team Teal and very bad news for the Western Conference.  In the first of a home-and-home against the rival Ducks in the waning days of 2013, number 39 deposited the eventual game-winner.  The celebration that followed definitely looked like a release of some serious frustrations.
Logan Couture Scoring as Injuries Mount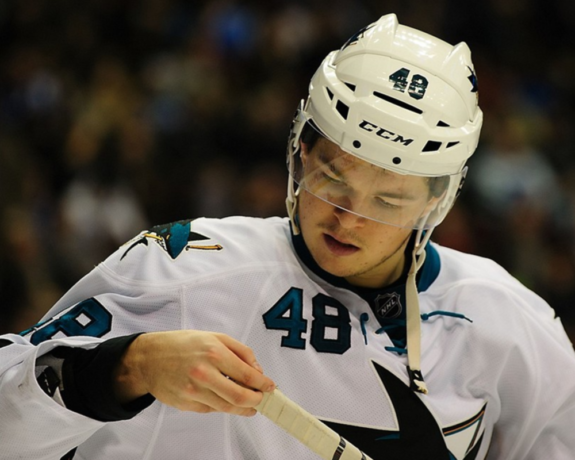 An NHL season is a grueling test of stamina, both physical and mental.  The Sharks have recently been hit with injuries to key youngsters in the last few weeks.  Tomas Hertl could be out for months after a knee-to-knee hit from Dustin Brown and Tommy Wingels left the first of the home-and-home against Anaheim early with an injury.  Team Teal must rally around its old guard in order to stay relevant in the ruthless Pacific Division.
Couture's three goals in three games are the perfect remedy.  As he was underachieving during the first half of the season, his resurgence is well-timed.
Great Signs for the Weeks Ahead
The three goals are each high skill-level goals.  They were not just the result of a scramble and picking up a rebound.  All three were Couture scoring as a result of his ability.  He beat a defender for the first one with his speed and flipped a backhand over the keeper's shoulder.  His second benefitted from a beauty of a pass from Patrick Marleau where again he roofed the puck over Jonas Hiller this time.
His third one, from a 5-1 romp over the struggling Edmonton Oilers even got the attention of the NHL's official Twitter page.  And for very good reason.  It was an absolute snipe.
Logan. Couture. Wow. Fans of absolute snipes and the @SanJoseSharks will want to see this: http://t.co/BjZC8FuLn1

— NHL (@NHL) January 3, 2014
Couture's goals are reminiscent of his sizzling season two years ago.  And he needs to maintain this pace if the Sharks hope to make any sort of noise in the postseason.
Bad News for Goalies
I asked Santa to bring Logan's scoring touch back for Christmas.  So far, the big man has delivered.  His effectiveness never truly dropped this season as his Corsi For percentage was still very good during his drought.  His worst game came against the Minnesota Wild with a 38.5%, but it was sandwiched between three games that he registered CF% above 70!  Couture scoring and seemingly getting hot just shows that his unlucky streak has run its course.  He was snake bit for weeks and now he seems to be getting over it.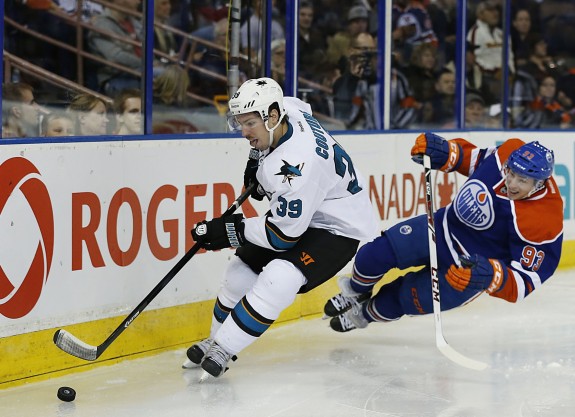 Scoring was the only aspect of the game that alluded him.  Now that the back of net is no longer shunning him, Logan Couture can elevate his game to the superstar status we have all come to expect from him.
Kenneth is a graduate of the University of San Francisco in Politics and Chemistry. But his passion in life has always been hockey. He has played since he was four and even coached a few teams. Kenneth writes for the San Jose Sharks at thehockeywriters.com