The Western Hockey League's holiday break is done and every team was back in action this past Wednesday. Before we jump in and look forward to what should be an exciting second half, its time to reflect back briefly on the first half that was and hand out some awards.
Unfortunately, the budget didn't allow for a lavish award ceremony with A-list celebrities so we'll just have to list the winners here for you.
So here they are, your first-half award winners:
Goalie of the Half: Carter Hart – Everett Silvertips
Hart's excellence comes as no surprise, considering he is the two-time reigning WHL goalie of the year. But, he just turned in one of the best first halves in recent memory as he keeps getting better and better. He has made it clear that he doesn't want to talk about his stats, but we will here.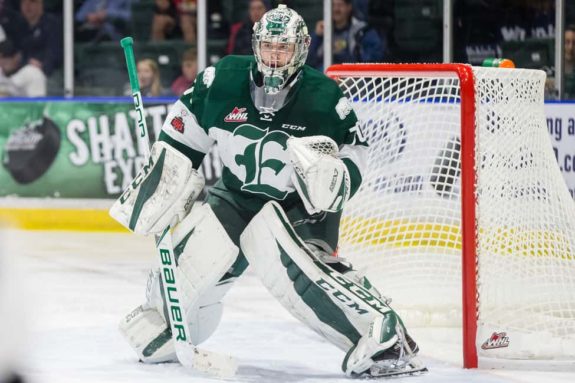 In his 17 games with Everett in the first half, he posted a microscopic 1.32 goals-against-average with an equally impressive .961 save percentage. The Silvertips won 21 games over that span; Hart was the winning goalie in 13 of them. His five shutouts raised his career total to 24, setting a new franchise record. He could also make a claim for league MVP as the Silvertips closed out the first half with the fewest goals scored in the Western Conference yet Hart has them sitting in first place in the U.S. Division.
Before the season started there was a general thought that Hart would get moved at the January trade deadline. Now, with how high he has taken Everett, that notion has changed and the Silvertips may look to become buyers and ride Hart as far as he can take them.
Runner-up: Cole Kehler, Portland Winterhawks (18-8-2-0, 2.46 GAA, .920 Sv)
Player of the Half: Brayden Burke – Moose Jaw Warriors
This award should really be skater of the year as Hart has been the best overall player. For the guys who skate out, however, it comes down to a handful of high-end players from the Eastern Division and this award could change by season's end. Burke gets the nod here as his Warriors lead the division, conference, and league in points. He's piled up 68 points in just 34 games and is, in many ways, the Moose Jaw engine.
Burke set up 51 goals in the first half, many off the stick of linemate Jayden Halbgewachs, and 23 of those helpers have come on the power play. He's bounced around the WHL throughout his career, from Red Deer to Lethbridge and finally to the Warriors. Since arriving in Moose Jaw last season, he's been a beast and will be a key as the Warriors try to hold off their division rivals down the stretch.
Runner-up: Aleksi Heponiemi, Swift Current Broncos (19g, 52a, 71p)
Coach of the Half: Emanuel Viveiros, Swift Current Broncos
Another award to an Eastern Division club. Viveiros' Broncos entered the season with a lot of optimism after a strong showing in last season's playoffs. Out of the gates, his top line of Heponiemi, Glenn Gawdin, and Tyler Steenbergen exploded to establish itself as the best line in the league. But, the head coach has turned his Broncos into more than just a 'one-line team' and they have to be considered as one of the favorites to win it all.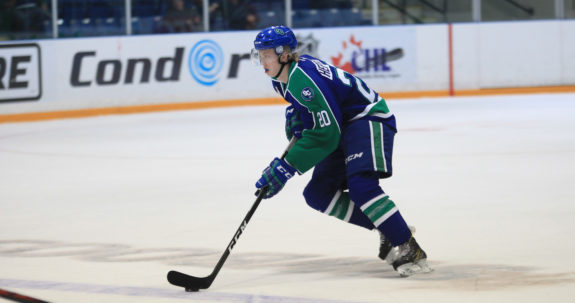 As head coach and general manager, Viveiros has found a way to build off his top line. He's added players, like Matteo Gennaro and Beck Malenstyn from Calgary, to build up his scoring depth. It's paying off early as Gennaro has potted 16 points in his 10 games with the Broncos. Viveiros has pushed all the right buttons so far, and now has two big scoring lines to throw at the opponent. Will it be enough to overcome Moose Jaw for the top spot in the East?
Runner-up: Tim Hunter, Moose Jaw Warriors
Rookie of the Half: Peyton Krebs – Kootenay Ice
It's not often that a 16-year-old will lead his club in scoring, but that's exactly what Krebs has done so far. The 2016 number-one Bantam pick has the folks in Kootenay excited about what the future holds. Krebs has nine goals and 30 points in his first 30 games in the WHL and should only get better. The Ice have struggled over the past couple of years and have already started selling players this year, but with the picks they are stockpiling, they may be able to turn things around over the next couple of seasons. When that happens, Krebs will be front and center for them.
Runner-up: Dylan Cozens, Lethbridge Hurricanes (10g, 14a, 24p)
Defenseman of the Half: Kale Clague, Brandon Wheat Kings
Expectations weren't super high for the Wheat Kings before the season started but they find themselves in the hunt. A big reason why is the play of Clague on their blue line. The Los Angeles Kings' 2016 second-round pick has scored 10 times for Brandon and chipped in with 47 points. He's also posted an impressive plus-31 rating while putting up 19 points on the Wheat Kings fifth-ranked power play. Brandon is only six points off of the division-leading Warriors and the Wheat Kings have games in hand.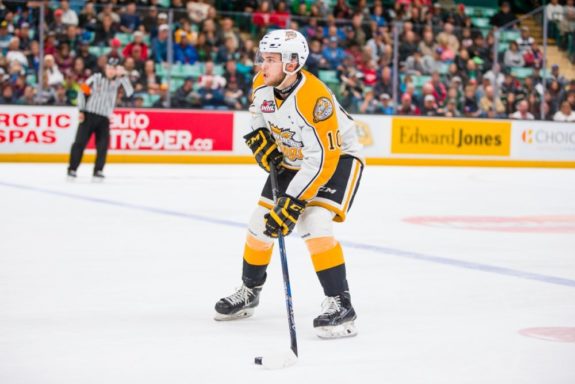 When Clague returns from the World Junior Championships, the Wheat Kings could start making some noise in the second half.
Runner-up: Colby Sissons, Swift Current Broncos (7g, 32a, 39p)