Following the All-Star break, and the team's bye week, the Edmonton Oilers have looked, in a word, uninspiring. They've lost four out of the last five games, their only victory coming in a 1-0 shoot-out in which they didn't score a goal in regulation or overtime. The 5-1 loss to the Chicago Blackhawks could be chalked up to rust from the week of rest, but the problems that plagued them over the past couple of weeks remained. What do the Oilers need to do to hang onto their playoff spot?
Secondary Scoring
It's no secret that several of the Oilers highest paid players haven't come through offensively. Jordan Eberle, Ryan Nugent-Hopkins and Milan Lucic, all of whom make $6 million dollars a season, each have just 11 goals on the season. Benoit Pouliot has been severely underwhelming, notching just five goals.
The offensive catalysts have been Connor McDavid (18 goals and 61 points), Leon Draisaitl (20 goals and 47 points) and Patrick Maroon (19 goals and 27 points), but that one line can't do it alone. The team has gotten modest contributions from guys like Zack Kassian, Mark Letestu and Anton Slepyshev, but they aren't the players paid to score goals.
It's becoming painfully apparent that the Oilers aren't getting enough from their skilled players on the second and third lines, and it's hampering the team's effectiveness. The stellar play of Cam Talbot and McDavid's line has overshadowed the offensive deficiencies of the rest of the team, but no one can hide anymore.
Trade Options:
Thomas Vanek ($2.6 million dollar cap hit, UFA)
Mathieu Perreault ($3 million dollar cap hit, four year contract)
Patrik Berglund ($3.7 million dollar cap hit, UFA)
Martin Hanzal ($3.1 million dollar cap hit, UFA)
One big issue for the Oilers is that for the most part, their highly-paid underachievers have very little value on the trade market. They could use a third-line center and help on the wing, but that's easier said then done. It would be a foolish move to throw all their chips on a table for a guy like Matt Duchene or Gabriel Landeskog, but a pending UFA on the cheap, or someone with a smaller term is certainly a possibility.
Back-Up Goaltender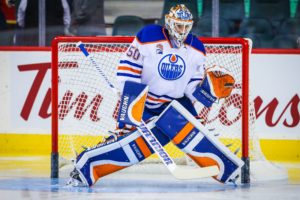 The Jonas Gustavsson experiment was admittedly a failure, and Laurent Brossoit still hasn't proved himself at the NHL level. Cam Talbot has been a stalwart in net for the Oilers, but he can't play every game. They need a back-up who can provide them with consistent starts, and someone they can depend on to win a few games. It would take the pressure off of Talbot, and give them insurance heading into the playoffs.
The market for goalies is a big one, but the majority of the guys out there are starters. None of Ben Bishop, Marc-Andre Fleury or Ondrej Pavelec makes sense. Their cap-hits are too big to be back-ups, and they all believe they should be number one guys in the NHL. In terms of trade, are there any legitimate names for the Oilers to kick tires on?
Would any of Andrew Hammond, Jeff Zatkoff, Michael Hutchinson, or Justin Peters be better than the guys they currently have? What about a higher-profile name like Jaroslav Halak? There are a few goalies out there with more experience than Brossoit, who shouldn't cost much in terms of assets.
Depth Defenceman
The Oilers blueline has been much-improved this season, but they could always use a little extra depth should injuries hit. Darnell Nurse is working his way back, which will be a huge boost for the team, but it will take some time for him to get his game legs back. There have been some rumors that they may move a guy like Brandon Davidson or Kris Russell, which would suggest they have their eyes on other defensemen to fill the void.
The Oilers shouldn't go all in for a Kevin Shattenkirk, considering what he'll cost and the fact that the pending UFA doesn't want to sign in Edmonton. That kind of trade is something a true contender makes, and the Oilers aren't quite there yet. Management would really have to believe that one piece could push them over the top for this season. It's unlikely.
Trade Options:
Dmitry Kulikov ($4.3 million dollar cap hit, UFA)
Michael Stone ($4 million dollar cap hit, UFA)
Brendan Smith ($2.75 million dollar cap hit)
Cody Franson ($3.3 million dollar cap hit, UFA)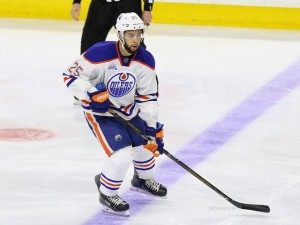 The decision that the Oilers have to make is whether or not they believe adding UFA's is what they need to do at this point. Is making the playoffs an absolute must, and they have to improve at any cost? Or would they rather bring in some pieces who can help the team beyond just this season. They can't just add on big cap hits either without moving others out.
The Oilers are in third place in the Pacific Division despite the disappointing play from some of their perceived better players. If those guys can step it up and play to their potential, the Oilers will be even better. Improving from within is always the best option for a team that is worthy of the playoffs, but still not a Stanley Cup contender. The question is, can those guys step up, or this is simply who they are?
(Trade information courtesy of TSN)