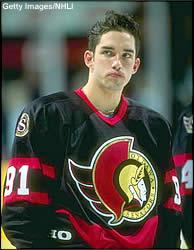 You remember Alexandre Daigle, right? The man drafted by Ottawa first overall in the 1993 draft. The man who received the largest starting salary in league history up until that time (5 years, 12.25 million). The man who was supposed to be the next Mario Lemieux after scoring 247 points in 119 games for Victoriaville of the Quebec Major Junior Hockey League.
And to think, it was rumored that Quebec had offered Ottawa Peter Forsberg in a trade for the opportunity to draft the next "French Canadian Superstar."
Actually, many forget that his career did start off fairly well, although he certainly didn't live up to being the first name called in the draft. Alexandre Daigle put up a respectable 24 goals and 51 points in his first season.  He then followed that up with 37 points in 47 games in the lockout shortened season, 1994-1995.  He then put up another 51 point season in 1996-1997 after he struggled the previous year.
It was all downhill after that.
Alexandre Daigle Starts His Travels
For the next several years he played for the Philadelphia Flyers, Tampa Bay Lightning and New York Rangers, including a stint with the Hartford Wolfpack of the AHL.
By the time Daigle was 25, he decided his heart was not in the game of hockey anymore and he decided to retire. He did not play any professional hockey during the 2000-2001 and 2001-2002 seasons.  He was quoted as saying he never really wanted to play hockey, just kept doing so because of his natural talent.
During this time he decided he wanted to be a Hollywood celebrity.  He briefly dated Pamela Anderson. (Who hasn't?) And he played in a "beer league" in Los Angeles (Cuba Gooding Jr. was a teammate) for the team The Bad Boys, owned by movie producer Jerry Bruckheimer.  He also created an event promotion company, Impostor Entertainment.  Pretty ironic name if you ask me…..
After a two year absence, the "itch" to play hockey again apparently returned. Alexandre Daigle was willing to sign on with anyone that would give him a chance and that team ended up being the Pittsburgh Penguins.  After scoring 38 points in 40 games for the Penguins' AHL affiliate, Daigle was brought up to the NHL and actually played fairly well in a defensive role for the Penguins.
He apparently played well enough that he was offered a contract by the Minnesota Wild the following year.  He would go on to have his third 51 point season with the Wild during the 2003-2004 season.  After a subpar second season with the Wild, Daigle was banished to the AHL once again.
Daigle Goes to Europe
Finally, in 2006, Daigle decided, or realized, the NHL was not for him and signed with HC Davos of the Swiss-A league.  He has been playing there since, scoring 104 points in 99 games over his first two seasons.
So there you have it folks!  The "next Mario Lemieux" never exceeded 26 goals or 51 points in a season and finished his NHL career with 327 points in 616 games. He played in a Los Angeles beer league and is now carving out a decent career with HC Davos.
Worst of all, the thing he will probably be remembered for most is a quote he made when drafted in 1993, "I am glad I got drafted first, because no one remembers number two!"
The number two pick in the 1993 draft…..Chris Pronger.