Well folks, it appears as though most people aren't going to give the Blackhawks much credit.
Just look at espn.com. All of their experts, including the likes of John Buccigross, Pierre LeBrun, Scott Burnside, EJ Hradek, and Barry Melrose, have all picked the Red Wings to win the Western Conference finals. Heck, even Paul Benvin of this website picked the Red Wings to win in five games.
Five games.
In my opinion, there are a lot of these writers who are failing to grasp something about the Hawks that a lot of Chicago-media types and fans are starting to understand: these Blackhawks aren't afraid of anything.
The pressure of facing one of the toughest goalies in the entire NHL did not faze them. When Calgary and Vancouver tried to out-muscle the Hawks, they responded by hitting those two teams even harder. They won the hit battle 175-125 against Vancouver, and the toll showed in their 7-5 game six loss.
These Blackhawks take whatever game the other team throws at them and turn it against their opponent. The Hawks simply let Vancouver beat themselves, and in the process endeared themselves to fans across the country.
Those statements lead me to this one: the Blackhawks will beat the Detroit Red Wings in six games. They will take one of the first two games in Detroit, and then hold serve for the rest of the series at home. They can do this, and there are several reasons why.
Three players (Sammy Pahlsson, Duncan Keith, and Brent Seabrook) will help shut down Detroit's potent offensive stars, much like they did to Daniel and Henrik Sedin.
The Canucks' twin wonders had a wonderful series against the Blues, combining for nine points and a cavalcade of headaches for St. Louis in their four game sweep. Then, against the Blackhawks, they only mustered 10 points in six games, and they were rendered irrelevant for large chunks of the series.
This shutdown defense was largely the result of aggressive fore-checking by the Blackhawks and the play of their trade-deadline acquisition of Sammy Pahlsson. He helped to shut down the center of the ice where the Canucks make most of their plays and he would also jump passes, setting up odd-man opportunities.
This kind of defense is going to be key against the Wings, and while there is no player who can be on the ice at all times, these three guys will be key to stifling a lot of attacks by the excellent Detroit offense.
2. The Blackhawks will get enough shots on Chris Osgood to turn the tide of this series
In the Columbus series, the Red Wings allowed an average of 27 shots per game. Chris Osgood did not have to make any more than 31 saves in any of the games in that series. In addition, he only stopped 27 of 32 shots in game four.
In the Anaheim series, the Red Wings allowed a maximum of 28 shots in a regulation skate, and only 46 in a triple-overtime thriller in game two. In contrast, the Ducks and Jonas Hiller were peppered with 62 shots in the game.
These shot totals, and the low quality of a lot of the shots, are a testament to the skill with which Detroit plays defense. It is also an indication that Osgood likely hasn't been tested enough to really cause any concern from the Detroit faithful.
Chicago doesn't like to play games with their shots. They take a lot of them, and they like to create a lot of traffic in front of the net. Guys like Dustin Byfuglien and Jonathan Toews are going to be critical components of any Chicago success, because they will help generate traffic in front of Osgood.
If they are unable to for whatever reason, there are guys like Patrick Kane and Patrick Sharp who have the capacity to slither through defenses and fire shots with pinpoint precision.
These two offensive tactics are critical to beating any goaltender, and they will definitely need to be in full effect to beat Ozzie and the Wings.
3. Jonathan Toews will live up to the "C" on his chest and deliver in this series
Jonathan Toews has shown a lot of mettle so far in these playoffs. As one of the youngest captains in the history of the league, he has led his team through all of the ups and downs of the season. He also does two things that are necessary for his team to win.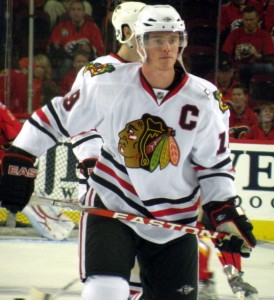 First off, he can score in multiple ways. He can fire a great wrist shot, slap the puck home in front of the net, or he can create offense by parking his keester in front of a goalie and laying down an effective screen.
The other thing he does is win face-offs in key situations. Not only is he currently 2nd among centers in face-off percentage, but he also wins them when the game matters the most. In game five of the first round, he won 80% of his face-offs, which proved to be a key factor in the Hawks winning the pivotal game of that series.
In game five of the second round, he won 66.7% of his face-offs, thereby helping win another pivotal game. In game six, he turned in his best performance yet, winning 83.3% of the face-offs in that game and helping the Hawks finish off the Canucks.
There is nothing flashy about Toews' game, as he is the type of captain that not only wins over fans with his blue-collar style, but also wins games.
4. The Blackhawks' four-line deep attack will prove to be a thorn in Detroit's side
All of the talk surrounding the Blackhawks is about their two young stars, but in reality, there are plenty of other guys who can make offensive noise.
Guys like Dave Bolland, Kris Versteeg, Martin Havlat, and Cam Barker have made plenty of noise so far in this series, and the impact is even more evident with other guys like Andrew Ladd and Brian Campbell when they are on their games.
With this often-overlooked depth at their disposal, the Blackhawks should have no problem matching up with whatever line combinations the Red Wings can throw at them.
5. With most of the media picking the Red Wings, the Blackhawks are going to play with a chip on their shoulders.
The Blackhawks are not the type of team who is going to lie down in the face of a difficult challenge. In fact, the Hawks almost seem to thrive on challenges.
The biggest knock on them going into the playoffs was their lack of physicality. They had fun knocking the knock and hitting the crap out of the Canucks and the Flames in displays of physicality that had fans squealing with delight.
The other knock has been the standard refrain that you'll hear old people saying in bad sitcoms: "you're too young. Wait your turn."
The Blackhawks don't seem to pay much attention to that plea. In fact, they have been having so much fun that they probably haven't noticed the nay-sayers waving their fingers at them.
While the Red Wings certainly won't wilt under the pressure that comes with being the favorite, the Blackhawks will certainly thrive in the role of underdog, much like they did earlier in these playoffs.
As is always the case when a young team is going up against a much more experienced squad, there are plenty of people ready to write these Blackhawks off. I, however, am not one of those people.
I'm sure that David didn't think much about this while he killed Goliath, but there is a certain phrase that comes to mind when thinking of this young Israelite, standing there with his slingshot and stones. That adage is a quote from Harvey Penick, the legendary golf teacher. His favorite saying was "take dead aim". If the Blackhawks take the attack to the Red Wings, play their style of hockey, and keep their heads up, then they will win this series.