Not only did the Edmonton Oilers fail to win the draft lottery this year, they also lost it. Slipping out of the top-three to number four wasn't what the Oilers had in mind, because the drop-off in talent is steep. Having said that, there are still plenty of options for the team at number four, whether that be a trade to acquire an NHL-ready player, a trade to move a little further down, or actually selecting at number four from what is a solid pool of prospects. Oilers General Manager Peter Chiarelli shared some of his thoughts on the matter.
"If we choose to move it and/or move down or move the pick, if we move down we're going to get a really good player. So the options are still available. There's some other big forwards further down, some bigger forwards, and then there's some really good D. There's a real legitimate chance to look to move this pick, to improve our team — to get bigger or to get a D and get something else." [Edmonton Journal]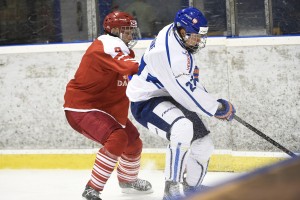 The Oilers are going to be diligent and aggressive when it comes to the draft, and that should please Oiler fans. Sure, they won't be getting Patrik Laine, but they aren't hemmed into a corner by any means. Left winger Pierre-Luc Dubois is ranked at number four, followed by Matthew Tkachuk and Alex Nylander. You would think the Oilers should be after defencemen, not wingers, but the highest rated blueliner is Olli Juolevi at number seven, making the idea of trading down more feasible. Jakob Chychrun's name has been mentioned a lot in association with the Oilers. He's slotted in at number nine.
The good thing for the Oilers at this point is that there aren't any sure-thing superstars from four onward, so trading the pick may end up being the best option. In other words, if they had stayed at number two, it would have been a tough sell to trade the pick rather than draft Patrik Laine, who looks like a stud. At first glance, it seemed disappointing to fall out of the top-three, but when you look at the big picture, it may have been a better fate. If the Oilers do end up keeping the pick and drafting a player at number four, there is every reason to believe they would get an impact guy.
2015: Mitch Marner (Toronto Maple Leafs)
2014: Sam Bennett (Calgary Flames)
2013: Seth Jones (Nashville Predators)
2012: Griffin Reinhart (New York Islanders)
2011: Adam Laesson (New Jersey Devils)
2010: Ryan Johansen (Columbus Blue Jackets)
2009: Evander Kane (Atlanta Thrashers)
2008: Alex Pietrangelo (St. Louis Blues)
2007: Thomas Hickey (Los Angeles Kings)
2006: Nicklas Backstrom (Washington Capitals)
Other notable fourth overall picks: Roberto Luongo, Paul Kariya, Mike Ricci, Al Iafrate, Steve Yzerman, Ron Francis, Larry Murphy.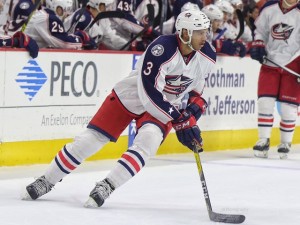 Looking at those names, and I'd say that fourth overall has been a dynamite number throughout history. There are some real game-changers on that list. Will there be one this year? Maybe, maybe not. I wouldn't fault the Oilers for keeping the pick, but I'd imagine other teams are looking at the possibilities and wouldn't mind moving up to that slot. If Edmonton does decide to hang onto the pick (though it doesn't seem like they're leaning that way), what should fans expect?
Pierre-Luc Dubois (LW) 6″3, 203 pounds
Dubois is known as a two-way player (that's a good thing) who skates exceptionally well, and can move to center if need be. He draws comparisons to Anze Kopitar in terms of his overall game, and James Neal in terms of his offensive skill. I understand that fans probably don't want to see another forward drafted, but Dubois isn't like the other guys they have. Drafting him would easily make one of Jordan Eberle and/or Nail Yakupov expendable.
Olli Juolevi (D) 6″2, 183 pounds
If the Oilers trade down to choose a defenceman, Juolevi is the highest ranked blueliner out there. He plays a physical game, skates well, and controls the puck well. He's a playmaker, but can dish out the big hits as well.
Mikhail Sergachyov (D) 6″2, 205 pounds
Sergachyov is a left-handed shooting defenceman who plays a strong two-way game, skates very well and distributes the puck well. He has displayed a lot of creativity out on the ice.
Jakub Chychrun (D) 6″2, 194 pounts
Chychun plays a solid all-around defensive game. He has a lethal shot on the powerplay, he has great vision, moves the puck well and plays with a physical edge.
Jake Bean (D) 6″1, 172 pounds
Bean is described as one of those guys who is tough to play against. He's good at limiting the oppositions time and space, and he very rarely is caught out of position. He is able to contribute offensively, giving him a real upside in terms of two-way play.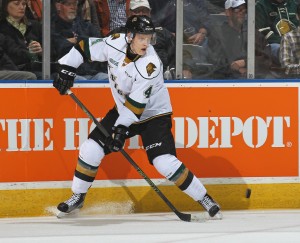 The question for the Oilers when it comes to trading down and drafting a defenceman is whether or not these guys can step in right away. Most likely the answer is no, so choosing one of them means they likely won't be a contributor for the upcoming season. Are the Oilers okay with that, or do they want help right away? Obviously they need help immediately, but if they feel strongly enough about one of the guys available, they'll be patient with him. If they do go that route, it doesn't mean they won't continue to look for defenseman whether that be via trade or the free agent market. They are fully aware of their weaknesses.
This summer will prove to be a very intriguing one in Edmonton. I would expect a lot of action, especially around the draft. I also expect the growing pains to continue, though there is certainly a light at the end of the tunnel, don't worry about that.
Marcy, a former hockey player, is a hockey correspondent on CTV News and TSN radio. She began her career as a Sports Journalist in 2009 and has been part of The Hockey Writers since 2010, where she is currently a senior writer and editor.