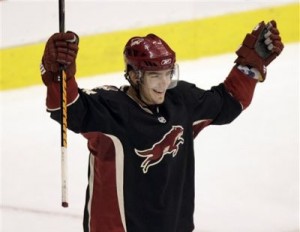 The 26 year old Peter Mueller was once a promising Phoenix Coyotes prospect, but he was nowhere to be found in the National Hockey League this past season. How does a former first round, eighth overall pick in the 2006 NHL Entry Draft just disappear from the NHL by the age of 26?
The Phoenix Coyotes used their first pick in the 2006 NHL Entry Draft to select Peter Mueller. At the time he was projected to be a top six forward with excellent offensive ability and the size to become a more physical force at the NHL level. Here is his Talent Analysis from Hockey's Future,
"Mueller moves with deceptive efficiency and demonstrated an ability to control play in the attacking zone. Perhaps viewed more as a finesse player, Mueller has the size to become a more physical force in the WHL."
He was part of a solid draft year in 2006, with 41 percent of the players drafted making NHL appearances. The average career games has been 177 and average career goals at 31 per Hockey DB. To many the 2004 and 2005 NHL Entry Drafts are the deepest in the recent past. In comparison average career games is 180 and career goals is 25 with 48 percent playing in the NHL for the 2005 Draft. For the 2004 Draft 43 percent has played in the NHL with an average of 198 games and 31 goals.
Time spent in the desert
After his draft year he played one more season with the Everett Silvertips in the Western Hockey League prior to making the jump directly to the NHL in October of 2007. In his rookie year he put up 22 goals and 32 assists in 81 games, which are very impressive numbers for a 19 year old.
After scoring at a 0.67 point per game pace in his rookie seasons he regressed the next two years. Over the course of the 2008-09 season with the Phoenix Coyotes Mueller had fallen to a 0.50 point per game pace. Even worse were his 54 games with the Coyotes in 2009-10 with only 0.31 points per game.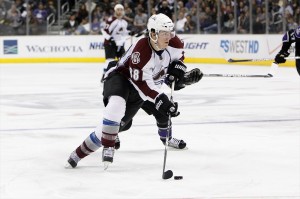 During that season Phoenix Coyotes general manager Don Maloney received a request to be traded from Peter Mueller. While the true reasons for Mueller's request have never come to light it has been indicated that he was very unhappy with the Coyotes. He had this to say to the Denver Post upon his arrival in Colorado,
"Like I've said, it's a great situation where you feel like the team has confidence in you. It's been a good change for me. I just want to keep contributing and do as much as I can to help us win. Things just weren't working any more (in Phoenix)."
Speculation has been that Mueller and head coach Dave Tippett did not get along, especially in light of Tippett's attention to detail on the defensive side of the puck. Much has also been made of Mueller going from 0.31 points per game with the Coyotes that season to 1.33 points per game over his 15 appearances with the Avalanche after the trade.
Did Peter Mueller give up and sulk his way through the end of his term with the Phoenix Coyotes? We may never know for sure, but the optics of the situation are not good for him.
On to the mile high city and then the beach
Mueller's time is Colorado was productive with 0.77 points per game; however it was marred by injuries. He only managed to suit up for 32 games in the 2011-12 season after missing the entire 2010-11 NHL season with post-concussion syndrome.  He was again suffering from post-concussion symptoms and was shut down for the remainder of the season. In light of his injury history the Colorado Avalanche decided it was time to move on from Mueller and let him walk as an unrestricted free agent.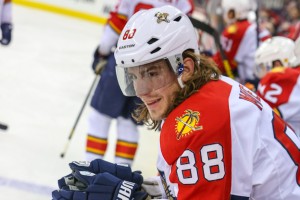 The lockout shortened 2012-13 NHL season gave him a chance to recover and he was able to sign a one year contract with the Florida Panthers. However he still disappointed in terms of his offensive production contributing at a 0.39 point per game pace that season while playing with the likes of Jonathan Huberdeau and Alexei Kovalev.
After the season Mueller and the Panthers could not come to terms on a contract. While not many details have come out about the negotiation, it is assumed that Mueller wanted too much money and term for Florida with his concussion history being taken into consideration.
Headed across the Atlantic
When Mueller did not receive another acceptable NHL offer he flew overseas for work. He spent this past season in Switzerland playing for the Kloten Flyers. It was a successful season with him racking up 24 goals and 22 assists in 49 games. Also something to notice is his plus 18 rating this year. In the NHL he was never a plus player over the course of a full season.
His chance to generate more NHL interest has also come in the form of an invitation to play for the U.S.A. at the 2014 IIHF World Championship. Thus far he has played three games at an average of just over 13 minutes of ice time per game. He has contributed one goal and a minus one rating with six shots on goal.
While this is by no means a stand out performance an NHL team surely will still be intrigued by his potential. He should also just now be coming into the prime of his career at the age of 26 prior to the coming NHL season.
Covering the Florida Panthers for The Hockey Writers. Women's Hockey news and statistics for Outlook Hockey.