It's funny to think about. We wait all year for days to get warmer and the sun to stay out longer. We shed layers like skin and embrace the changes in temperature, transitioning into different beings as if we hibernated all winter. We think about how the cold, snow, and ice are all distant memories, foggy in our brains and very much far away from reality.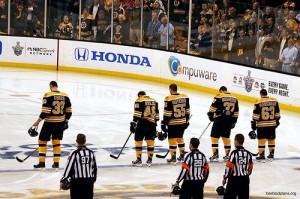 Well, most of us do, at least.
Some of us wait all year for that first cool breeze- the minute you wake up and feel an autumn morning, looking down at a row of trees morphing in color. It's a defining moment–a rite of passage–a cultural shift that lifts the dog days of summer away, leaving you feeling refreshed, rejuvenated, and best of all, alive. It's hockey season and for those of us who grew up inside of a rink, it's the best time of year to look forward.
There are two different realities here. Two different scenarios of a season landscaped and etched in the mind as the ideal time of the year. While both have their distinct advantages and disparities, they share a unique bond. They're both fleeting.
At the end of the NHL regular season, the 2013- 14 Boston Bruins had it all–the President's Trophy, the best record in the league, home ice advantage throughout the duration of the postseason–they had everything. Most importantly, they had a team performing on all cylinders with elite goaltending and the same, healthy core of a roster that helped them accomplish everything earlier.
Four weeks later, the top statistical team in the NHL is eliminated from Stanley Cup contention. What went wrong?
Twenty minutes after Game 7 had ended, there sat Zdeno Chara staring into space at his stall, still in his pads with his hooded Bruins sweater with a 33 on the side of zipped up to his throat. It was surreal to him, too.
"It's going to be a while," Chara said, on letting the 3-1 loss to the Montreal Canadiens sink in. "Especially when you know that you have a team that was so good and consistent throughout the whole season, and you have a good enough team to win more than one series. It just for sure it's something that you're going to be thinking about. I'll be thinking about it for sure quite a bit."
And there he was. With a concluded media availability session, Chara sat by himself, still in his gear, just thinking. This probably could have been a Stanley Cup winning team. This probably could have been a team that powered through a series like this against Montreal and come out on top. This probably should have ended differently.
"You can't really, there's no words to explain it," said Patrice Bergeron. "I mean obviously, got to give them credit, but we didn't execute and we didn't score the goals that we needed to get the momentum or whatever."
The Bruins didn't do a lot of things in Game 7. For one, their sleepy start allowed the Canadiens to jump on the board first after Dale Weise tipped-in a pass from Daniel Briere past Tuukka Rask. In fact, it took the Bruins a solid six and a half minutes to register their first shot on a goal, a clearing attempt from Johnny Boychuk on a penalty kill.
Boston looked slow and tired while Montreal looked like the better team. It was a curious concept to witness, especially after the 2013-14 Boston Bruins seemed almost flawless at times. During this series, it was anything but. The Canadiens exposed the Bruins' weaknesses and Boston had no answer. Boston had nothing but expectations that weren't met.
"It's disappointing," said Bruins head coach Claude Julien. "I can't stand here and say it's not disappointing. In my mind, we were going to move forward. We were going to win this game, and that's what I prepared myself for. So you're disappointed when that doesn't happen."
There were plenty of things the Bruins could have done better, all well-documented elsewhere. You can look into the struggles of Brad Marchand and David Krejci, two of the better players during the 2013-14 Boston Bruins regular season. Both were ghosts. You can reference the lack of "big game" experience for the Bruins' young defensive core. You could even throw in the awful puck luck and bad bounces that seemed to doom the team.
But you can't take away that the Montreal Canadiens were the better team–and better teams win hockey games and playoff series. In the end, it doesn't matter what a team's success in the regular season looked like.
The offseason will naturally be long for the 2013-14 Boston Bruins roster. With about $13 million or so in cap space, personnel decisions will be made that will no doubt impact the makeup of the organization for next season.
Jarome Iginla is an unrestricted free agent and the biggest decision to be made for Bruins brass. Reilly Smith, Torey Krug, Matt Bartkowski, and Matt Fraser are all notable restricted free agents, needing new contracts, and likely returning to the team. Shawn Thornton has very possibly played his last game in a Bruins jersey. Chris Kelly and Adam McQuaid could be candidates for a buyout. We won't even get into potential trade possibilities–this is just the beginning.
An overhaul isn't likely for the Bruins, nor is it necessary. The centralized 'core' of the team should be returning for the 2014-15 NHL season and the Bruins will once again be a contender. Ultimately, two bad games against their biggest rival turned what would have been a memorable season into a summer of what could have beens.
And here we are on May 15, a month out from the conclusion of the 2014 NHL postseason, with no 2013-14 Boston Bruins remaining in contention. It'll be close to five months until hockey returns for the Bruins and while summer is on the horizon, it's more of a signal of a long offseason that ended with a bitter Game 7 loss to the Canadiens.
It's what we wait all year for, you know. These little moments in time where everything is perfect and moving, possibilities seem endless and opportunities ring all around. When it stops, we'll wait again for the next one, be it a day, a week, a month, a season. It's a vicious, beautiful, jittery, wonderful, heartbreaking, perfect cycle. Sometimes, it just doesn't go the way it should.
The things that we look forward to the most are the ones that seem to end so suddenly.
Mike Miccoli covers the Boston Bruins for The Hockey Writers and has been a credentialed member of the media for all Bruins' home games for the past five years. As a former player, coach and official, Miccoli has been around the game of hockey since the age of three. Along with his work on THW, Miccoli has also been published in the New England Hockey Journal, Improper Bostonian magazine and on BostInno.