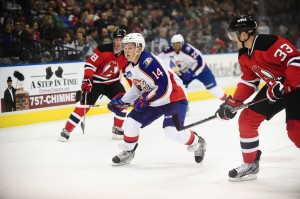 It was do-or-die time for the Norfolk Admirals Tuesday night as Max Friberg, Shea Theodore and Andre Petersson polished off the St. John's Ice Caps 3-2 in overtime to force a game six in St. John's Friday.
If St. John's eliminates Norfolk Friday in this best of seven series, the Ice Caps will await the victor of the Wilkes-Barre/Scranton—Providence series. The same can be said about Norfolk; however; the circumstances are different as the Admirals will need to beat the Ice Caps for two consecutive games on the road Friday and Saturday to move on to the Eastern Conference Finals.
Pre Game Thoughts With The Voice Of The Ice Caps: Brian Rogers
"From our standpoint (Ice Caps) it's just play your game. You don't stray away from your structure. The way this team played all year was rolling four lines. If we roll four lines and we score first, it's a tough team to come back against. We're riding a hot goalie. Defensively our game is sound and our forwards buy into coming back to help our defense because they're relatively young. We have a couple of rookies that are first year pros and they turned out to be really good players for us. They know in their hearts that Norfolk has a lot of pride and they're well coached."
Thiessen Vs. Hutchinson
Despite losing game four and allowing four goals on 18 shots in a 40-minute span, Norfolk's Head Coach Trent Yawney elected to start AHL vet Brad Thiessen once again while St. John's Head Coach Keith McCambridge went with the hot hand of Michael Hutchinson who bolstered a 6-2 record and a Save Percentage of 0.945.
Norfolk Scoring
Max Friberg (3) Assist- Zack Stortini
Shea Theodore (1) Assists- Chris Wagner, Dave Steckel
Andre Petersson (3) PPG Assists- William Karlsson, Stefan Noesen
St. John's Scoring
Eric O'Dell (5) Assists- Kyle MacKinnon, Will O'Neil
Eric O'Dell (6) Assists- Carl Klingberg
Norfolk's Head Coach Trent Yawney Sums Up The Win
"They're a pretty resilient group and they have been all year. Anytime they've been challenged they've always met the challenge. This was no different than any other regular season game especially down the stretch."
"We needed to play as hard as they were playing for the whole game. They were playing much harder and much longer than we were and our guys did a great job sticking with it for the whole game."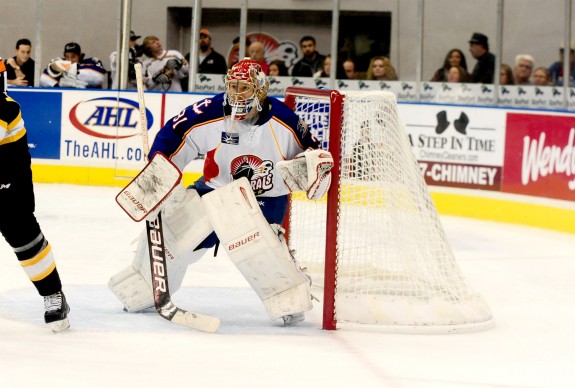 Yawney's Take On Brad Thiessen
"We forget that he wasn't playing the last two and a half weeks with Gibson playing all the games and it's hard to come in from that position. Tonight he looked like the Thiessen of old and it was nice to see."
Yawney Looking Ahead To Friday
"We know they're going to start quick. They should know who they're playing against. It's already six games against the same team and they play well in their building. We'll have our work cut out for us, but it's another challenge and they're a resilient group. I'm proud of them and the effort they put forward with the group we have left because we've had numerous players come and go."
Petersson Describes His O.T. Goal
"I was very lucky that it just got through. They're pretty good at blocking shots. We've been struggling to get some shots through and I ended up on top there (on the point) and ended up taking a slap shot and it went through."
Max Friberg Talks About What Changed Between Games Four And Five
"We were talking about competing harder and I think we did all game. We didn't give them as many chances as yesterday. The main thing was that our compete level got higher and we skated with them and it paid off in the end."
Friberg Shares His Thoughts On Thiessen's Performance
"Thiessen has been good for us all year. He got us to the playoffs and we've been leaving him out to dry the last two games here. He's a good goalkeeper and he's going to need our help sometimes too. We provided a little bit of help and he saved every puck he should've saved."
Game Five Highlight Reel
Norfolk's Forward Lines
Kerdiles-Steckel-Petersson
Etem-Karlsson-Wagner
Noesen-Bailey-Friberg
Cramarossa-Kurtz-Stortini
Norfolk's D-Pairings
Parent-Manson
Blacker-Gagne
Eminger-Theodore
Attendance- 1736
Follow Ted On Twitter @Bauerhockeydude