The Washington Capitals finally came to agreement with the AHL's Hershey Bears on an affiliation extension for the 2014-15 season, with the upcoming campaign the tenth season the two clubs have been affiliated. There have been some great moments in Hershey throughout that time, including three Calder Cup championships, but as many know, the big prize has not yet been hoisted in Washington.
"The success of the Hershey Bears as the AHL affiliate of the Washington Capitals has been unmatched for nearly a decade," Hershey General Manager Doug Yingst said in a press relase.  "The affiliation makes perfect sense geographically and logistically, and we are excited to work together again to produce two quality teams for our fans."
Hershey has led in AHL attendance over the past eight seasons, with the club recently averaging 9,664 fans per game this past season in the Bears first early vacation from the postseason in a long time. A total of 25 former or current Hershey Bears played for the Capitals this past season, including long tenured blue liners Karl Alzner and John Carlson who won Calder Cups with the Chocolate and White.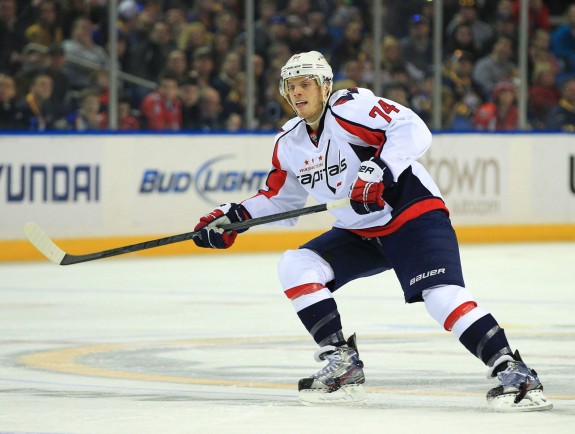 Even with consistent winning in Hershey, there are some issues that should be addressed by the next Capitals General Manager. First off, how will prospects be used at the AHL level? Granted Hershey and Yingst want to win at all costs which is unquestionably a positive, it shouldn't come at the expense of sitting  prospects with enormous upside at the NHL level. Bears' fans saw that with the consistently scratched Stanislav Galiev, an offensively skilled third rounder who lacked playing time and often sat on the fourth line with limited ice time when he found himself in the lineup.
Along with managing playing time and opportunity for the prospects, how will the next GM in Washington aid the Bears and Yingst in adding veterans to NHL deals? One strategy that must be explored is using the allotted 50 contract limit per NHL club to sign younger players with upside rather than AHL lifers that are going to spend the most time in of one to the top developmental leagues in the world. The Bears had most notably Brandon Segal, Matt Watkins and David Kolomatis on NHL contracts this past season.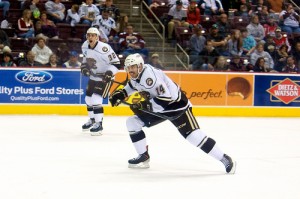 The new GM can't afford to just acquire young players for Washington. Former Capitals GM George McPhee made smart deals to help out Hershey and Washington at the NHL level, including Tyson Strachan, Ryan Stoa, Julien Brouillette and the trade for Peter LeBlanc during the 2012-13 campaign. These players are a must to given Washington confidence during recalls with guys who can be competent at the game's highest level.
Next season, the Bears should rely on their prospects. They'll have a decent group of young forwards including the recently re-signed Garrett Mitchell, Chris Brown, Caleb Herbert, Chandler Stephenson, Stanislav Galiev, and Casey Wellman along with the likely return of restricted free agents Michael Latta and Nicolas Deschamps. Their core of defensemen could also include Tomas Kundratek, Patrick Wey, Cameron Schilling (RFA), Nate Schmidt (RFA) and Steve Oleksy. There's no reason to go out and add numerous forwards with the exception of strong centers at the faceoff dot or effective players on the man advantage.
Below is a chart of the team scoring by age, excluding goalies and players who appeared in less than 15 games for the Bears. The limit of 15 games is used to avoid small sample size in data collection.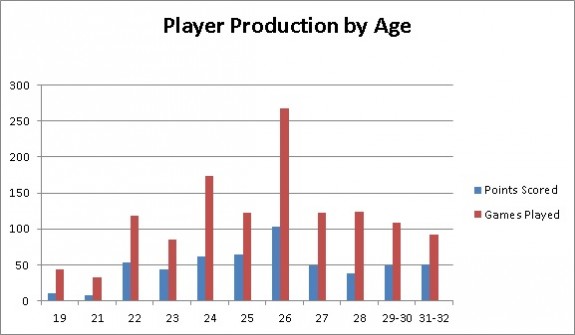 To refine that information, points per game by each age range will give us more specific results.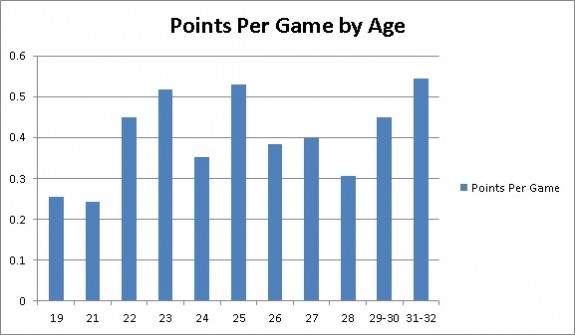 As the date above shows, the 2013-14 Hershey Bears were paced offensively by veterans, with 26 year old players appearing the most games by far, above 250 games played of skaters who played in 15 games or more for Washington's AHL affiliate. Points per game tell a different story. The 22 year olds produced more per game than the 26, 27 and 28 year old age groups.
The Washington Capitals need a philosophy in change in their acquisition of players for their farm system. It's clear as day, but the Hershey Bears need to make some changes too, play the kids. It'll be beneficial for both sides and was instrumental in bringing the Hershey Bears two Calder Cup championships. Most AHL clubs competing currently in the AHL playoffs are led by young talent and a majority of their parent clubs appeared in the NHL's Stanley Cup playoffs.
You can follow Matthew on twitter @m_speck and email him at mspeck21@yahoo.com with any questions or comments.
Matthew Speck covers the Washington Capitals organization for The Hockey Writers. He provides coverage of both Washington at the NHL level and prospect related content. Matthew also covers local sports for the Lebanon Daily News in Central Pennsylvania. You can email him at mspeck21@yahoo.com with any questions or comments.