Heading into the All-Star break, the Edmonton Oilers are tied for first place in the Pacific Division. Think about that for a moment. The Oilers, a team mired in futility for 10 years, plagued by bad decisions, draft busts, and poor performance are in a comfortable playoff position. Perhaps we shouldn't be surprised because a team can't be bad forever. They were due for improvement the moment Connor McDavid slipped on an Oilers jersey. But he's not the only reason this team has jumped in the standings.
Cam Talbot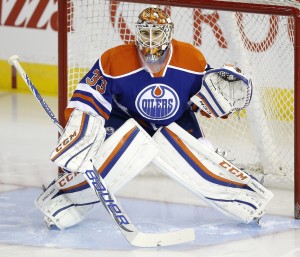 Goaltending. It's by far one of the most, if not the most, crucial positions in hockey. A superior defence corp and a suffocating defensive system can often mask mediocre netminding, but for the most part, goalies can't hide behind a team. For years, Oilers goalies have been exposed. They've never been good enough, but they had no place to hide considering the mess that was the defence.
The team took a flyer on New York Rangers back-up Cam Talbot, hoping that he wasn't a product of the system, and he would be able to carry the load of a starter. His first season in Edmonton was fine, it wasn't brilliant, but then again neither was the team. He still earned an extension, furthering the team's belief in his ability.
This season started out unevenly for Talbot, but once his children were born (we can't deny that was a distraction), he settled in and has quickly become a key to the Oilers success. There is some concern about Talbot's workload. He's played 45 games (the most of any goalie) and is third in the league with 26 wins.
His stats may not jump off the page when compared to other goalies, but you have to look at what he's done specifically for the Oilers. He comes up big when they need him. He makes the key saves and gives them a chance to win. Goaltending is no longer considered a weakness. He's given the guys in front of him more confidence. And that's all you can ask from your number one guy.
Todd McLellan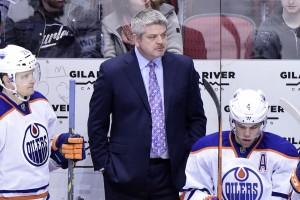 Getting comfortable in a new system doesn't happen overnight. When a new coach comes in, it can take time for players to buy in, and for the coach to let guys play to their strengths. Todd McLellan's first year behind the bench didn't go swimmingly, for various reasons, but he was putting his system in place. Keep in mind the years of bad habits that had to be broken.
The Oilers were a flawed franchise, with a toxic culture. You can't just snap your fingers and expect it to change. Although some fans will still question McLellan's personal decisions, you can't deny the positive effect he's had on the team. The players play hard for him. They play hard for each other. They look more prepared and ready to handle adversity. That's on the coach.
The Taylor Hall Trade
Whether you liked the trade or not, there is no question that moving Taylor Hall for Adam Larsson was the right move. Larsson, while not flashy, has solidified that Oilers blueline. He's a steady presence who plays big minutes and is tough to play against. Though some fans still cringe at what it took to get him, the reality is that Larsson is what they needed.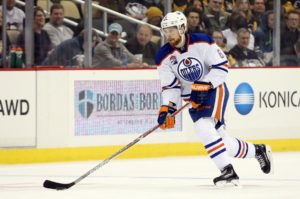 Hall is a skilled player, but he wasn't doing enough to help the team win. It's partly a coincidence that they're so much better without him, but sometimes you get better by subtraction. Hall is a big personality, and he wanted to be a leader. But this is McDavid's team, and despite them being friends, perhaps they couldn't co-exist. It's nothing against Hall. He just wasn't part of the team's future.
The Oilers felt they needed Larsson more than Hall, and right now they are correct. Hall's departure allowed a guy like Leon Draisaitl to get big minutes and he's made the most of them. Draisaitl leads the Oilers with 19 goals and is second to McDavid in points.
Hall's departure also freed up the cap room to sign Milan Lucic. And while his play might not be worth his salary, he along with Patrick Maroon and Zack Kassian has made the Oilers tougher to play against, and that's made a big difference.
Connor McDavid
McDavid leads the NHL with 59 points. (He's played nine more games than second place Sidney Crosby, which is a significant margin, but if they both keep their current pace, McDavid will win the scoring title). If things stay as they are, there's a good chance McDavid wins the Hart Trophy, and it will be well deserved. The Oilers aren't a one man team. They beat the Ducks with McDavid not having a single shot on goal.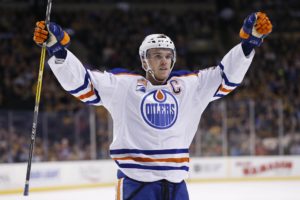 But make no mistake. McDavid is driving the bus. He is the focal point of the team. He's the leader and best player. He makes everyone around him better. Last season, McDavid missed 37 games due to injury, and no doubt that hurt the team. We'll never know if they would have been better with a healthy McDavid because key pieces weren't there last season, but his absence affected them.
Again, the Oilers aren't McDavid or bust. Just look at Andrej Sekera, who has provided a lot for the team on the back-end. Even Kris Russell, who is disliked by many, has given them a solid puck-mover. So, while the Oilers aren't good just because of McDavid, he is a big season. That's what superstars do. They elevate the team.
It would take a monumental collapse for the Oilers to miss the playoffs. When you watch them play, it's hard to imagine that happening. They aren't perfect, they still have some issues, but this is a complete team and a more competitive team. It might seem surreal for Oilers fans, but this is the new reality. They're good.