When the 2017 NHL All-Star teams were announced, many people around the league were surprised to see Arizona Coyotes goaltender Mike Smith included as one of the two netminders that will represent the Pacific Division at Staples Center on Jan. 29. Many have pointed to his stats as the reason why he shouldn't have been included in this year's All-Star festivities, and, after a quick visit to NHL.com, it appears as if this argument does have some merit. As of this writing, Smith possesses a losing record of 11-13-5, a goals-against average of 2.85, and a save percentage of .917, none of which scream "All-Star material." However, despite his average-looking statistics, Smith has indeed been Arizona's most outstanding player in 2016-17 and is a very deserving All-Star.
Mike Smith is finally an All-Starhttps://t.co/JLuXpmUHyV

— 98.7 Arizona Sports (@AZSports) January 15, 2017
Smith might not have the best statistics in the league, but there's no doubting the fact that he's a difference-maker in Arizona; the Coyotes possess one of the league's most porous defenses and routinely surrender obscene amounts of shots on goal. However, Smith seems to thrive in situations where he's constantly under siege; this season, when he faces 40 or more shots on net, Smith is undefeated in regulation with a 5-0-2 record, and, at times, has been the only reason that the Coyotes have been competitive in games.
On Saturday night, #Coyotes All-Star Mike Smith made 45 saves to improve to 5-0-2 when making 40 or more saves in a game this season.

— Jeffrey Sanders (@JeSanders11) January 23, 2017
The Long Road to the All-Star Game
For Smith, his solid 2016-17 season has been a story of redemption. Since leading the team to the Western Conference Final in 2012, the 34-year-old veteran has been the subject of much scrutiny from the team's fanbase. He's struggled to stay in the lineup due to numerous injuries and ailments and, in the minds of many, has arguably failed to live up to the hefty six-year, $34 million contract he was given by then-general manager Don Maloney following the 2012-13 season.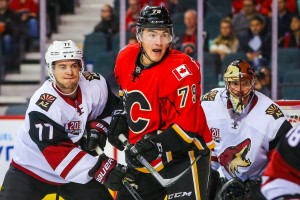 In addition, fans have watched backup goalies such as Devan Dubnyk, Chad Johnson and Thomas Greiss come to Arizona and outperform Smith only to depart and have success with other teams shortly thereafter.
In particular, the loss of Dubnyk is still a fresh wound in Arizona; after Maloney shipped Dubnyk off to the Minnesota Wild for a third-round pick at the trade deadline in 2015, Coyotes fans watched as Dubnyk emerged as a Vezina contender in St. Paul while Smith's struggles continued in the desert.
However, Smith has managed to battle through the adversity of the past few seasons and has re-emerged as one of the league's better goaltenders in 2016-17. He's managed to be successful despite facing an average of 32.9 shots per game and has kept the Coyotes in many games in which they were clearly outplayed. The statistics do not tell the entire story; Smith's outstanding play has clearly been the difference in many of Arizona's victories this season, and he's extremely deserving of the team's spot at the All-Star festivities in Los Angeles.