Another disappointing night for Montreal Canadiens fans.
After a painful season, Habs fans thought they should be treated with some luck. That wasn't the case. The days after the draft lottery leave more questions than answers and ultimately more uncertainty within the organization.
Marc Bergevin sat in his grey suit at Sportsnet studios with a blank look on his face, pondering what comes next for the Canadiens. The Habs stayed put in the NHL Draft at 9th overall which was in the end disappointing. It's hard to sell to Canadians fans that the tumultuous season that they had to endure was all to gain the 9th overall pick in the draft.
Many would think a top ten pick should make an immediate impact on an organization, unfortunately in hockey it doesn't work that way. For example, the NFL Draft took place this weekend. During the seven round affair, teams find starters from the first all the way to undrafted free agency which takes place post-draft. This is due to one thing: maturity of the prospects as they are for the most part 21-23 years of age. In the NHL, rarely does a team outside of the top three slots find a player that can contribute right away. This is due again, to one thing: lack of maturity of their game as they are younger players (18-19 years of age) who bottom line, need more time. That's not what the Habs are looking for. The Habs are looking for immediate help to bring the Canadiens back into contention.
So what are the Montreal Canadiens options, and where do they go from here?
2016 Draft Possibilities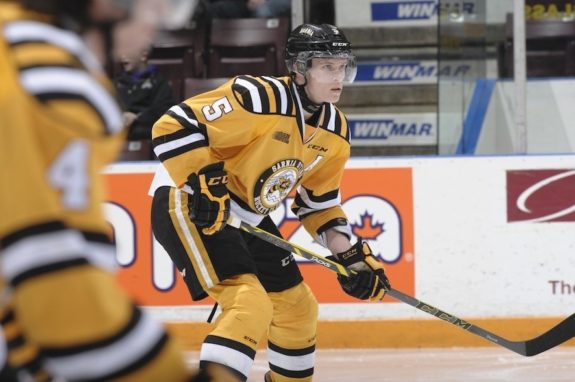 The first step for Canadiens Brass is figuring out what to do at the 2016 NHL Draft. Who could the Montreal Canadiens draft at 9th overall? Fortunately they'll have a couple options.
Do the Habs take one of the top three defensemen available (Olli Juolevi, Jakob Chychrun, Mikhail Sergachev), as one could land in their lap to help shore up the defensive end and the defensive prospect pool?
Or, do the Canadiens go with one of the big centers available (Pierre Luc-Dubois, Logan Brown, Clayton Keller) and finally fill that seemingly constant void up the middle?
As much as I bashed having the 9th overall pick above, you can't deny that one of these good young hockey prospects will improve the Montreal Canadiens. That said, my first option would be to keep the 9th overall draft choice in trade talks (against Bergevin's beliefs), in order to get immediate help. Unlike the Toronto Maple Leafs, the Canadiens are in win now mode despite the horrendous season they just completed. By trading a top ten pick in a package, it could yield a player that can come in and contribute now, maybe a Matt Duchene? Something to think about Hab fans.
NHL Free Agency
Immediate help is what NHL free agency is all about. You overpay for guys to come in and impact your team on day one. Unfortunately for Habs fans that's not something Marc Bergevin wants to do. However there's a player not even Bergevin can ignore this offseason: Steven Stamkos.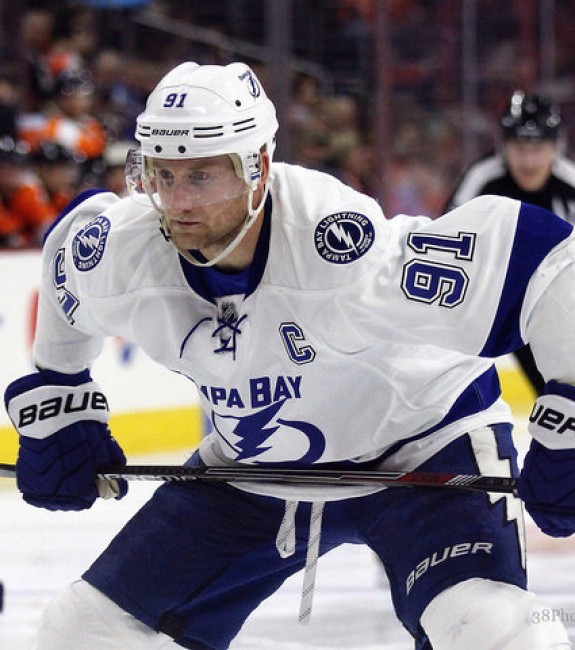 Steven Stamkos would make all Habs fans dreams come true. Stamkos is the ideal player for the Montreal Canadiens this offseason, a big Canadian centre to fill the number one center role.
Imagine this: Steven Stamkos, P.K. Subban and Carey Price. How's that for building blocks? Add Alex Galchenyuk, Max Pacioretty and Brendan Gallagher to the mix and you are now back into contention in the East.
However, in order to make a move like this things need to chance salary wise. Players like Tomas Pleckanec and Alexi Emelin need to be moved. At this point, you can't expect a huge return for either player but that's not the goal. The goal is to trade their salary off the books to lure Stamkos to Montreal. Its time for Bergevin to put his stamp on the Canadiens before time expires on the core of the organization.
With regards to other holes on the roster, Dale Weise could fit back into the puzzle on the third line along with another defenceman on the backend. I'll give Bergevin credit, depth moves have been his specialty since he took control of the Canadiens, but depth doesn't get you 40 goal production.
Bottom line, Marc Bergevin and the Canadiens need to make a significant move to get the franchise back on track. Steven Stamkos is that move.
Overall Thoughts
The Canadiens can go many different directions this offseason. From the draft to free agency there will be chances for Marc Bergevin to improve the Montreal Canadiens. On countless occasions, Marc Bergevin has explained his unpopular beliefs on how he wants to run his organization. However for Habs fans at the breaking point, that won't cut it for the 2016 offseason. If players in the locker room don't change, people occupying the management offices will.
Nick Guido is a Montreal Canadiens Contributor for The Hockey Writers. You can Follow him on Twitter @nickguidoTHW for his articles, opinions and general Habs talk.