The Blues' first pick in the 2013 NHL Entry Draft comes at #47 in the second round. Acquiring Jay Bouwmeester at the Trade Deadline has seized their first-round pick while the acquisition of Jordan Leopold made the team lose their other second-round pick (#52 in the second round). With just six picks in seven rounds, Blues fans may be looking for something else to do on draft day.
This may not be a wise decision.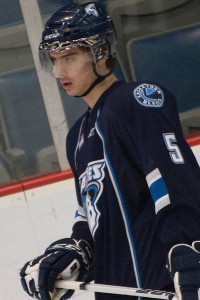 In the past, the Blues have not made blockbuster trades during the draft that caught the eye of the hockey world. In fact, the Blues have made just two trades during the past three drafts – the most recent came in 2011 when they sent their third-round pick to the New York Rangers for forward Evgeny Grachev. But the Blues are in a position this draft that they have not been in since before the 2004-05 lockout – possessing a win-now roster with something to prove.
For many seasons after the lockout, the Blues were in a rebuild stage and needed to use the draft to round out their prospects. Once the high draft picks started to pay off, the St. Louis team started to become more willing to part ways with their high draft picks (as we saw in the move with the Avalanche in February 2011 that included a package with a first-round pick to acquire Kevin Shattenkirk and Chris Stewart).
The young roster had an up-and-down season in 2013, including a 2-0 series lead dissipation to the Los Angeles Kings, who took the next four games and the series. Many players have been held accountable for the loss, spawning question marks as to how GM Doug Armstrong would approach this off-season.
After being a Stanley Cup favorite heading into the season, the Blues may look to retool some of its roster. Heavy shakeups are not expected, but some moves to add depth up front could be made. After all, the Blues generated just 10 goals in the six-game loss to the Kings.
There are a lot of directions that Armstrong & Co. could go during the draft.
Trade Up for a First-Round Pick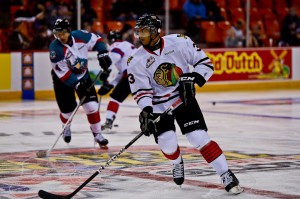 Yes, the Blues are likely seeking proven-NHL talent at this point, but the 2013 draft class is considered "
exceptionally deep
" by many hockey minds. With top prospects Seth Jones and Nathan MacKinnon drawing comparisons to NHL greats
Chris Pronger
and Sidney Crosby, it's easy to see that this draft could truly have a deep crop. I would not expect the Blues to move up to the top-10, though. That would likely warrant a roster player or two that the Blues would not be willing to move.
Though unlikely, getting a low first-round pick could still mean a young, talented forward for 2013-14. David Perron, who was drafted with the 26th overall pick in 2007, found a roster spot the very next season in St. Louis.
Movement of Other Draft Picks
While this is almost the exact opposite of the last possibility mentioned, the Blues could still land a mid-range goal-scorer with their second or third round picks. Teams such as the Edmonton Oilers, Calgary Flames and Tampa Bay Lightning could be looking to load up on draft picks, so roster players could become available.
This could also mean the acquisitions of free-agents who are at an impasse with their current team. These players potentially include David Clarkson (NJD), Mike Ribeiro (WAS) and Stephen Weiss (FLA).
Movement of Players' Rights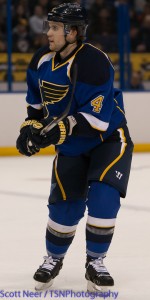 Andy Strickland of TrueHockey.com reported last Monday that the Blues are pursuing defenseman Jordan Leopold, who is set to become an unrestricted free-agent this summer. If negotiations with Leopold reach a stalemate, movement of his exclusive negotiating rights until the opening of the free-agency period are a possibility.
This goes for all restricted free-agents with the Blues as well.
As I mentioned in my last piece, forward Chris Stewart is a player that has to be considered expendable, if given the right deal. Other players of note include defenseman Kris Russell and forgotten 23-year old prospect Phil McRae.
For reasons like these and others, it will be in every fan's interest to tune in for this year's draft. Nobody wants to be the guy that missed his team's showing at the NHL's annual event.
I am a former NHL media member and reporter for the St. Louis Blues, working for various media outlets. Currently, I am an NHL News Writer and Editor for The Hockey Writers. I live in St. Louis and work as a freelance copywriter in numerous industries.