Recently, my THW colleague, Neal McHale, wrote that the New York Rangers need to acquire Carolina Hurricanes center Eric Staal, who might very well be on the move before the trade deadline on February 29. Neal raised some good points about how Staal's history of postseason offensive production would help solve a lot of the woes that have kept the Rangers just short of winning the Stanley Cup in recent seasons.
A trade for Staal, however, would bring along many downsides, which far outweigh these benefits. As such, New York should steer clear of Carolina's franchise player.
Staal is Not the Same
While Staal has performed extremely well in the playoffs before — tallying 19 goals and 43 points in 43 career playoff contests — the last time he appeared in the postseason was in 2009. Since then, his regular season production has declined, so it's hard to imagine he would still be as prolific in the playoffs now.
Staal, now on the wrong side of 30 at age 31, has just 10 goals and 22 assists in 61 games this season. This is his worst season since his rookie campaign in 2003-04. The Rangers already have nine players with more goals than Staal, and five with more points.
Prior to lighting the lamp against Philadelphia on Tuesday, Staal had gone a whopping 16 games without scoring a goal, so his struggles have been particularly bad lately. Perhaps the pressure of the looming trade deadline is affecting Staal, and that playing for a contending team, with his brother Marc (even though he already plays with another brother, Jordan), would reignite him and spark an uptick in his production.
http://gty.im/460764288
More likely, however, is that Staal is in the midst of a somewhat rapid decline. At 31, it is sad to say that he is past his prime. Once a perennial 70-point player, he has not reached that mark since the 2011-12 season. That said, he was playing at a better-than-point-per-game clip in the lockout-shortened 2012-13 season, but even taking that out of the equation, this will be the third straight season he falls short of 70 points, barring an absurd scoring run between now and the end of the year.
Much like his brother Marc, Eric Staal's name carries with it a great deal of perceived value, but the actual value he provides as a player is nowhere close to where it once was.
The Cost Would be High
Based on his production, Staal is now really more like a nice complementary player at this stage in his career, rather than one of the stars of the NHL. Carolina, however, will undoubtedly be looking for a return that befits a star player, as Staal has been the cornerstone of the Hurricanes franchise for the past decade.
In that sense, the Rangers really cannot afford to acquire Staal. If they want to make another deep postseason run, they cannot give up strong roster players like Oscar Lindberg, Chris Kreider, or Jesper Fast, among others. They should be hesitant to do that even for a superstar, a label that no longer applies to Staal. The Rangers need strengthened depth, and losing any significant roster players for Staal would not help them too much in this area.
This situation is similar in some ways to the trade that brought Rick Nash from Columbus to New York in the 2012 offseason. The Rangers were in more desperate need of a goal scorer at that time, so they were willing to give up key players like Brandon Dubinsky and Artem Anisimov as part of the package for Nash. As a result, their depth was gutted, and they struggled until they reversed their role by trading a star player in Marian Gaborik to the same Blue Jackets for three good depth pieces — Derick Brassard (who has now blossomed into one of the Rangers' best players), Derek Dorsett, and John Moore.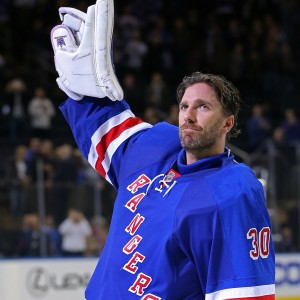 Furthermore, the Rangers have already sacrificed a lot of their future in recent years. If they dangle one of the young forwards on their roster in a trade offer for Staal, they would be putting themselves in an even worse position for the future. Understandably, with Henrik Lundqvist not getting any younger, the Rangers are in "win now" mode, but with a somewhat limited set of promising young players and prospects as it is, dipping too much further into that pool would be unwise. No Rangers fan wants to see another stretch like the dark ages of 1998-2004.
Carolina would also likely ask about New York's two top prospects, defenseman Brady Skjei and forward Pavel Buchnevich. For the same reasons already mentioned, those two should each be untouchable at this point, as should any first-round picks. Having already given up so many first-round draft picks and a star prospect (Anthony Duclair) in recent years, any more of these types of moves would cripple the Rangers in the long term.
It's hard to imagine Carolina agreeing to a trade that does not feature at least one of these pieces. For the Rangers, that is just too high a cost for a player whose best days are clearly behind him.
The Logistics Would be Difficult
Another obstacle that would have to be overcome in a trade for Staal is his salary cap hit of $8.25 million. The Rangers, already with a minuscule amount of cap space, would have to do some fancy maneuvering to fit Staal under the cap. Perhaps the Hurricanes would agree to retain half of Staal's salary, much like the Arizona Coyotes did when they dealt Keith Yandle to the Rangers last year. That favor, though, likely forced the Rangers to give up more assets in the trade, which included defenseman John Moore, a first-round pick, and the aforementioned Duclair.
One other way to alleviate Staal's cap hit would be to trade one or more roster players with large enough cap hits to partially offset Staal's. Neal in fact mentioned the option of trading defenseman Dan Girardi, who has four years remaining on a contract that carries an annual cap hit of $5.5 million. While I strongly support any attempt that could be made to move the declining Girardi or the other Staal, Marc, the likelihood of Carolina agreeing to such a deal is almost zero percent, as Neal acknowledges. Carolina would be looking to move Staal as part of a rebuilding effort, so they would want to stockpile young assets and draft picks, not declining veterans who are locked up on expensive multi-year contracts.
Acquiring Eric Staal would be both difficult and costly for the Rangers. There are ways they can improve their team at the deadline, mainly through more affordable players like Staal's Carolina teammate, Kris Versteeg, Vancouver's Radim Vrbata, or even Arizona's Mikkel Boedker (disclaimer: this is all speculation). Staal is not the answer.