The 2023 Entry Draft is expected to be unusually talented and deep, so much so that it is already being heralded as having the potential to be one of the best draft classes in the modern era. This is a year that you want your team to be picking as close to the top as they possibly can, as multiple franchise-altering players are available even past the prized Connor Bedard. Yet the Minnesota Wild currently sit all the way back at the 21st overall pick after another disappointing first-round exit. Let's take a look at what the Wild have been able to do with picks in that area, and what names they could be targeting this year.
Recent Drafting History is Impressive
Once you start to get into the late teens and early 20s of the first round there is a risk factor involved with every pick. Not all players available around this area are going to turn out to be impactful NHL players, let alone have superstar potential, yet somehow the Wild's scouting team has managed to collect some impressive steals in this area in just the last two years alone.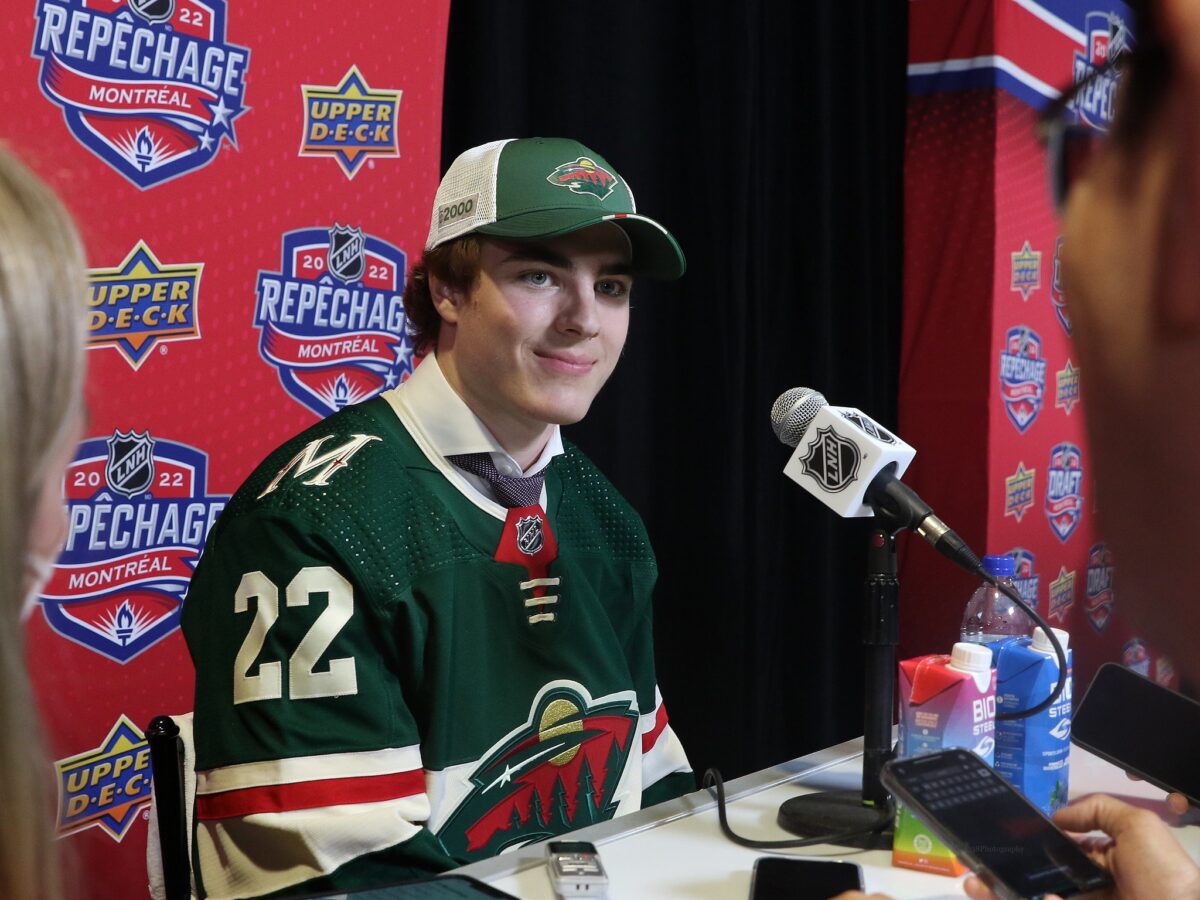 Just last year at the 2022 Entry Draft the Wild held the 19th and 24th overall picks and managed to snag a couple of solid wingers in Liam Ohgren and Danila Yurov. Ohgren has steadily been progressing and looks like he could be a fantastic middle-six player on a strong team. Yurov has been a little bit more of a mystery, which is likely why the Wild used their second first-rounder on him, but he has some high potential. Both of these players are expected to come to North America in the 2024-25 season.
Related: 2023 NHL Draft Guide
Another step back gives an even more impressive view of the 2021 Entry Draft. The Wild entered the evening with the 22nd and 24th overall picks but traded to move up from 22 to take Jesper Wallstedt at 20th overall. Wallstedt is one of the most highly regarded goalie prospects in the world and could turn out to be a franchise-altering talent in the net. They then grabbed Carson Lambos at 26th, a solid defenceman that has an outside shot at getting some NHL games as early as this season.
Time for a Center
Every year the narrative around the Wild is their lack of center depth, and most people expect them to address that by drafting a center, yet with their last seven first-round picks they have only taken a single centerman, Marco Rossi. The 2023 Draft is no different. There is a wealth of centers available that have very high ceilings, so once again it feels like the Wild should be drafting a center.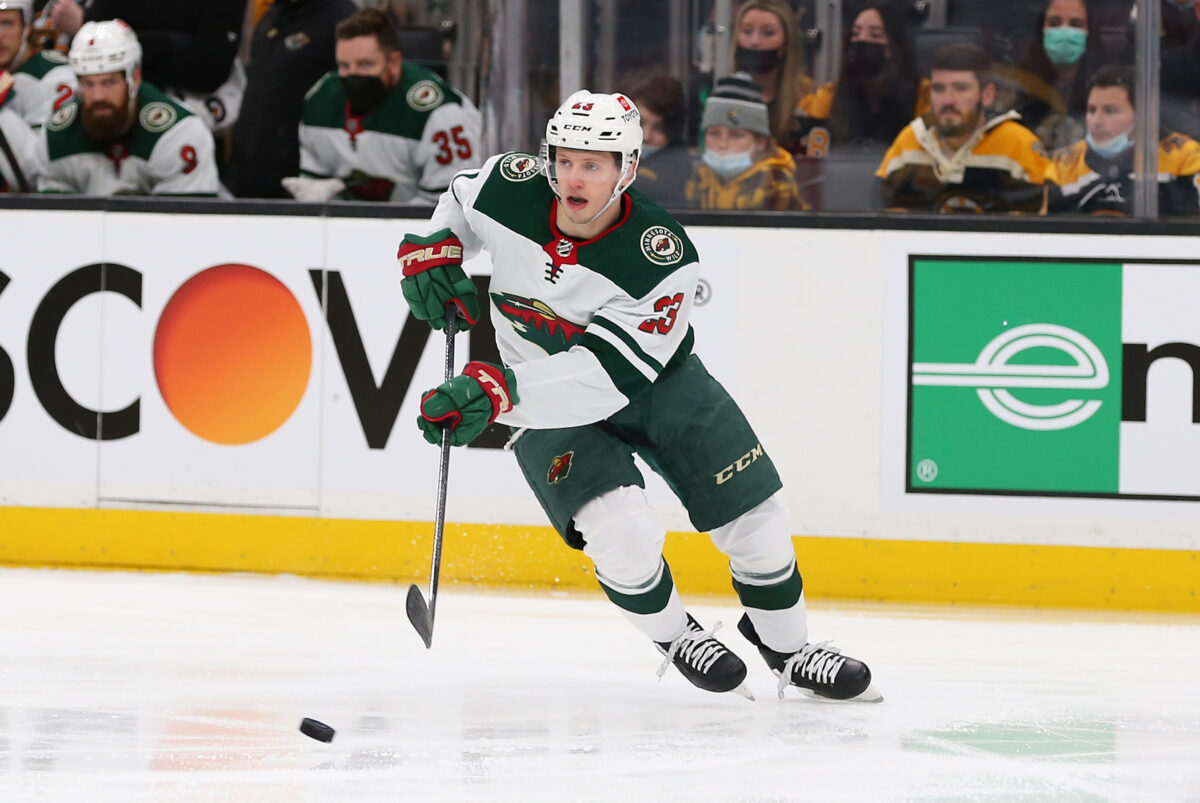 A key note to all of this is that 2021 showed us that the current Wild management group is not afraid to make moves to get the players that they want. It cost them a third-rounder to move from 22nd to 20th that year. Their third-rounder for this year was traded in 2022 for Nic Deslauriers, but they do have two second-rounders, as well as some restricted free agents that may be packaged to make an even bigger leap forward.
Players on the Radar  
An especially deep draft class means that it can be very difficult to predict which players could be available in the second half of the first round. Examining an array of prospect rankings shows that while some scouts can have a player in their top 10, another one may have the same person going in the second round. I took an average of 13 different rankings to see if there was a chance of a player being available for the Wild to pick. Let's look at three centers potentially available around the 21 mark, and one worth making a move for.
Nate Danielson
Nate Danielson is a 6-foot-1 Canadian playing with the Brandon Wheat Kings in the Western Hockey League (WHL). On average, he went around the 18th pick but was placed as high as 13th and as low as 27th. This is a rather safe pick for the Wild, very likely to be a solid NHL player but unlikely to be a game-breaker. He lacks an elite talent but does everything well.
---
Latest News & Highlights
---
Calum Ritchie
Another Canadian, Calum Ritchie is a hair taller at 6-foot-2 and plays for the Oshawa Generals in the Ontario Hockey League. He was a little bit lower in my averages at 22nd, but his peak was higher than Danielson at 12th, while also lower than Danielson at 29th. This pick would be exactly that, a little bit riskier but with the potential for a slightly better outcome. Inconsistency dropped his rankings this season, but his playmaking abilities are well-noted.
Otto Stenberg
We all know that the Wild love their Swedes, and the 5-foot-11 Otto Stenberg looked like he would be closer to the top 10, but failed to impress in 23 games with Frolunda in the Swedish Hockey League. His average was also 22nd with a max of 12th, but in a couple of cases wasn't even taken in the first round. The skill is there, and his shot is exceptional, but he is the kind of player some people are super high on, while others are very low.

Dalibor Dvorsky
My ideal pick for the Wild, Dalibor Dvorsky is a 6-foot-1 Slovak that tends to go around the 10th or 11th pick on most people's mock drafts (he was 11th in my averages) and it is a long shot the Wild end up selecting him. Even if he does start to fall into the late teens, they would likely have to move up in order to get this youngster. He is a very creative player with a great ability for making difficult passes, producing well basically everywhere he goes. 
Great Potential All-Around
When draft day finally arrives on June 28 the depth of this draft class means that there is basically no doubt that the Wild will end up with a skilled player. Despite most of the hockey world assuming they will be after a center, it is impossible to accurately predict what could occur. While the Wild are obviously aware of their needs, they seem determined to walk away with the most talented player available, not just one that fills a gap.