It's no secret, the St. Louis Blues are in the middle of uncharted territory that this franchise has not seen in recent years. Since the 2010-11 season, they have the fifth-best record in the NHL at 578-331-106, a .614 winning percentage in that timeframe. That being said, the club's 37-38-7 record this past season was alarming to many fans and a sign that changes may need to be made internally. With the sustained success that the franchise has seen in this timeframe, the ability to gain high draft choices has been limited, offering them the draft position in the latter half of the first round when retaining their first-round pick. Blues scouts and front office management have needed to be thorough not only with their choices, but their knowledge of these prospects when making a trade.
Despite their late first-round choices, they have found a multitude of prospects that could find themselves on the Blues' roster sooner than later. Here's a look at a few of their top forward prospects that could be joining the next youth movement in St. Louis.
Jake Neighbours
One of the prospects who has currently made his way to the NHL, Jake Neighbours appeared in 43 games in St. Louis during the 2022-23 season. While the 21-year-old split time in the NHL and the American Hockey League (AHL) with the Springfield Thunderbirds, he is set to become a mainstay in the lineup for the 2023-24 season. He was drafted 26th overall by the Blues in 2020 and is already gaining a lot of fan affection. Through only a small sample size in his NHL career, he is a brick wall of a player ready to crush the opposition using his 6-foot, 200-pound frame to his advantage to help clear a lane for his teammates.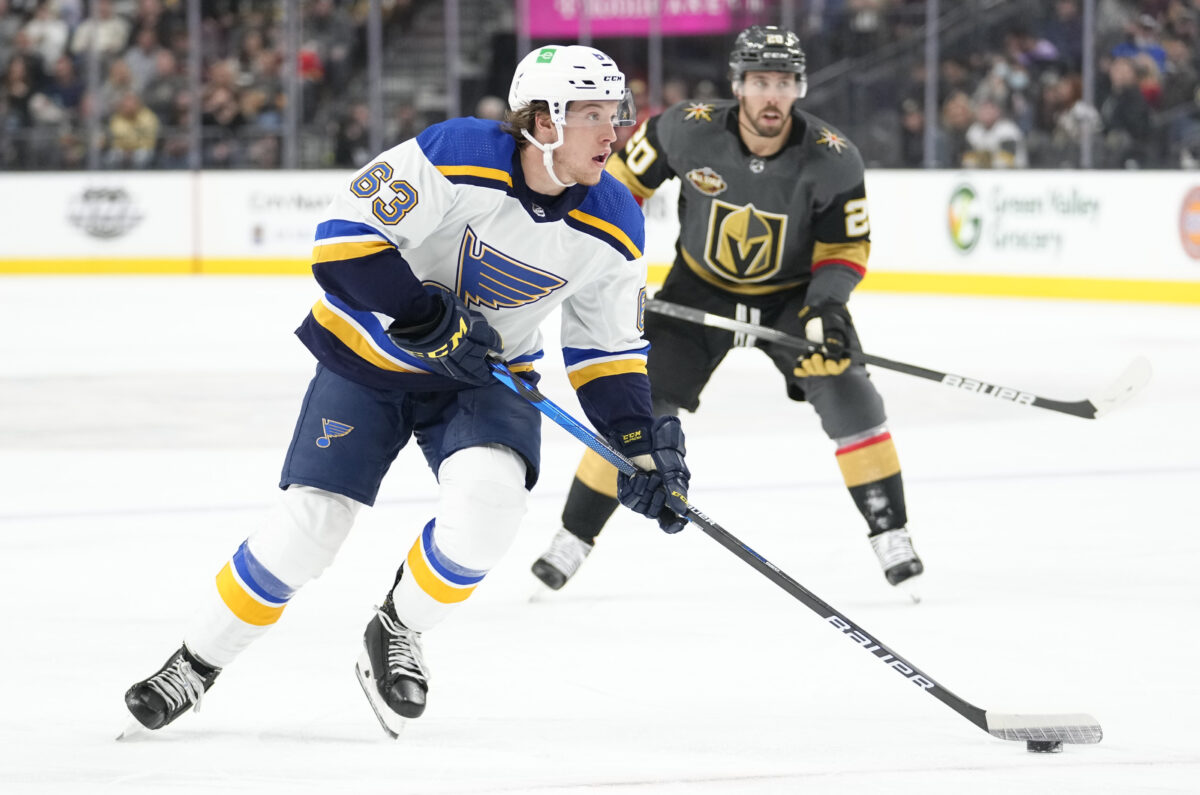 The forward's future and upside should still have plenty of runway as he has the ability to play up and down the lineup as needed. He is a prototypical blue-collar type player that Blues fans will come to love with his ability to be relentless on both the forecheck and backcheck while using his size and speed with and without the puck.
Zachary Bolduc
Put simply, Bolduc is a goal-scoring winger that consistently finds ways to utilize his lethal shot to put the puck in the net. During the 2022-23 season, he finished fourth in points and fifth in goals in the Quebec Major Junior Hockey League (QMJHL) after scoring 50 goals for the second consecutive season. Since his move from center to the wing in the 2021-2022 season, he more than doubled his shots on goal and was able to find more consistency in his play. After his first preseason with the Blues, head coach Craig Berube stated that he needs to work on his all-around game and become more reliable in the defensive zone (from 'Blues notebook: Blues return high-scoring Bolduc to his junior squad,' St. Louis Post-Dispatch, Oct. 4, 2022). This year, there was a noticeable change in his play without the puck helping his teammates in the postseason by utilizing his size and physicality, along with his defensive play.
Looking ahead to the 2023-24 season, it will be a tall task for him to make the NHL roster out of camp leaving him a likely candidate to start the season with the Thunderbirds. This is in no way a knock on Bolduc and should not be considered a failure as he will likely need to continue to work on his defensive game and acclimate himself to the faster pace of play at the pro level. Once the forward has earned his spot, he has the ability to quickly become a fan favorite with his fluid skating and scoring abilities taking center stage.
Nikita Alexandrov
While he is no stranger to Blues fans, Nikita Alexandrov is a 22-year-old that is still finding his way in the NHL. The German-born forward played in 28 NHL games and 41 AHL games with the Thunderbirds during the 2022-23 season where he combined for 21 goals and 45 points over 69 total games.
Related: Blues' Snuggerud Excels at 2023 World Juniors
---
Latest News & Highlights
---
Alexandrov is a player that will demand ice time at the NHL level, but his ceiling is still unknown. He possesses a clean and quick shot that catches many goaltenders off guard and does well when holding on to the puck to create time and space for himself and his teammates. His abilities and strengths tend to lean more toward the type of player that can play in all situations, but likely more of a bottom-six role on a consistent basis while still fitting in well should he need to move up the lineup.
Jimmy Snuggerud
Of all the forward prospects in the Blues prospect pool, Jimmy Snuggerud may currently hold the highest upside and one of the best value picks of the 2022 NHL Entry Draft. A true freshman for the University of Minnesota, he dominated the college hockey scene alongside his linemates Logan Cooley and Matthew Knies. Though he will continue to move forward with his college career for the 2023-24 season, he has set high expectations for himself after scoring 21 goals and 50 points over 40 regular season games.

Zach Dean
Drafted 30th overall in the 2021 NHL Entry Draft, Zach Dean was acquired by St. Louis in a trade that sent forward Ivan Barbashev to the Vegas Golden Knights. After the trade, he went on a tear offensively becoming one of the top scoring forwards in the QMJHL for the Gatineau Olympiques, a team that preferred a structured style of play that restricted him at times offensively. Despite the restraint, this allowed him to improve on his two-way game which should have long-term benefits providing the Blues with a player that could play in all situations at the height of his career. He produced 33 goals and 70 points for the Olympiques over 50 regular season games, and an additional 10 goals and 26 points through 13 playoff games during the 2022-23 season. He remains one of the most intriguing prospects heading into training camp that could crack the Blues' opening night lineup.
Despite their inability to draft high in the Entry Draft over the past few years, the Blues have done their fair share of work when scouting to find or acquire potential gems for the future of the organization. Time will tell what the upside and future hold for these prospects. However, should their current production be any indication of their success in the NHL, the Blues appear to have a multitude of impactful players to inject into their lineup sooner than later.